Yesterday marked a big change in direction for the Philadelphia Flyers.
BREAKING: The #Flyers have acquired a 2017 3rd-round draft pick from the Boston Bruins in exchange for C Zac Rinaldo→ http://t.co/dUUXt4vmTL

— Philadelphia Flyers (@NHLFlyers) June 29, 2015
The trade in itself netted a great return for the Flyers. Ron Hextall turned a sixth round pick who had 24 career points into a third round pick, that's a trade anyone would kill to have.
It's not so much about Rinaldo either. He gave 100% every time he stepped on to the ice as a Philadelphia Flyer, that is something that was never in question. What was frequently questioned was the amount of penalties he took and the times at which they were taken. In a lot of cases they ended up hurting the Flyers, and that wasn't anything they needed, especially with how bad the penalty kill was.
It isn't just limited to Rinaldo either. Almost every year since the 2005-2006 season, the Flyers have possessed some type of 'tough guy'. Jody Shelley, Jay Rosehill, Daniel Carcillo, Zac Rinaldo, are all names that come to mind. Sure it was entertaining to see a heavyweight bout once in a while, but the days of these guys being effective in the NHL are long gone.
Take a look at any of the Stanley Cup Champions in recent memory, none of them have had a 'tough guy'. Even teams who have found themselves in the second or third rounds, don't need these guys. The Blackhawks, Rangers, Lightning, and Ducks don't possess a single enforcer. These teams have guys who will throw the body, guys who will drop the gloves if need be, but not guys who are specifically out there to cause trouble.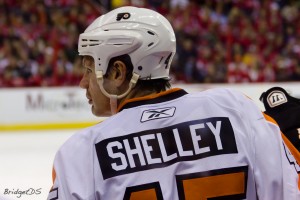 The Flyers as a team had 285 penalty minutes last year, Rinaldo accounted for 105 of them (nearly 37%), despite playing in only 58 games. Take Rinaldo's penalties out of the equation and the Flyers would have been by far the least penalized team in the NHL, with 180 penalty minutes. That could have made a huge difference in where the Flyers finished in the standings, considering they had one of the worst penalty kills in the league at 77%.
Moving away from this type of player is a huge step in the right direction for the Flyers. Will some people miss Zac Rinaldo throwing right-handed hay makers? Sure, they will, and as I mentioned above few guys had as much heart as Rinaldo did. That being said, the role of guys like him is quickly becoming obsolete and even a detriment in today's NHL. That's why you don't see those types of players on teams who contend for the cup.
The Flyers made the right decision, and got a good return for doing so.