On the eve of NHL free agency, General Manager Stan Bowman and the Chicago Blackhawks shocked the hockey world by dealing rising star Brandon Saad to the Columbus Blue Jackets in a seven-player blockbuster.
Saad is a restricted free agent this offseason and due a significant raise from his $764k cap hit last year. Bowman said he wasn't able to come to terms that made sense for the long-term future of the defending Stanley Cup champion Blackhawks.
Funny thing is, if I had to create a list this weekend of 20 teams capable of trading for Saad, I'm not even sure Columbus would be on my list. The Blue Jackets are loaded with top-six talent. At this point they almost have too many high-end forwards.
Was the opportunity to grab Saad too good for Columbus GM Jarmo Kekalainen to pass up? Does he have another deal in the works to address his desperate need for help on defense? And where were the Pittsburgh Penguins in all of this?
Pittsburgh GM Jim Rutherford said earlier this month he was given a directive by team executives to add a local player like Saad whenever possible:
"(My bosses) have shared with me the disappointment that we don't have a local player," Rutherford said. "I keep that in mind, not only if it's the draft but also if one comes up in the league who's local."
Most outlets have reported that the Penguins made a failed attempt at acquiring Saad, but I don't get the sense from conversations on Tuesday evening that the Penguins were even in the mix.
Either way, they didn't end up with the Pittsburgh native they've been publicly coveting since the 2011 draft. What went wrong?
While Chicago would have been wise to at least leverage the Penguins' desperation in Saad trade negotiations, I think it came down to Pittsburgh not having an ideal package of assets available.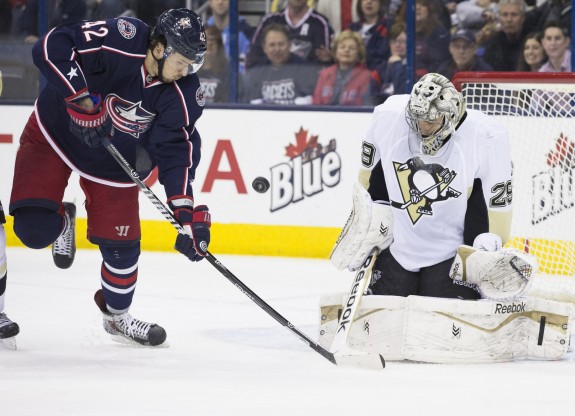 Consider what Blackhawks GM Stan Bowman had to say about 6-foot-4 center Artem Anisimov after acquiring him in the Saad deal:
"He's a player that we've been trying to acquire for quite some time. I've talked a long time about our desire to find a big centerman. There's very few of them in the NHL. I think he fits in very nicely with our team."
The Penguins had no chance of acquiring Saad if the key to any potential deal was a big, second-line center.
TSN's Pierre Lebrun noted earlier this month that Brandon Sutter was being dangled by Pittsburgh in an attempt to fetch a top-six winger, but Sutter simply isn't a second-line solution for a contending team like Chicago.
Offers for Sutter at this weekend's draft in Florida were lukewarm at best. That doesn't mean he's a lock to play out the final year of his current deal ($3.3 million cap hit) in Pittsburgh next season. It just means that Rutherford will need to get creative in finding a team interested in Sutter.
---
The hoopla around the Saad trade is an interesting case study in the value of playoff exposure.
If Brandon Saad played for the Arizona Coyotes, he'd be just another good young player like Martin Hanzal. Hanzal's second contract carried a $1.8 million cap hit and his third is at $3.1 million per season.
Saad wants $6.5 million on his second contract. That's moving into the 'elite' tier of NHL forwards.
One way I separate the elite from the very good is by looking for players who are capable of creating their own offense. Saad can't do that at this point in his career. James Neal can't do that. Same goes for big-money free agent Matt Beleskey.
If I'm paying that much money to a forward, I don't want to have to spend even more money to surround him with high-end talent.
Saad's future teammate in Columbus, Ryan Johansen, is capable of creating his own offense. He's not elite yet, but he will be.
Speaking of Johansen, how does he feel about his $4 million contract and that embarrassing holdout situation and clash with Kekalainen right now?
---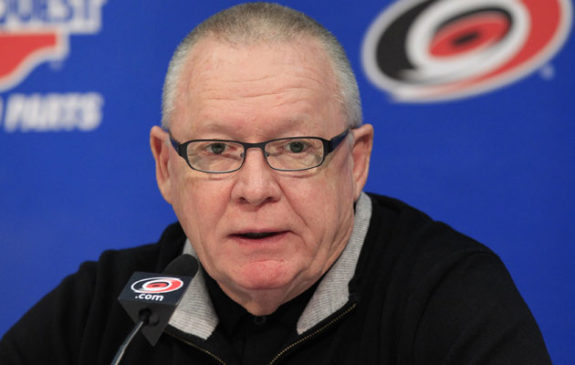 Rutherford's lack of activity to this point isn't a problem, but he still has a number of holes to fill over the next few days.
One of the consistent problems with the Penguins' approach is their apparent lack of a plan. We know Rutherford is dealing from a position of weakness, but he's also been telegraphing his moves through the media.
He told the league he needed a top-six winger. Then struck out and told the media he didn't need a top-six winger.
He told the fanbase he wanted his roster to get younger. Then media reports indicated he's been having encouraging discussions with 34-year-old free agent Joel Ward.
Rutherford will be under heat for not landing (or even being involved in negotiations with) Saad, but it's tough to execute a plan that doesn't exist in the first place.
Shero wouldn't say a lot, but said he did talk to Stan Bowman & Saad's agent about what was going on there before today's CBJ trade

— Tom Gulitti (@TomGulittiNHL) June 30, 2015
Former Penguins GM (and current New Jersey GM) Ray Shero always had a plan. Right or wrong, he knew he what he wanted and acted decisively.
The biggest risk for the future of the Penguins franchise is that the group making decisions may have nothing to lose. If the team is for sale, there's a chance no one sitting at the draft table this weekend is in their same seat two years from now.
And the reality is the Pittsburgh Penguins aren't a Phil Kessel away from contending for a Stanley Cup…
---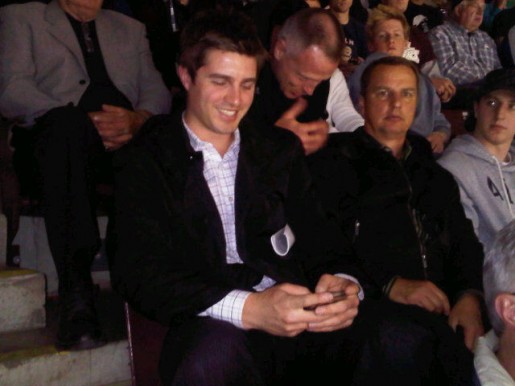 When it comes to a potential trade for Kessel, I can't figure out who the Penguins are negotiating against.
There were rumblings over the weekend that Los Angeles might be interested with the bloated contract of Mike Richards heading to Toronto as part of a package. Obviously that deal died on the draft floor with Richards' contract now terminated as a result of off-ice issues.
Another big factor to consider is that Kessel is due a $4 million bonus today (July 1). With the Penguins looking to control costs ahead of a potential sale, I'd imagine they didn't feel a great sense of urgency to rush a deal.
This negotiation is also a big test for Leafs Assistant GM Kyle Dubas and President Brenden Shanahan. Both have to use the Kessel deal to establish their reputations amongst their peers.
---
Pittsburgh's first pick in the NHL draft this weekend was Daniel Sprong (#46 overall).
Co-Director of Amateur Scouting Randy Sexton said the team had Sprong in the top 30 of their draft rankings, as did many online scouting outlets. Sexton also feels Sprong is capable of playing both wings and specifically in a second or third-line role in the future.
Jesse Marshall called Sprong a "steal" for the Penguins at the #46 pick. While Marshall said he wouldn't go as far as calling Sprong a "high-risk" player, I will — and that's not a bad thing for Pittsburgh.
Here an excerpt from Shawn Reznik's THW draft profile on Sprong earlier this spring:
The skillset cannot be denied and will be a go-to guy when a team needs the extra scoring boost. However, to succeed in the NHL, you need to be more than a one-dimensional player.
The challenge for Sprong will be translating that individualized skillset to the pro game. It's one thing to stickhandle 1-on-1 around players in juniors. It's another to try it on Shea Weber.
I think the high-risk pick was worth it given the Penguins lack of picks in this year's draft. If Sprong works out, he ends up like Saad — a player who surprisingly fell to the second round of the 2011 draft. If Sprong fails to translate his game, he'll be the opposite — another Angelo Esposito, who fell down to the Penguins in the 2007 draft before falling out of hockey altogether just a few years later.
It's worth the gamble.
One other note from Sexton. He felt that the Penguins got a big-time sleeper in sixth-rounder Frederik Tiffels, a speedy 6-foot-1 left winger currently playing in Western Michigan.
---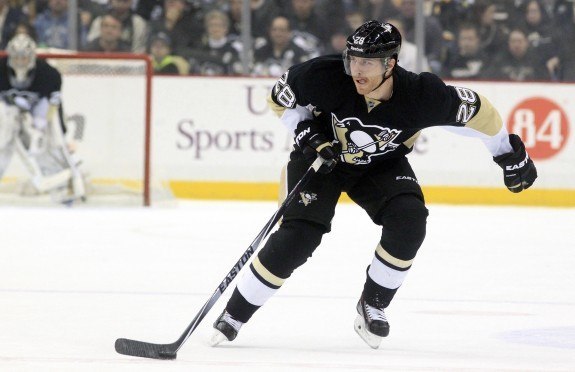 RFA defenseman Ian Cole signed a three-year contract extension with Pittsburgh this week. The new deal carries a $2.1 million cap hit — good value for a very strong acquisition by Rutherford at last year's trade deadline.
Someone pointed out to me that Cole's salary in the first year is only $1.5 million (before rising to $2.3M and $2.5M in the later years). This isn't totally uncommon with young players, but I suspect it's a result of trying to push costs onto a new ownership group.
It'll be interesting to see how Rutherford structures the contracts of his new signings this week. If the Penguins truly are backloading salaries, are free agents going to be interested? In this era of premature contract buyouts, players want their money sooner…not later.