With NHL teams able to sign any unrestricted free agents they like at 12:00 EST today, each GM has narrowed down a list of players he would like to pursue. For Calgary Flames' general manager, Brad Treliving, he has one aspect of his roster that could still use some upgrades.
Yesterday, the Flames signed Dougie Hamilton to a six-year contract worth $34.5 million, a cap hit of $5.75 million each year. That's a fantastic deal for a 22-year-old who looks like a future franchise defenceman. With that signing, Calgary has seven defencemen signed, each of them earning at least $2.6 million a year.
Beyond that, the Flames need to decide on a backup goaltender and must also sign three more forwards. It is up front were Calgary could use the most help. They could definitely benefit from some added scoring depth in the second and third lines. With that in mind, this year's free agent class is somewhat weak, so the best players available are exactly what the Flames are looking for.
Who Should Calgary Target?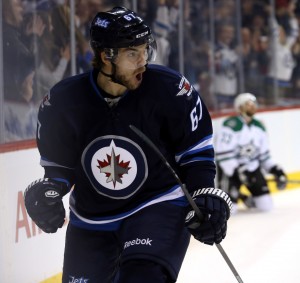 3: Michael Frolik –
Michael Frolik is coming off a season with the Winnipeg Jets in which he scored 19 goals and 42 points. With Winnipeg committing $4.35M to Drew Stafford over the nest two years, they may have written off re-signing Frolik. He would fit in well on a potential second line with Mikael Backlund as the center. At 27-years-old, Frolik may still have a long future ahead of him, and as a 20-goal scorer, he will be a coveted piece for quite a while. He will garner many team's attention today, and his interest in the Montreal Canadiens has been made known publicly.
Possible Contract: Three years at $3.75 million per year.
2: Joel Ward –
Joel Ward is not as consistent as the other two candidates listed, as he can score anywhere between 10-30 goals and 30-50 points. Joel Ward adds a physical element to whichever team he suits up for, but at 34-years-old, he may be on the downswing of his career. He could become a key third line contributor for the Flames in an attempt to spread the offensive threats and create some solid depth, which is essential in the Western Conference. While not much of a difference, Ward could be signed at a slightly lower cap hit than the other players mentioned.
Possible Contract: Two years at $3.5 million per year.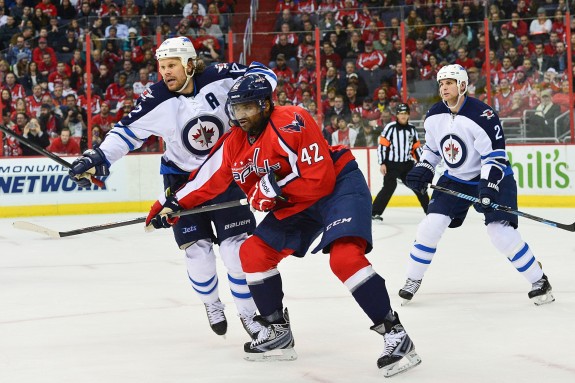 1: Justin Williams –
Justin Williams, A.K.A 'Mr. Game 7′, could be exactly what the Flames need in order to take the next step as a legitimate playoff team. the 33-year-old, like Frolik is a perennial 15-20 goals scorer who will put up 40+ points. He has shown no signs of slowing down, as was evident in the Los Angeles Kings' 2014 Stanley Cup run where he took home the Conn Smythe Trophy as the MVP of the playoffs, scoring 25 points in 26 games. Where he surpasses Frolik's abilities is off the ice. Williams is a known leader with tons of playoff experience, something that would be priceless on a young Calgary team.
Possible Contract: Two years at $4 million per year.
---
Which of these three options do you think the Calgary Flames should sign? Let us know in the comments below!