This weekend has left many who follow the Boston Bruins with a lot of questions.
The direction of the franchise is cloudy. The roster in its current state is incomplete. General manager Don Sweeney is facing an avalanche of criticism from all angles.
However, the focus may (and arguably should) begin shifting to a position of power beyond Sweeney.
Feeling Presidential
Team president Cam Neely finds himself in a position that is foreign to him. Since taking his current role back in June of 2010, the Hockey Hall of Famer has kept his nose out of major personnel decisions … for the most part. His presence around the organization did pay immediate dividends with a Stanley Cup championship in 2011, but Neely is more known for his goal celebrations in the press box than making decisions with the on-ice product.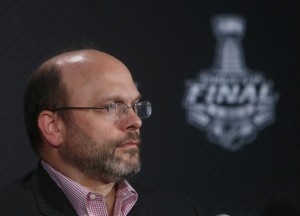 That job went to former GM Peter Chiarelli. He was sent packing by Neely after missing the playoffs last year.
The retired No. 8 has grabbed the bull by the horns for the first time in six years and asserted his iron fist in April. Make no mistake, firing Chiarelli was justified. Something needed to happen after the club missed the playoffs for the first time since 2006-07.
An "exhaustive search" then followed between Neely and CEO Charlie Jacobs for the new successor. Don Sweeney was the favorite from day one to be Boston's new GM and was then promoted a month later. It is a bit puzzling to imagine a scenario where the Bruins brass actually conducted said "exhaustive" search when everyone knew the new GM was in-house except for themselves.
However, the real focus should remain on what has happened in the two months of the summer of 2015.
Claude's Fate
Neely was on record declaring that the new GM would be the one to decide head coach Claude Julien's fate. It took just under a month for Sweeney to make the official decision to retain the entire coaching staff for the upcoming 2015-16 season.
It was and still is an interesting decision because it was reported by Fluto Shinzawa of the Boston Globe that Neely wanted to fire Julien in January but did not have the means to do so. He did the next best thing by making Julien sit on pins and needles for almost two months wondering if he would still have a job in Boston.
A coach that has made a dramatic impact on the franchise since he was hired in 2007 deserves better.
Regardless, the story may not end here for the "feud" between team president and coach.
"Dealer Donny"
This weekend was the breeding ground for some highly questionable decision-making by Sweeney. He traded away Dougie Hamilton to Calgary for a trio of draft picks before sending Milan Lucic to Los Angeles for the No. 13 overall pick (Jakub Zboril), Martin Jones, and top defensive prospect Colin Miller. Sweeney also re-signed Adam McQuaid to a four-year, $11 million contract and retained $2.7 million of Lucic's salary.
Wow Zac Rinaldo. As if Bruins fans didn't feel dirty enough after this weekend. I need a silkwood shower pronto.

— Mike From Woburn (@MikeFromWoburn) June 29, 2015
Monday brought another head-scratching moment for the new regime as Sweeney traded a third-round pick in 2017 to Philadelphia in exchange for Zac Rinaldo. Eight goals and 572 penalty minutes in 223 games is what the former sixth-round pick brings to Causeway Street. Ouch.
The worst part? Neely probably knew about every single move Sweeney made before they were official. However, the general manager is taking the blows from fans square on the chin while the president is tucked away in the corner.
Time To Shift The Blame?
Everyone knows this is really Neely's show, yet he has received very little critique of what has happened to his team in a few short days. However, it is time he starts to answer for what has gone on. Think about it.
The franchise trades away arguably their top commodity for pennies on the dollar when they had better offers on the table, yet refused to make the deal. Sweeney then decides to trade away a player in Lucic that was compared to Neely in terms of skill set early on in his career. The Rinaldo trade aside, this has been a weekend filled with questions that have yet to be answered.
Neely was surely aware of every single move that has been made since Friday. It is hard to fathom a world where he would be comfortable trading away a franchise defenseman and a top-line left winger. However, that is the reality in Boston and Neely should be sharing the blame for what looks to be a major roster overhaul.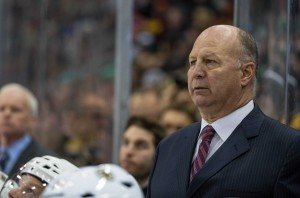 Given what has happened the last few days, something more calculated may be at work here. Neely wanted Julien out last season because the coach's style is not in sync with the modern NHL; a fast-paced game focused on offense, special teams, puck possession and speed. Julien plays a traditional defensive style that is the antithesis of what Sweeney and Neely want.
Hamilton (Boston's best defenseman) and Lucic have departed under the president's watch. The team made three consecutive draft picks when they had the assets to trade up and draft an NHL-ready talent in the top-five. Neely knew about these deals and let them happen.
Could we entertain the idea that he might be orchestrating these deals to set Julien up for failure? It is a theory that may partly explain the erratic wheeling and dealing that took place this weekend.
Neely is slowly entering the watchful eye of Bruins nation after spending the past six seasons away from the spotlight. There will be no place for him to hide if next year's squad, which is being constructed under his guidance, fails in the same way they did this season.
Joe is a writer covering the Boston Bruins. He is a lifelong native of Massachusetts and is currently a content writer/manager for a newsletter at a Human Services Agency. Joe can be found on Twitter: @JoeCherryTHW