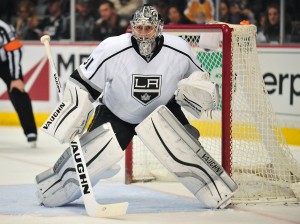 Whatever that one-year rebuilding thing was that the San Jose Sharks bizarrely decided to go into last offseason is a thing of the past. While yours truly isn't a fan of the steep price that San Jose gave up to acquire goaltender Martin Jones, he brings big potential to the Sharks' crease and a rejuvenation to the fan base.
Fans want this team to win a Stanley Cup before Joe Thornton and Patrick Marleau retire, and giving up a first round pick for Jones signals the Sharks are in win now mode again. They are in full-throttle, go for the Stanley Cup mode, and they should be.
The Sharks still boast an elite core that captured 111 points in 2013-14. Despite what some harsh Sharks critics may lead you to believe, the Sharks' six best skaters (Thornton, Marleau, Logan Couture, Joe Pavelski, Brent Burns and Marc-Edouard Vlasic) are on par with any other team's best six skaters. The Sharks struggles in recent years have been due to lack of forward depth, defense depth and goaltending, not high-end talent. They have always had plenty of star power and they still do.
Youth Arriving
With rookie forwards Chris Tierney, Barclay Goodrow and Melker Karlsson proving to be solid NHL forwards last season, the Sharks can stand firm at the forward position and roll out four strong lines in 2014-15. San Jose's bottom six has been a huge problem area the last few years. However, letting go Adam Burish and John Scott, plus scratching the useless Mike Brown would allow the Sharks to play actual hockey players on a fourth line.
The rookies will all be key contributors next season and San Jose has a number of forwards in their system very close to NHL-ready in Nikolay Goldobin, Dan O'Reagan, Joonas Donskoi and Rourke Chartier. Goldobin and Donskoi could both see NHL action this season whereas O'Reagan and Chartier could appear in 2016-17.
Between the pipes, the Sharks lack depth outside the NHL roster but Jones and Alex Stalock are a young talented duo. Both are extremely hungry for ice time and to prove they can handle bigger roles. Both are question marks, but it is highly likely the Sharks get at least average goaltending out of these two guys.
Blue Line Can Be Fixed Quickly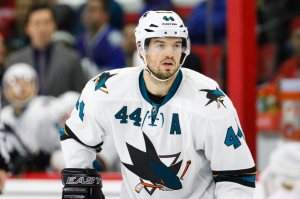 On the blue line, the Sharks need one more top-four acquisition to round out what would then be a strong first two pairs. Yours truly heavily criticized Brent Burns' defensive play last season but he should be significantly better with a year back at the position under his belt.
With the other worldly shut-down stud Vlasic back for another year and the solid two-way Justin Braun due for a bounce back season, the Sharks have three solid defensemen right now. If they can add an unrestricted free agent like Johnny Oduya, Andrej Sekera, or Cody Franson to the mix, there will be a lot to like about the Sharks top to bottom.
While San Jose would also likely benefit from adding a top-9/12 free agent forward, (former Shark James Sheppard would be a smart, cheap choice) they have the forwards in house to get the job done. After adding one more key defensemen, the Sharks could roll out something like the following on opening night in Los Angeles:
Forwards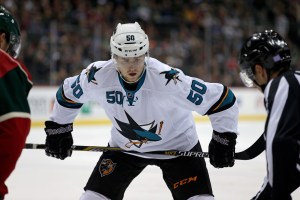 Tomas Hertl—Joe Thornton—Joe Pavelski
Logan Couture—Chris Tierney—Tommy Wingels
Matt Nieto—-Patrick Marleau—Joonas Donskoi
Barlcay Goodrow—Ben Smith—Melker Karlsson
Defense
Marc-Edouard Vlasic—-Brent Burns
Johnny Oduya—Justin Braun
Brenden Dillon—Matt Tennyson
Goaltenders
Martin Jones
Alex Stalock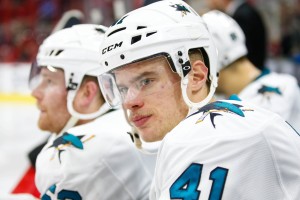 Summary:
Looking at this lineup the Sharks have four strong forwards lines, a really good top-four defense, (overall a tremendous skating group of blue-liners) and a solid young goaltending tandem. A lineup like this can certainly make a deep run in the postseason. If any injuries occur, Mirco Mueller is as good as a 7th defenseman to have starting in the AHL as any in the league. At forward the Sharks might be able to get something out of the often injured Raffi Torres, and Goldobin could make an impact late in the season after developing in the AHL.