The past week has been a good one for Mitch Marner and the Toronto Maple Leafs. Marner led the Leafs to four straight wins while pitching in an assist and a shootout winner against the Vegas Golden Knights, key assists on the game-tying and overtime-winning goals against the Boston Bruins on Friday night and a goal and an assist against the Bruins Saturday.
The goal marked Marner's first in 18 games, a wrist shot to the top corner over the glove of Tuukka Rask:
Marner stepping up was crucial to the Maple Leafs' success with superstar Auston Matthews out three games with an upper-body injury.
Marner's Slump is Busted
The season did not start off well for Marner. Not only did he struggle offensively, but his defensive issues — or that of his line with Tyler Bozak and James van Riemsdyk — led to a demotion to the Leafs' fourth line. At one point, Marner was near the league's worst in plus-minus with a minus-10 rating. That has changed in the past five games, as Marner's production has increased dramatically.
First 14 Games: 1 goal, 5 assists, minus-10
Past 5 Games: 1 goal, 6 assists, plus-6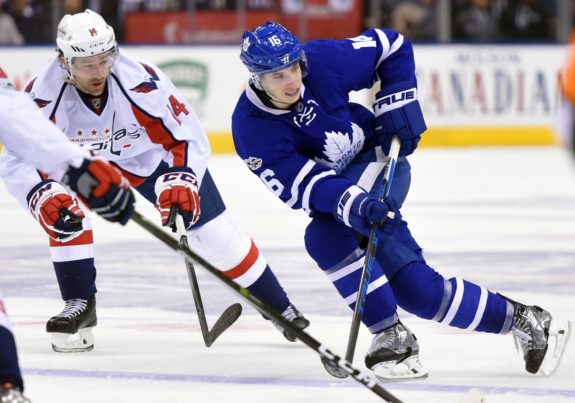 While his point production is only recent, Marner has been driving possession all season. He currently has a 55% Corsi For at 5 on 5, which leads the Leafs.
Marner Trade Rumours are Ridiculous
Marner's early-season struggles and demotion to the fourth line led to a number of trade rumours, which were short-sighted and frankly, idiotic. Sportsnet's Nick Kypreos suggested a particularly brutal trade, sending Marner to the Edmonton Oilers for Darnell Nurse.
https://twitter.com/RealKyper/status/927967364380901376
If you, like me, find rumours like this one to be annoying, brace yourself for a long year. The Leafs have an obvious deficiency on defence (25th in the NHL in goals against per game) and an obvious abundance of wingers with Josh Leivo, Kasperi Kapanen and Nikita Soshnikov looking for a regular roster spot, so there's bound to be a number of "trade winger 'X' for defenceman 'Y'" rumours throughout the year.
Any time a winger struggles (is William Nylander next?) or any time JVR's contract comes up, there's going to be a flood of trade rumours. Try to ignore them.
Specific to Marner, the only trade return that would make any sense would be a number one defenceman. Basically, a copy of the Seth Jones for Ryan Johansen trade between the Columbus Blue Jackets and the Nashville Predators. Anything short of a top-tier defenceman would be selling Marner short. He has the potential to be a point-per-game winger that will be entering his prime at the same time as Matthews and Nylander.
More Goals to Come for Marner & Nylander
Marner now has 13 points on the season, quietly matching William Nylander's point total. Both players are on pace for 56 points, which would be five less than their matching 61-point efforts in 2016-17. Nylander started the season with nine points in his first eight games but since then has just four points in 11 games.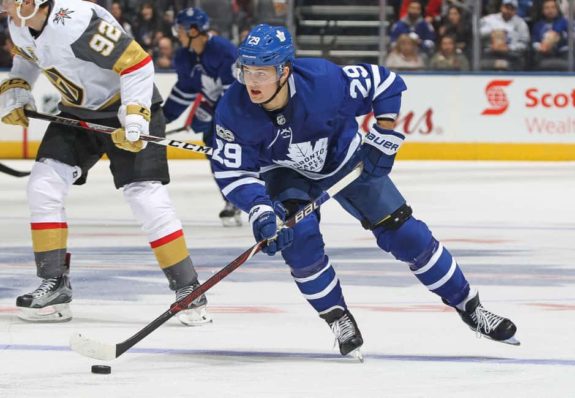 Nylander has just three goals and Marner just two on the season, but there is plenty of reason for optimism. Both players are shooting at around 5.5% compared to 10.7% in 2016-17 (10%+ in the long term is a much more likely shooting percentage for players of their skill level). Nylander's shots per game are up to 2.9 vs. 2.5 last season and while Marner has just 1.8 shots per game vs. 2.3 last season, one would expect his shot levels to elevate now that his slump is broken and with a consistent top-six role.
That all adds up to more goals in the future for these two young wingers.
I'm a Toronto Maple Leafs contributor for THW and a fantasy sports guru (hockey and football). I have a BBA and MBA from Wilfrid Laurier University and my day job is as a finance manager for a fortune 500 company. Feel free to reach out to me at davidapetrie@gmail.com