Connor McDavid Is Not Alone
You've heard it all by now.  Connor McDavid is the real deal.  He is considered along with Jack Eichel to be consensus Top 2 picks in next year's NHL draft.  You've seen the highlight reel goals.  You've read the stories about how great a player he is.  But there is a story taking place within the Erie Otters that is not getting nearly as much attention as it should, and it's a shame too.  While most everyone's focus is on Connor McDavid's quest to become the number 1 pick in next year's draft, there is a dynamic duo which includes McDavid that is helping the Erie Otters make another run at both an OHL Championship and a Memorial Cup.  In fact, the other member of this duo is outscoring McDavid early in the OHL season.  His name: Dylan Strome.
The Otters are off to a 4-0 start in this young season.  It is the 1st time since 1997 that they have won their 1st 4 games.  The main reason, the play of McDavid and Strome.  In the 4 games, they have combined for 25 points (McDavid has 12, Strome has 13).  The Otters have scored 24 goals in that span.  Of those 24 goals, 21 of them had either McDavid, Strome, or both involved.  That is almost 90%!  But the thing that makes this dynamic duo truly great, is the way they carry themselves.  I had a chance to talk to each of them individually about the other, and what makes them special.  After talking with each of them, I walk away thinking the same thing every time.  I am just floored at how humble and team centered each player is.
https://www.youtube.com/watch?v=Qpo_pxNeSmw
 What Makes A Great Dynamic Duo
Think of some of the great dynamic duos in the NHL today.  Of course, you think of Crosby/Malkin, or maybe Kane/Toews.  An up and coming duo is that of Tyler Seguin and Jamie Benn in Dallas.  As Strome pointed out to me as well, Tyler Bozak and Phil Kessel are a very talented, dynamic duo (for the record, he is a Leafs fan). Point is, there are some very talented duos that play in today's NHL.  I had the chance to ask McDavid and Strome separately what makes these and other dynamic duos great in their mind.  They gave very different answers.  But it goes to show you how great both of these players are at such a young age.  McDavid mentioned how he loves the fact that these duos go up against the opposing team's top unit on a night in and night out basis in an effort to shut them down.  Strome made mention of how these duos not only make each other better, but also make the whole team better.  The common theme that I got from both was "team".  This is what makes this duo great right now.  Both are willing to do whatever it takes if it will benefit the team.  Many youngsters tend to focus on themselves, especially if they know they have a great deal of talent.  Not these 2.  McDavid is the captain, and Strome is an alternate.  From a leadership perspective, they each in their own way are showing the other Otters have to playas  a team.  It's no wonder that Erie is in the Top 10 of the CHL rankings.  The talent is there.  The leadership is there.  The right culture is in place.  That culture is team first.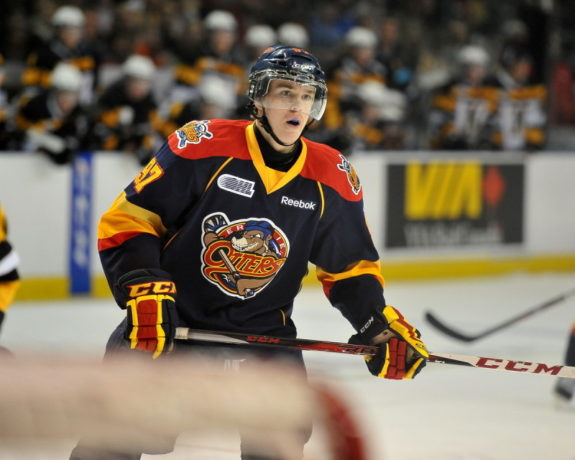 Dynamic Duos Overcome Adversity
Another question that I was able to pose to McDavid and Strome is how great players overcome adversity.  Each player has first hand experience in this department.  McDavid was part of the Canadian Junior team that lost in the World Juniors.  Both Strome and McDavid were part of a 4-1 series loss that the Guelph Storm dealt to the Erie Otters in the OHL's Western Conference Final.  The series wasn't even that close.  I asked each of them what they did to be able to overcome those defeats.  Each essentially said the same thing.  Losing in that fashion hurts.  It wasn't the way that they imagined things would go.  But you move on.  You learn from that experience, and come back stronger as a result.  These recent hard times have certainly helped develop the character of both players.  It rubs off on the rest of the team.  It helps build confidence not only in yourself, but in your teammates as well.  Everyone goes through adversity.  It is how someone handles it that separates the good from the great.
Both players are projected to be drafted in the Top 10 of next season's NHL draft.  While each of them surely has the talent to be drafted high, what makes them special are the intangibles they have that go along with their talent.  They each do things the right way, with the right attitude, no matter the situation.  The game of hockey could use more players in the game like Connor McDavid and Dylan Strome.