One rookie. That's the only youthful addition for the Calgary Flames. So no big surprise when it came to who made the roster for the new season. Team management and coaches may have said all the right things but the "earned" theory rings a little hollow to many fans. Several young prospects came close to making the club but were, ultimately, sent to the AHL or junior levels.
College star Johnny Gaudreau was the only rookie to make the Flames' final roster. First round pick Sam Bennett was placed on the injured non-roster list, along with defenseman Corey Potter. Unfortunately, Bennett needs shoulder surgery delaying his first regular game with the Flames.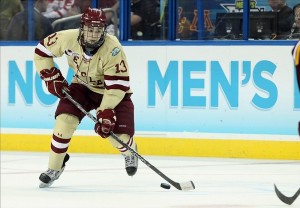 Merit System?
So the Flames kept all the veteran guys whether they deserved it or not. It may be too soon to judge but the likes of David Jones, Devin Setoguchi and Brandon Bollig have not impressed so far. Is the Flames' future better keeping a Sven Baertschi in the AHL or give him a chance to learn at the top level? The "earned" spouted by team management and coaches feel hollow to many fans.
Injuries are inevitable and the Flames will have no choice but to bring a prospect into the lineup since there are not many veterans left in the system. Perhaps then, Baertschi, Markus Granlund, Josh Joonis, Tyler Wotherspoon and other prospects will get an opportunity to play against the big boys. Flames GM Brad Treliving said he won't hesitate to call up help from Adirondack.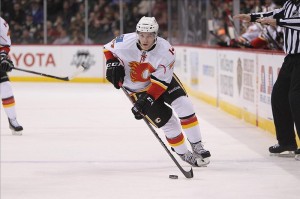 "The opening day roster is just that," said Treliving. "We've got some hungry guys eager to get back here. Performance plays. Performance predicates how we move forward," he said. "But I feel comfortable that there are people ready to step into our lineup."
Prospect System
If Jones, Setoguchi and Bollig have less than average season, it probably increases the Flames' chances of drafting higher in next year's draft. The season is long and there are always surprises. Regardless how it ends next spring, the future is bright in Calgary. The Flames are starting to add key pieces to the big puzzle.
"We have a deeper pool than I thought," said Treliving. "But we're not there yet. We're in an accumulation stage." Treliving said players see the competition and possible replacement waiting in the wings. "And the good news is that it isn't just one or two guys going down (Adirondack) to do that. There's a group of players."
 2014-15 Roster
Here is the opening night roster for the 2014-15 Calgary Flames:
Jonas Hiller, the starter at home Oct. 8, and Karri Ramo will take turns in net for the Flames. The Flames defense is exactly what fans expected: captain Mark Giordano, T.J. Brodie, Kris Russell, Dennis Wideman, Ladislav Smid, Derek Engelland and newly signed Raphael Diaz.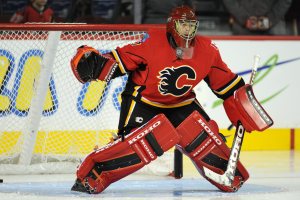 Up front, the Flames' lineup has more veterans than many fans would like to see but at least Johnny Gaudreau made it through camp successfully. He'll play initially with big center Joe Colborne and winger Paul Byron in what coach Bob Hartley called "The Tower and the two Timbits."
Sean Monahan, Mikael Backlund, and Matt Stajan will center the other three lines for the Flames. Monahan will be tried between two veterans Curtis Glencross and Jiri Hudler while Backlund will feed Lance Bouma and Mason Raymond. Stajan will have "beef" on his two sides, Brian McGrattan and Bollig. This initially leaves often injured Jones and Setoguchi out of the lineup.
Hartley will shuffle his lines and see the chemistry between various players. "Be ready for a mish-mash," he said. "Obviously we have guys that can play several positions and that's the beauty of it. It gives us plenty of options."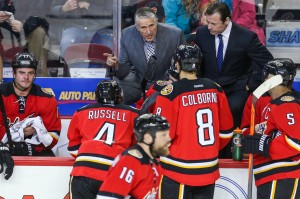 It will be interesting to see what the Flames do with two extra forwards and an extra defenseman. With two long road trips before mid-November, the Flames will have an opportunity to put everyone to the test and see how this rebuilding lineup matches against the rest of the league.
Mario now covers the Los Angeles Kings and writes other hockey features. He is an experienced journalist who has covered sports and entertainment in daily and weekly newspapers, magazines and online, including thedigitalbits.com/columns/inside-cinema. He is also the co-creator of The Gaffoos, www.gaffoos.com