At the 2016 National Hockey League Entry Draft, the Canadiens were looking to make a big selection holding the ninth overall pick. No one would have guessed that they intended to make a few notable trades that night as well.
Once the draft got rolling, Commissioner Gary Bettman approached the podium and announced "we have trades to announce". Now Canadiens fans didn't hold their breath, Bergevin has always said trades are too difficult to make, except for that night I guess.
Bettman got up on stage and announced two trades involving the Montreal Canadiens that resulted in the underappreciated Lars Eller being shipped out and the rugged Andrew Shaw coming to Montreal in separate deals.
In shock, many Canadiens fans didn't know what to think. The Canadiens received a proven winner and gritty forward in Andrew Shaw but also traded away Lars Eller, who had potential but was misused during his time in Montreal.
Now that the shock has subsided, it's time to evaluate who the Canadiens brought in from Chicago. Who is Andrew Shaw? What can we expect? Let's take a closer look.
Background Check
Age/Height/Weight: 24/5'11/179
Andrew Shaw was selected by the Chicago Blackhawks in the 5th round, 139th overall. Marc Bergevin who was then employed by the Blackhawks was instrumental to signing Shaw in Chicago.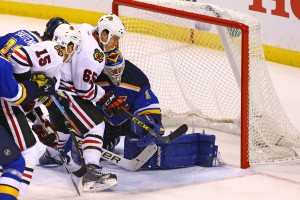 Shaw spent three years in the Ontario Hockey League and split time between the Niagara Ice Dogs and the Owen Sound Attack where he won a OHL Championship in 2011. Along with the championship, Shaw was awarded the OHL's Hardest Working Player. He then spent time in the American Hockey League with the Rockford IceHogs in parts of two seasons from 2011-13.
He was officially called up to the big club for a full-time role at the beginning of the 2013/14 season. His current NHL totals are 70 Goals, 137 points in 322 games. With Chicago, he was an important part in bringing two Stanley Cups to the city during his time there.
For a 24-year-old, Andrew Shaw is accomplished. The Canadiens want to surround their team with leadership and players who have won in their careers. It's a big unknown whether Shaw can be as effective without the help of Toews, Kane and Panarin but regardless his accomplishments speak for themselves.
What Shaw Brings to the Canadiens
Montreal Canadiens fans are very familiar with what Andrew Shaw can bring to the team. After all, Brendan Gallagher has done it for years now. With the addition of Shaw, teams now have to deal with both him and proven league-wide pest Brendan Gallagher.
Although Gallagher brings more offensive upside, Shaw still does bring goals. Scoring 20, 15 and 14 in the last three seasons. No Shaw won't have a line mate like Patrick Kane but he does come into an improved overall forward group with the signing of Alexander Radulov, who has to potential to score 25-30 goals.
https://www.youtube.com/watch?v=Pf7G29kbqzQ
On top of the scoring and toughness on the ice, Shaw also brings every intangible that you want in a player. He brings leadership and respect to the Montreal Canadiens. Recently, the President of the Chicago Blackhawks, John McDonough spoke of Shaw in a Chicago Tribune interview about the impact this trade has had on him, the team and the community;
"This was a tough one for me for many reasons. From the end of the season on, I had workers with hard hats screaming to me from the third floor, 'Don't trade Andrew (Shaw).' Wherever you went, people that I would run into said the same thing". He continued; "He had an organic grittiness that really struck a nerve with Chicagoans, maybe more than any athlete I've been associated with, he really resonated with everybody. Not the most skilled player but the classic overachiever. He got under people's skin. He represented what people wanted this franchise to embody"
That's a pretty glowing endorsement for any player.
My Take
I'd like to comment on both trades the Canadiens made during the 2016 NHL Draft.
Lars Eller was often overlooked and frustrating in Montreal. Sure some of it was on the player for not living up to his potential but much of it was on coaching and management.
Lars Eller is a third line center. He can't effectively play the wing and he can't effectively with his skill set, play anywhere else. During most of his time in Montreal he was misused as many players were and still are. It's not fair to put all the blame on Eller. He came to play each year, especially in the playoffs and he was a team player for every season that he was in Montreal.
Now in Washington he's in a good situation and they plan on using him where he needs to be; third line center.
On to Andrew Shaw, with doing my research I'm impressed. Now Shaw like I said hasn't played anywhere but Chicago and has been surrounded by elite talent for his entire career. Unfortunately for him that won't be the case in Montreal. Unlike Chicago he might be asked to do more and will be placed in many situations. All Canadiens fans can do is wait and watch, but I promise you this player won't disappoint.
He'll do a lot of behind the scenes work in the dressing room that fans won't see and wear his heart on his sleeve on the ice. Most importantly, Shaw will do whatever it takes to help the team win and a player like that is welcome on my team any day.
Welcome to Montreal Andrew Shaw.