Last season, at this point in time, everything was perfect for the Washington Capitals. They acquired T.J. Oshie in a trade for Troy Brouwer, and made some more moves to secure one of the NHL's strongest rosters. When the time finally came for this team to hit the ice, they dominated.
Braden Holtby was by far the best goaltender in the league, and had a career year that would later clinch him the Vezina Trophy. Alex Ovechkin was on fire, Evgeny Kuznetsov had a breakout sophomore season, Oshie was excelling with his new team, Barry Trotz was being the perfect head coach (which won him a Jack Adams trophy) and everything seemed to be perfect. In fact, it was this perfect year that helped Washington clinch the Metropolitan Division, the Eastern Conference and eventually, the President's Trophy. The team was a Cup favorite, and the dream of a Stanley Cup seemed not so far away, because no one could stop the Capitals.
However, everything collapsed against the Pittsburgh Penguins, and no, it was not because Washington's team "choked." In fact, that was far from the case. They lost to a better team, a team where every single piece was working for them, and where General Manager Jim Rutherford built the perfect roster. Not the roster filled with stars and award winners, but instead, the roster that had the rhythm, the chemistry, to bring another Stanley Cup back to Pittsburgh.
That being said, it was a perfectly created roster and incredible chemistry that helped Pittsburgh conquer the playoffs, even against the toughest teams and against all odds (they were out of playoff contention early in the season). For the Capitals, the question has to ring: is the current roster capable of hoisting the franchise's first Stanley Cup?
Well, taking a look at the current roster, we are definitely able to answer this question.
Stacked With Superstars
If you had to put it simply, the Washington roster is loaded with st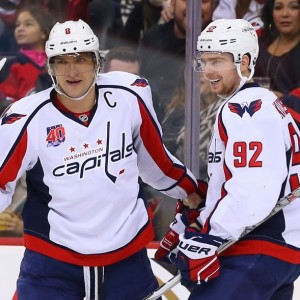 ars in the NHL, and yes, this is a good thing. You have a 30-year-old Ovechkin that is showing no signs of slowing down and is already at the 500-goal mark, alongside Nicklas Backstrom, an incredible underrated Swede who is by far one of the best centres in the National Hockey League. Oshie is of star caliber, and put up a solid 51-point season and proved capable of playing the wing.
You also have the young gun Evgeny Kuznetsov, whose playmaking ability and incredible on-ice intelligence helped him rack up 77 points (20 G, 57 A). He proved to have great chemistry with almost anyone, and helped Andre Burakovsky show some firepower. In fact, he proved capable of carrying his own line, and then, joining Ovechkin and Oshie to form one of the most lethal line sin the league.
And no one can forget, nor needs to mention, the star power of Holtby. The young netminder, who just four years ago was a call-up and a dark horse for the starting spot in the Capitals' crease. His incredible shut-down performance and record-breaking wins total got Washington to the top of the standings and made them one of the hardest teams to play against.
With these players leading their teammates, Washington should have no problem winning hockey games, completely dominating their opponents or putting up strong offensive and defensive statistics.
Fixed Tragic Flaw in the Bottom Six
Washington's roster, however, did have an Achilles' Heel. And that is the fact that their roster lacked depth and solidity when it came to the bottom-six. They were missing a third-line centre, and gave the promotion to Jay Beagle, and eventually, tried to sign Mike Richards to fill the hole. Unfortunately, it wasn't a solidified position, and that put a hole in Washington's centre depth when it came to the checking lines.
Washington also had a lack of scoring on the bottom-six wings; Justin Williams did just fine, and often competed with Marcus Johansson for that top-six spot on the right side, but players like Tom Wilson did not put up impressive point totals on the fourth-line, and instead took to fighting and being the tough, penalty-minute gobbling enforcer. This needs to change, as pointed out by General Manager Brian MacLellan. Not to mention, Jason Chimera, who had a 20-goal season, is no longer with the team, and this is going to leave a huge gap when it comes to that bottom-six production.
The signing of Brett Connolly and the acquisition of Lars Eller help fill both of these voids, and therefore, the Capitals should prove to be fine when it comes to bottom-six depth. The Penguins successfully did that with Bryan Rust and Matt Cullen filling out those bottom lines, and they got help from breakout forward Nick Bonino, who was critical in their postseason campaign.
http://gty.im/456084029
With the current forward situation and their signings on the bottom-six, Washington should be just fine. Jay Beagle proves excellent down the middle on that fourth line (and can step up to the third line if needed) and posed good chemistry on that fourth-line with Daniel Winnik.
When it comes to the new additions, Lars Eller fits perfectly on the checking line, and the depth signings of centre Brad Malone and Brett Connolly should provide assurance, offense and grit to those bottom lines and make them stronger. The bottom-six is not so much meant for scoring, but for putting up strong possession and defensive ability. These guys can definitely fill the holes that Washington has in these scenarios.
Right now, the Capitals' bottom six looks a lot better than it did at this point last season and is a lot more stable, and it is the kind that can keep them afloat and provide reassurance against tough competition in the playoffs.
One Particular Hole on Defense
Washington's defensive pairings are strong, but they still need to solidify things on their bottom pairing. With Matt Niskanen, Brooks Orpik, John Carlson and Karl Alzner making up the core. Dmitry Orlov provides solidity on that bottom left side, and still, Washington lacks a bottom-pairing right-handed defender. This led to a rather confusing analysis of the Capitals' third-pairing.
A lot of the time, Niskanen would work an extra shift, and Nate Schmidt occasionally appeared here, but shoots left, and would then sometimes play along side him. The Capitals also tried to pair Niskanen with lefty Taylor Chorney, but he did not put up strong numbers, with a shaky -2.2 relative Corsi this past year on a pretty strong team. Mike Weber (another LD) was also brought in to soften the blow, but unfortunately, he did not put up a strong performance. In fact, his turnover put Washington on the brink of elimination, on a night when he was given the jersey over Schmidt, who made a similar mistake.
Strong-performing right-handed defensemen are rare, but there are some options left in free agency that Washington could pick up for cheap. One of these names could be Edmonton Oilers defender Eric Gryba, who brings toughness and experience to the lineup. He put up decent numbers and proved to be a strong force on the bottom-pairing and knows his place. The 6-foot-4, 228-pound defender brings physicality and size, while also making things more secure on one of the last lines of defense.
Final Verdict
The Capitals are capable of winning a Cup, and have made the improvements necessary to stay afloat and remain in the playoffs past the second round. They should, however, look to add a bottom-pairing right-handed defenseman. That is the only problem that could lead to trouble for the Capitals. Otherwise, expect this team to win a Cup sooner rather than later. It's not a matter of if, but when.
Sammi Silber covers the Capitals beat for The Hockey Writers and is an NHL contributor with Sporting News. She has also contributed to USA TODAY College, Huffington Post, FanSided and the Nation Network. Silber has written four books and recently worked on graphics for the film, The California Golden Seals Movie.