Earlier this week, Sportsnet reported that the Vegas Golden Knights have given Vadim Shipachyov permission to seek a trade. Vegas has nine defensemen on one-way contracts while Shipachyov has a two-way deal. This means that he does not require waivers to be sent down, which makes him the most logical choice to be moved back and forth between the Golden Knights and Chicago Wolves of the AHL.
Upon hearing the news, it took reporters about 17 seconds to reach out to Montreal Canadiens general manager Marc Bergevin to get his thoughts. Although his exact quote was not released, reports imply that there's an overwhelming lack of interest from the Canadiens.
Well. That was quick. Marc Bergevin was contacted about Vadim Shipachyov's availability yesterday. The Canadiens aren't biting. They're out.

— Eric Engels (@EricEngels) October 26, 2017
NHL insider guru Bob McKenzie shared the same sentiment by tweeting, "For MTL fans thinking Shipachyov may be an option for Habs, don't believe there is any interest from MTL."
Money Is Not a Problem
All signs point to the Canadiens as the landing spot for the 30-year-old Shipachyov. First off, the Habs have nearly $9 million in cap space available which means they would have no issues accommodating Shipachyov's $4.5 million cap hit. Some argue that year two of his deal would be a problem, but the club has approximately $13 million available for next season and no notable expiring contracts.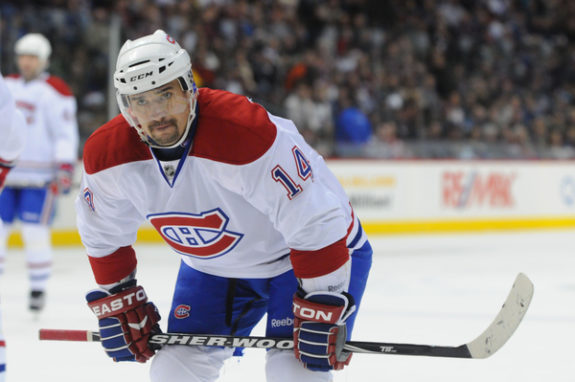 Tomas Plekanec will be an unrestricted free agent at the end of the season, but there is no chance his next contract is anywhere near his current $6 million cap hit. The acquisition of Shipachyov would make Plekanec expendable. Besides Plekanec, Torrey Mitchell and Ales Hemsky will also become UFAs after 2017-18 and it's unlikely that Hemsky will return. Should Mitchell re-sign, his deal shouldn't cost any more than his current $1.2 million salary.
Montreal will have some RFAs to sign, but realistically only Phillip Danault should command any more than $1-2 million. Unless Bergevin intends to make a major splash in free agency, the team can't blame their cap situation.
Playing Time is Available
One would think that an expansion franchise would have no problem slotting in a player who scored 0.93 points per game over his career in the KHL. However, at the time of this writing, the Golden Knights sit three points behind the Los Angeles Kings for the Pacific Division lead with two fewer games played. Additionally, their "cast-off" centermen have all been performing above expectations. Cody Eakin, Pierre-Edouard Bellemare and Oscar Lindberg are all over 55% in the faceoff circle and William Karlsson has five points in eight games to start the season.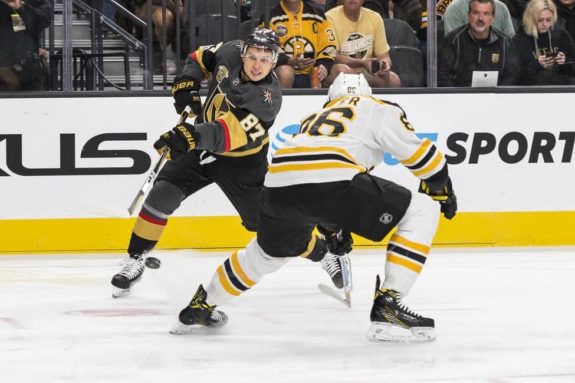 The same can't be said for the Canadiens. While Jonathan Drouin has come as advertised with seven points in ten games (at the time of writing), he, like most of the team's other centers, has been struggling at the dot. Phillip Danault and Tomas Plekanec sit just under 49% and Drouin is at 43.2%. Drouin can be given a bit of a pass, as he played on the wing during his tenure with the Tampa Bay Lightning, but those are unacceptable numbers for a team's top three centermen.
Shipachyov is a significant upgrade in that department, with 52.1% efficienty through 445 KHL games. Slotting him in on the second forward line would allow the Canadiens to properly employ Danault either on the wing or in the third or fourth center role.
Canadiens Need Offense
The storyline of the season so far has been the embarrassing lack of offense the Canadiens have produced. Although they lead the NHL in shots-for per game, they are last in the NHL with a measly 1.7 goals per game. The team's inability to bury the puck is a bit of a head-scratcher since they employ one of the league's top snipers in Max Pacioretty who's playing with Drouin, one of the league's elite passers. It could simply be an issue of chemistry, which is another reason to add Shipachyov.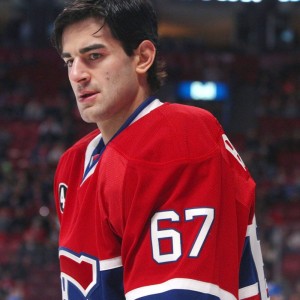 As it stands, the Habs have few options to play with their captain. Pacioretty has played 71.6% of his time at even strength with Drouin while the rest of the time he has played with Danault. With no disrespect to Danault, he is more suited for a third line role than setting up a perennial 30-goal scorer. Adding Shipachyov would give the Canadiens options to play with Pacioretty.
What About Galchenyuk?
What would the acquisition of Shipachyov mean for Alex Galchenyuk? On one hand, he could benefit immensely from having another Russian forward to play with. Although Galchenyuk was born in Milwaukee, USA, his family moved back to Russia at age four, so he spent most of his childhood and many of his teen years there. He also speaks fluent Russian.
"I met P.K. Subban and I'm looking forward to meeting Andrei Markov and (Alexei) Emelin. I can speak English, but it will be good to have other Russians, and Markov has had the same injury as me," Galchenyuk told the Montreal Gazette after being drafted.
On the flip side, if Shipachyov came aboard and was successful, Galchenyuk would become even more expendable and maybe even finally push Bergevin to trade him. At only 23 years old and under contract for two more years, Galchenyuk is valuable on the trade market. He could net the top four, offensive defenseman the Habs need to get their offense going.
Julien and the Russians
Although adding a Russian player might be beneficial for Galchenyuk, a controversial report arose earlier this week about Claude Julien and his ability (or lack thereof) to play them. During his time with the Boston Bruins, there was a highly-publicized disagreement between Julien and Alexander Khokhlachev, who thought he deserved more playing time but never got it.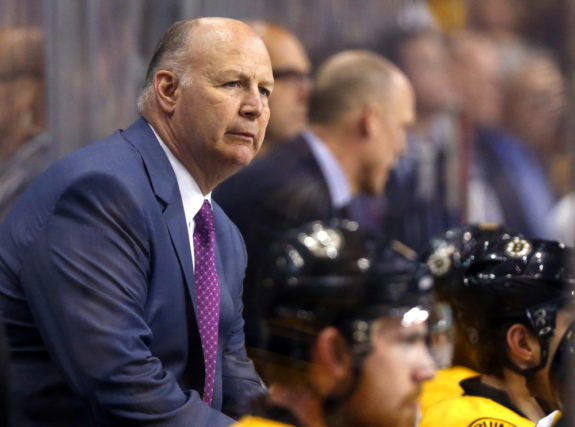 If Julien does, in fact, have an issue with Russian players, not only will that never be publicly admitted, but it means that Shipachyov will never be brought on board. It makes sense if the report that Montreal was very close to signing Shipachyov until Julien was re-hired is true.
Something Else Brewing?
While it is possible that Julien doesn't see eye to eye with Russian players, the more likely scenario is that the Canadiens are working on another trade for a different center. The Habs have been linked to various centers in the last few months, with Matt Duchene and John Tavares being the most talked about targets.
Besides Drouin, Bergevin is not one to make major trades involving forwards so it seems unlikely that they would pull the trigger on a move for Duchene, Tavares or Shipachyov. But if the team continues to flounder, it seems like only a matter of time before one of these three men is wearing the Bleu, Blanc et Rouge.