As mentioned in a previous post, the Dallas Stars employ a variable pricing structure for their tickets, sorting home games into three categories: Premium, Standard, and Value. If you assume Value-priced tickets are least expensive because the Stars host less-than-stellar opponents on those nights, you should watch the instructional video in this post. Simply put, the Stars offer Value pricing on Monday through Thursday games, with four notable exceptions: the season opener against Pittsburgh (Thursday, October 8), a holiday visit from the Blackhawks (Tuesday, December 22), the traditional New Year's Eve game (featuring division rival Nashville this year), and the one-and-only visit from Dallas' old nemesis, Detroit (Monday, February 29).
Price swings can be quite dramatic, based on game category and ticket demand. For example, the same Upper Terrace seat can range from $15 to $60, depending on the game. The good news is, Stars fans looking for low-cost tickets to high-quality games this season have many options. These four Value-priced games in 2015-16 won't disappoint:
4. Edmonton Oilers – Tuesday, October 13
While the season opener on October 8 features Sidney Crosby, Evgeni Malkin, Phil Kessel, and Premium ticket prices, the next game played in Dallas is Value priced and will be historic. Just five days after the Penguins waddle out of town, superstar-in-the-making Connor McDavid, the top pick in the 2015 NHL Entry Draft, arrives for his first-ever appearance in Dallas. How special is McDavid? Take a look at this video from two years ago, when he was only sixteen:
…And a 4-goal, 2-assist night last February:
McDavid is an extraordinary talent. His first appearance in Dallas is a frame-your-ticket-stub moment. This game, and another visit on Thursday, January 21, could be the last Value-priced Stars-Oilers games for the next fifteen years. Don't miss out.
3. Columbus Blue Jackets – Tuesday, December 15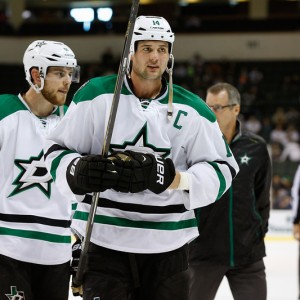 The Blue Jackets are one of the most intriguing teams in the Eastern Conference. Like Dallas, Columbus missed the playoffs last season. They had a pretty good excuse, though: an incredible 502 man-games lost to injury. By mid-March, the Jackets were at last (mostly) healthy but far out of playoff contention. Playing for pride alone, they ended the season on a 12-0-1 streak, including eight wins over playoff teams.
Like the Stars, the Blue Jackets used a trade with Chicago to improve their club, acquiring young sniper Brandon Saad on June 30. The tandem of Saad and center Ryan Johansen may very well prove eerily reminiscent of a certain pair of Stars…
Both clubs are expected to return to the playoffs this season. It's not too much of a stretch to say that, with a little well-timed luck, these teams could meet again in late May. If that happens, those tickets definitely won't be Value-priced. Get 'em cheap while you can.
2.  Calgary Flames – Thursday, December 17
Christmas comes early for budget-conscious Stars fans, as the Calgary Flames fly into Dallas just two days after the Blue Jackets. The Flames were perhaps the most surprising team in the NHL last season, posting a 20-point improvement over the 2013-14 campaign and advancing to the second round of the playoffs for the first time since 2004.
Led by Calder Trophy finalist Johnny "Johnny Hockey" Gaudreau and top-tier defenseman Mark Giordano, Calgary upped the ante this summer by adding another budding elite blueliner, Dougie Hamilton. This is a fast-skating, high-scoring team with a reputation for coming on strong late in games (their 99 3rd period goals last season tied Tampa Bay for tops in the NHL). Given the Stars' issues with holding 3rd period leads in 2014-15, this game has "measuring stick" written all over it. Get your tickets now for what could very well be a pre-Christmas fireworks display.
1.  Tampa Bay Lightning – Thursday, March 17
How is it possible that a game against the reigning Eastern Conference Champions, a team featuring superstars Steven Stamkos and Victor Hedman and rising stars Tyler Johnson, Nikita Kucherov, and Ondrej Palat, is classified as a Value game? Doesn't management know that the Stars 2014-15 Goals For average of 3.13 was bested only by Tampa's 3.16? If the Stars set ticket prices based on goals scored, these would rank among the most expensive tickets of the year. In the two meetings between these clubs last season, a total of 17 goals were scored. Highlights are below:
Note that both games were Stars losses. Note that the Lightning struck thrice in the 3rd period in both games. Note the date on your calendar, and bring your measuring stick.
There you have it: four big games at little cost. Eventually, management will figure out that they've undervalued these matchups, so…carpe ducats, Stars fans!
Matt blogged about all things hockey at On Goal Analysis/The OGA Blogs from 2008-2014 and has written several travel articles for The Dallas Morning News. He began covering the Dallas Stars and Florida Panthers for The Hockey Writers in August 2015. Matt is also writing a biography of "Tex" Rickard, the Texas cowboy who founded the New York Rangers and the Madison Square Garden Corporation.