With roughly one month to the start of training camp we've had a relatively quiet Summer with regards to the St. Louis Blues. We had the signing of superstar Vladimir Tarasenko back in early July and more recently the announcement of successful surgery for second year center, Jori Lehtera. Last week the team released their promotional schedule for the 2015-16 season, it's largest ever, and single-game tickets go on sale soon so the excitement is building. Here are a few situations I'm looking forward to seeing play out during camp.
Who Will Center Tarasenko?
Many fans were caught off guard by the Lehtera surgery. The young Finn will miss 6-8 weeks effectively eliminating him from any camp combinations and leaving a hole in the middle for the Blues when their top goal scorer is on the ice. Coach Ken Hitchcock's tendency to shuffle his lines means we might see all kinds of pairings as he prepares his team for the Season Opener. The camp play of youngsters such as Dmitrij Jaskin and Ty Rattie could have a large impact on who ends up playing where.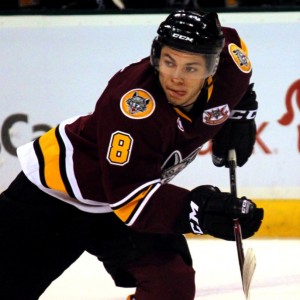 Paul Stastny should be the front-runner for taking that first-line center spot, which could lead to career years for both he and Tarasenko should the chemistry develop. St. Louis also has big bodies who can slide into the face-off circle in David Backes and Patrik Berglund. With three scoring lines to fill out, Hitchcock and the Blues have plenty of depth to work with yet again. I'm interested to see if Hitch can resist changing things up every night and giving some guys time to gel together.
Have Last Year's Hurts Healed?
No, I'm not talking about the pain of another early playoff exit. There's no doubt guys finished up the season and playoffs banged up and continued to recover from injuries during the off-season. Aside from Lehtera's ankle issue that we all hope has been fixed, Alexander Steen, Carl Gunnarsson, and Kevin Shattenkirk all missed time last season with injuries. The Blues need those three guys healthy to keep the team on the right track. Shattenkirk's health can change the entire face of the St. Louis defense as well as their power-play effectiveness.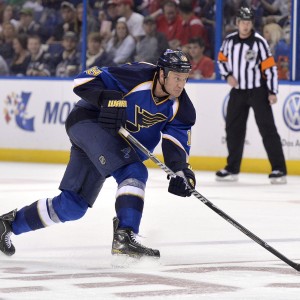 MY biggest question mark with regards to player injuries and recoveries is squarely on the back (groin?) of Jay Bouwmeester. The Blues suffered last season defensively, even while amassing their 100-plus points in the regular season, but the most noticeable drop in performance came from number 19. After a groin injury cost him his Iron Man consecutive games played streak, Bouwmeester rushed back to game action and appeared to have lost a step. He admitted his game suffered and claims to be healthy and ready for camp. I have my doubts but will withhold judgement until I see the product on the ice.
Goaltending
The other big-ticket item for me during camp and the pre-season will be watching the potential battle for the starting job between the pipes. Jake Allen, fresh off a new 2-year contract extension, is my favorite to get the nod but a sluggish start or a phenomenal camp by veteran Brian Elliott could give Hitchcock and the Blues a tough decision to make. After a fantastic year in which we saw Allen win 22 games and improve both his GAA (2.28) and Save % (.913) the rookie showed he can play in the big games and make the highlight reel saves, but can he shoulder the load of starting for a full year?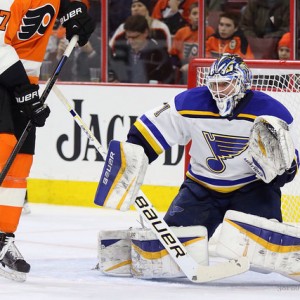 Elliott has been the quintessential "team player," staying the course and toeing the company line when his game suffered due to injury and possibly exhaustion last year. He's in the final year of his deal with the Blues and if he can stay motivated as the backup goaltender St. Louis will once again have a very strong tandem in net. I only hope Hitchcock doesn't split all the starts. I think both guys have the need to play regularly to get hot and that's what the team will need as they enter into what may be a sort of transitional year.
Hitchcock may be coaching for his life this season and with the changes made during the off-season he'll have to make some decisions about changing his ways as well if the Blues are to make the playoffs and advance this time. For now, let's get excited about camp opening next month and seeing how the roster shakes out. We might see a very different St. Louis squad take the ice when the first puck of 2015-16 drops.
Sean is a native St. Louisian and long time Blues fan. A doting father, boyfriend, son, brother, friend, sports fan, computer geek, technology consultant, listener, philosopher, writer, and music lover. He works for a local business supply company.