Matt Murray has helped the Pittsburgh Penguins advance to the Eastern conference finals in the Stanley Cup playoffs. They advanced without the services of their starting goalie, Mark-Andre Fleury. Backup goalie Murray has played exceptionally well, and has gotten the Penguins to the Conference Finals.
The question facing the Penguins now is whether to continue with Murray, or give Fleury the chance to regain his spot as starting goalie when they face the Tampa Bay Lightning in the finals. An argument can be made, and has been made, that in hockey team should ride the hot goalie. On the other hand there is a philosophy that says a player should not lose his spot due to an injury when he has recovered. It's a great debate:
@AbbyPhillips113 @penguins @CONSOLEnergyCtr Murray has to start. He deserves it. It's a shame for MAF… But you can't take out Murray now

— Shane Douglass (@Shane_Douglass) May 11, 2016
The Pens have decided to ride the hot goalie. No offense Fleury, but Murray is currently the man in between the Pittsburgh pipes.
Murray is Hot
A look at how Murray has performed in the playoffs shows why the Penguins are sticking with him. In nine playoff games he is 7-2. He has put up a save percentage of .935 and a goals against average of 2.05. Bear in mind that this is a 21-year old playing in his very first season in the NHL. Murray only played in 13 games during the regular season, but he did well, going 9-2.
As folks have said, this is Fleury's team, but when a guy is getting it done and is being consistently dependable, the tendency in any sport is to let him keep going. That is where Murray is currently, and the Penguins have no reason to pull him. Besides that, Fleury has the reputation of not having been reliable in the playoffs in recent years. This tweet from 2014 speaks for itself:
After Game 1 last year, Fleury allowed 17 goals in 4 games. He's allowed 14 in 4 games this playoffs. That's 31 goals in 8 games = not good.

— David Satriano (@davidsatriano) April 24, 2014
A Chance to Change the Narrative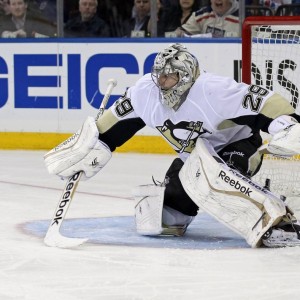 I wrote a few weeks back an article entitled, Penguins Playoffs Ride on Fleury. I pointed out that somehow in the years following the dramatic 2009 Stanley Cup win; Fleury has gotten a reputation of not being up to the task in the playoffs. Right or wrong, Fleury has been tagged "playoff unreliable."
This was to be the year that Fleury could disprove the doubters. He was having an excellent season up until a concussion knocked him off the ice. His last appearance was on March 31, at which time he was 35-17-6 with a .921 save percentage and a goals against average of 2.29. The hope was that Fleury would be recovered by the time the playoffs started, but that was not the case.
Fleury was cleared to play on Monday May 2, but has yet to see the ice. Murray is getting it done and Fleury has said he is ready to be the backup. Speaking like the pro he is, Fleury was quoted in the Post-Gazette as saying,
"What's important is us winning. Matty's giving us a chance to win every night he's been in there. I'll stay ready. I'll encourage him. It's not a personal game. It's a team game."
Of course Fleury wants to play and take back his spot. But, it's likely he'd be extremely happy if the Penguins get to hoist the Stanley Cup, even if it means Murray led the team to victory. For now it's Murray, a choice that some say is obvious:
https://twitter.com/SwageIin/status/731080360772014080
The good news for the Pens is that they have a hot goalie in Murray, and a starting goalie currently in the role of backup. Fleury has won a Stanley Cup, so the pressure of the playoffs won't be unfamiliar if he does get called upon to replace Murray. For now, the Pens are hot and look very much like they are headed to the Stanley Cup Finals with Matt Murray ready to lead them there.
Mark lives in the Raleigh, NC area and covers the Carolina Hurricanes.