The 2016 World Junior Championship have come to a close, and what an exciting tournament it was.
From Denmark being 44 seconds away from a semi-final berth, to Finland winning the gold medal in dramatic overtime fashion, there were several moments to get fans excited.
This year's tournament was dominated by younger players than usual. Five of the top six scorers were draft eligible for the 2016 NHL Draft.
The All-Star Team is representative of that, featuring four draft eligible players for this year's draft.
Note: This All-Star Team was created prior to the IIHF's announcement of their Tournament All-Star Team.
All-Star Team:
Puljujarvi – Matthews – Laine
Juolevi – Werenski
Soderstrom – Nedeljkovic
Forwards:
Jesse Puljujarvi – Auston Matthews – Patrik Laine
The top three forwards in the tournament are all eligible for the 2016 NHL Draft. The Finnish first line of Puljujarvi-Laine-Aho was easily the most dynamic of all 10 teams. Each of them were among the top three in points, combining for 6.3 points per game. Auston Matthews was also able convince his critics of his worthiness to go first overall this June.
Jesse Puljujarvi was my vote for Best Forward of the Tournament, and it wasn't very close. The 17-year-old finished the tournament with five goals and 17 points in seven games, three points ahead of the next best. He was a game changer each night, using his 6'3 frame to overpower opponents. Puljujarvi often drew in the opposition, opening up teammates and using his tremendous vision of the ice to find them open in the slot to create scoring chances. He cemented his spot among the top five at this year's NHL Draft.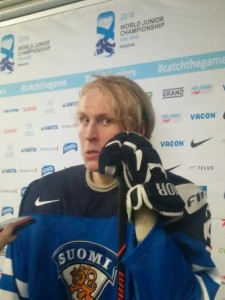 Patrick Laine, Puljujarvi's countryman, was also an offensive force for the Finns game in, game out. He scored a goal a game, tallying 13 points in seven contests. His most dangerous weapon is his cannon of a shot, often simply blowing through the goaltender to find its way over the line. Laine also uses his 6'4 frame along with a powerful stride to fly by defencemen, creating odd-man rushes. Like Puljujarvi, Laine used the tournament the cement his status as a guarantee to in the top 10 of the 2016 NHL Draft.
Auston Matthews owned the most hype coming into the tournament as the unanimous pick to go first overall in this year's draft. On a very young American squad, Matthews carried the team to a bronze medal. He led the tournament in goals with seven in as many games, while finishing tied for fourth in points with 11. In what is usually known as a 19-year-old's tournament, these 17-year-olds proved that they are more than capable of playing above their own level. Matthews is a very smart forward who knows how to create open space and use it to his advantage.
Defensemen:
Olli Juolevi – Zachary Werenski
Yes, these are the two highest scoring defensemen in the tournament, but they were also tremendous in their own end, save Werenski in the second period of their semi-final match. There was no contest in selecting the top two defenders, and Juolevi may have just made himself a potential top ten selection at this year's draft.
Olli Juolevi, a member of the OHL's London Knights, really used this tournament as a coming out party for himself. He was solid in his own end, showing the knowledge of when to separate the body from the puck, or when a simple poke check would be safer. However, it was his offensive game that put him on a mother level. Juolevi often pinched at just the right time to hold the zone, and then had the patience to out wait opponents and find a cross-ice pass. He also led the Finnish breakout with authority, wasting no time to sling an up-ice outlet pass.
Zach Werenski, captain of the bronze medal winning Americans, was a force throughout the entire tourney. He showed great maturity in comparison to this time last year, with the sense of when the play needed to be slowed down, or when an opportunity for offence was available. Quarterbacking the power play, Werenski often was able to fire a wrist shot through multiple screens and on net to either fin the back of the net, or create a dangerous rebound. His skating was also notably stronger, able to hold off opponents and win many more puck battles.
Goaltenders:
Linus Soderstrom – Alex Nedeljkovic
This was by far the hardest choice to make. Selecting the top two goalies was a piece of cake, but choosing a starter was insanely close. The American and Swedish net minders performed very well through the round robin, and almost identical in their semi-final losses. Both could not have possibly performed more admirably for their respective countries.
Linus Soderstrom gets the nod as the Top Goaltender of the Tournament, with his shutout against the USA coming as the tiebreaker. He gave Sweden a tremendous shot of winning each game he started. His final stats for the tournament were a 1.42 GAA and a .947 SV%. Unfortunately, he didn't get the opportunity to face the United States in the bronze medal game, which they ended up losing 8-3. Soderstrom uses his 6'4 frame to cut down on shooting angles, relying largely on his solid positioning to stop pucks. He also has solid agility, reacting to rebounds very quickly to get himself square to the shooter again. Soderstrom was the Islanders 95th overall pick in the 2014 NHL Draft and should be coming to ply in North America in the near future.
Alex Nedeljkovic gets the backup position despite an incredible tournament from the Carolina Hurricanes prospect who is just one day under 20 years of age. The American goalie played a key role in their rise to a bronze medal victory. Playing in six games, he allowed just 1.66 goals and game while stopping 94.27% of the shots he faced. Representing the Niagara Ice Dogs of the OHL, Nedeljkovic used athleticism to take the tournament by storm. He was able to play an aggressive game by coming out on top of his crease to cut down the angles that his 6'0 frame could not. He also used his rebound control to limit scoring chances, while using some incredible desperation saves to keep the puck out even while he was out of position.