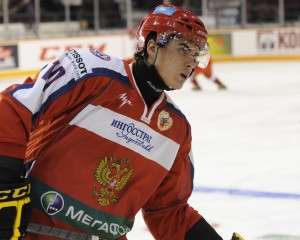 It didn't take long for players to begin scattering once the NHL owners announced they will be going ahead with a lock-out. Some were assigned to the AHL, some went back to Junior, some went to various European leagues, and some went to the KHL. One such player was Edmonton Oilers prospect Nail Yakupov. He was selected first overall in this past summers draft, and signed a three-year entry level contract with the Oilers back in July. He wants to play hockey, and since the NHL isn't letting him do that in Edmonton, he did what many of his Russian counterparts did. He headed home.
Yakupov has already played two games for Neftekhimik Nizhnekams, his hometown team. But news came out today that he won't be hitting the ice again until his International Transfer card is approved. Obviously, to hear that a Russian player isn't allowed to play in Russia is certainly strange, but the matter is more complicated than it appears.
Yakupov's contract with the Oilers only allows him to play in the CHL or the NHL, though he made it very clear he didn't want to go back to Junior, and he wanted to play with men in an adult league. He is thought to be NHL ready, therefore going to back to dominate in the OHL with the Sarnia Sting wouldn't be in his best interest. The Oilers knows this, and evidently have nothing to do with Yakupov getting temporarily suspended. They want him to be playing in the best league he can. It's believed that the Sarnia Sting, who signed Yakupov to a three-year contract, haven't released him to play in Russia, thus the source of the controversy.
Hockey Canada stated that they didn't sign his International Transfer Card, and he is therefore ineligible to play under IIHF rules. They have a released a statement saying that until Sarnia gives them permission, they cannot sign the transfer card. Unfortunately for Yakupov, he has to sit and wait for the matter to resolved. He took to his Russian twitter account today saying that he believes he'll be able to continue playing for his hometown team in the KHL and that "everything will be worked out in the near future." (Winnipeg Free Press)
As for the Oilers organization, they haven't been talking. Reports suggest that they want to stay out of it, however considering that Yakupov is their prized prospect, they might not be quiet for much longer. No doubt this story is far from being over.