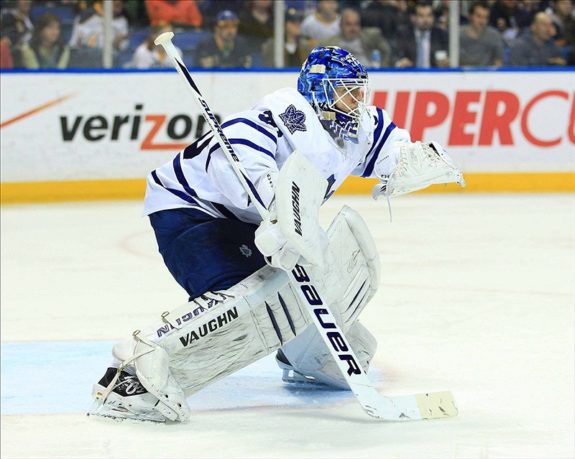 There has been a lot of debate this summer over the validity and quality of the Toronto Maple Leafs goaltending, both at the NHL level and throughout the system.
James Reimer, Ben Scrivens, Jussi Rynnas and Mark Owuya are the Maple Leafs top-four goaltenders in the organization, with Reimer and Scrivens considered 1 and 1A.
All four have upside, but none of them has proven to be "the answer" between the pipes for the Maple Leafs.
Let's take a look at the Maple Leafs top goalies and where they will play this season.
James Reimer, 24: Posted some very average numbers with the Red Deer Rebels (WHL) and Reading Royals (ECHL) before impressing the Maple Leafs brass with his work with the Toronto Marlies at the AHL level in 2009-10 where he posted a 14-8-2 record while registering a 2.25 goals against average and a 0.925 save percentage.
Reimer followed his work with the Marlies up with a stellar partial season with the Maple Leafs in 2010-11 posting a 20-10-5 record while registering a 2.60 GAA and a 0.921 save percentage.
Reimer, who stands 6'2" and weighs in at 208 pounds, impressed the Maple Leafs enough that they went into the 2011-12 season with Reimer as the undisputed starter ahead of the now departed Jonas Gustavsson. Reimer started last season off with four wins in his first five games (although we'll acknowledge his numbers were very average up to that point) before succumbing to a neck ailment which derailed his season considerably.
Reimer ended the 2011-12 season with a 14-14-4 record, a bloated 3.10 GAA and a paltry 0.900 save percentage.
Unless Toronto Maple Leafs general manager Brian Burke deals for a veteran goaltender Reimer is expected to get the lions share of the duties between the pipes with the Maple Leafs this season, with Ben Scrivens pushing him for minutes.
Reimer has genuine upside, but the jury is still out on whether or not he can be a number one goalie at the NHL level.
Ben Scrivens, 26: Scrivens, who stands 6'2" and weighs in at 192 pounds, came up with the Cornell Big Red at the ECAC level. Scrivens had an exceptional 2009-10 season where he won the NCAA (ECAC) Championship, was named to the NCAA (ECAC) First All-Star Team, as well as being selected as the NCAA (ECAC) Goaltender of the Year. Scrivens was also Hobey Baker Finalist, posting an impressive 1.87 GAA and a 0.934 save percentage.
The Toronto Maple Leafs signed Scrivens as a free agent in 2010. Scrivens started his career with the Maple Leafs organization the way many goalies have, making his way to Reading to play with the Royals at the ECHL level.
Scrivens dominated the ECHL, earning a 10-3 record through 13 games while posting a 2.23 GAA and an exceptional 0.938 save percentage.
Scrivens spent the majority of the 2011-12 season with the Toronto Marlies posting a 22-15-1 record, a 2.04 GAA and a 0.926 save percentage. Scrivens followed his dominating regular season up with an equally impressive playoff, registering a 11-6 record, 1.92 GAA and a 0.935 save percentage, taking the Marlies all the way to the Calder Cup Finals.
When you consider Scrivens' body of work it is easy to see that he has dominated at every level he has played. Thus far, his work at the NHL level has been spotty at best, registering a 4-5-2 record, 3.13 GAA and a rather ordinary 0.903 save percentage.
With the lessons learned at the AHL level and a long playoff run behind him, Scrivens is expected to push James Reimer for significant minutes next season.
While Burke continues to praise Reimer, Scrivens might just be the most technically sound and mentally tough goalie in the Maple Leafs organization. Don't be shocked if he eventually beats Reimer out for the starters job as early as next season.

Mark Owuya, 23: A product of Sweden, Owuya stands in at 6'2" and weighs in at 192 pounds. Owuya posted a .930 save percentage and a 2.63 goals against average with the Reading Royals in the ECHL before being called up to the Toronto Marlies where he posted excellent numbers including a stellar 1.94 goals against and a .929 save percentage through 19 games.
Owuya played for Sweden at the 2009 World Ice Hockey Championships, leading Sweden to a silver medal.
A butterfly goaltender by nature, Owuya still has a lot of development to do, especially in terms of his overall agility, which has been questioned at times. Owuya could also have a better glove hand and needs to be better with high shots.
With Ben Scrivens expected to get the lions share of the work with the Marlies until the CBA is settled there may not be a place on the Marlies' roster for Owuya.
Look for Owuya to start the season with the Reading Royals (ECHL) with his eyes set on competing for a spot on the Marlies.
Jussi Rynnas, 25: A product of Finland, Rynnas spent the past two seasons with the Toronto Marlies, posting 10-15-1 record in 2010-11 while boasting a save percentage of 0.911 and a 2.47 goals against average. Rynnas followed the 2010-11 season up with a 11-9-0 record, earning a 2.55 goals against average and a 0.910 save percentage.
At 6'5" and 212 pounds, Rynnas is a big body goaltender who is known as much for his quickness as he is for playing the position aggressively. Ryannas also has an excellent glove hand and a high compete level.
Rynnas has the ability to be a starter at the NHL level, but will likely see another year of action at the AHL level this year where he will further acclimate himself to the North American size rinks and work on his angles.