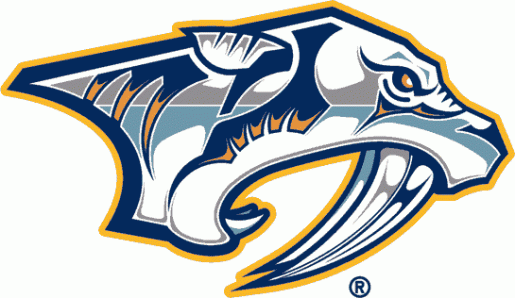 Nashville Predators defenseman Victor Bartley is 25-years-old, went undrafted multiple times, and has a grand total of two points in his first 12 NHL games … but I believe the Predators should consider keeping him and trading former first round pick Jonathon Blum.  Here's why.
Roster and Salary Cap Implications
For starters, while Blum has the potential to be a second pairing, puck-moving defenseman at the NHL level, he is essentially a third pairing guy at this point in his career.  In fact, Blum is averaging about fourteen and a half minutes of ice time per game this season, lowest among any Predators defenseman (including Bartley, who has averaged more than 18 minutes per game during his brief time in Nashville).
Two explanations for the low minutes: Nashville has dressed seven defensemen multiple times this season and Blum also has a tendency to wind up in head coach Barry Trotz's doghouse.  Another explanation, however, is Nashville's talented blueline.  Three of the top four spots are occupied by All-Star Shea Weber, the fast-rising Roman Josi, and responsible veteran Kevin Klein.  All three are on the ice more than 20 minutes per game.  Add in Bartley, another former first round pick Ryan Ellis, veterans Hal Gill and Scott Hannan, and prospect Mattias Ekholm – who played two games with the Predators last season – and the blueline appears crowded.
There are also salary cap concerns when it comes to Bartley vs. Blum.  Both will be restricted free agents this summer, but Blum should easily command a higher salary based on his pedigree, his offensive production at the WHL and AHL levels, and his three years of limited experience at the NHL level.  Nashville already owes more than $14 million to four defensemen (Weber, Ellis, Klein, and Gill) next season and that's before re-signing fellow restricted free agent Josi.  Would it make more financial sense to sign Bartley and use him as your sixth or seventh defensemen?  Bartley will likely re-sign for six figures per season, while Blum figures to command seven.
Statistical Similarities
Salaries aside, when it comes to measuring skill level and potential, there's no denying Blum would grade higher than Bartley.  Blum was a first round draft pick for a reason.  He was an other-worldly defenseman during his years in the Western Hockey League with a long list of accomplishments including multiple All-Star appearances, being named the WHL's top defenseman, and being named Canadian Major Junior defenseman of the year in 2008-09 when he posted 66 points and a plus-53 in 51 games.  In terms of offensive production, Blum is no bum.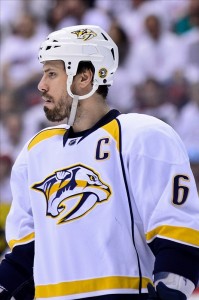 But don't mistake Bartley for a bum, either.  Bartley also played his junior hockey in the WHL and produced a respectable 27 points, 43 points, and 42 points for an average of .58 points per game in his first three seasons.  For comparison, Blum averaged .69 points per game during the same three years before his offensive explosion in 2008-09.
Fast forward to present day and the similarities continue.  Blum and Bartley played together for parts of the past two seasons with Milwaukee of the American Hockey League.  During that time, Blum averaged .45 points per game and a minus-7 rating, while Bartley averaged .49 points per game and a plus-8 rating.  Bartley even represented the Western Conference in this year's AHL All-Star game.
Does this mean Bartley has improved to the point that he's as good offensively as Blum?  Of course not.  Bartley was signed as an undrafted free agent and undoubtably had plenty of motivation to show he was good enough to play in the NHL.  Blum had already played parts of two seasons at the NHL level – including the Stanley Cup playoffs – and it's reasonable to think he may have experienced some disappointment playing in Milwaukee instead of in Nashville.
Trade Value
Finally, while the Nashville blueline is crowded, the Predators forward ranks are in need of an upgrade.  The Predators have twice gone to the waiver wire grabbing Zach Boychuk (who has since been placed on waivers and claimed by the Carolina Hurricanes) and Bobby Butler in an attempt to awaken what has often been the lowest-scoring team in the league this season.  With depth on the blueline, one obvious solution is to trade defense for offense.  Teams are constantly looking for puck-moving defenseman, and while Blum's value has taken a hit because of a lack of consistency at the NHL level, I would imagine several teams would be willing to invest in the potential of a 24-year-old former first round draft pick.  Without argument, Blum has much more trade value than Bartley.  Blum could be used as part of a package to acquire a forward or swapped with a team who has a similar change of scenery player up front.
Nashville can practice good asset management by trading Blum while he retains market value and acquiring an asset that can potentially supplement a part of the organization that is lacking.  Admittedly, this is only looking at one angle of the entire Nashville Predators picture.  Bartley's highest ceiling is likely that of a third pairing defenseman, while Blum could easily turn into a point-producing second pairing defenseman on another club.  Nashville will have to face that reality before dealing him.
So, when it comes to Blum vs. Bartley, we've learned that Blum is younger, has a higher upside, has had more success at every level, and has greater value on the trade market than Bartley.  Then why am I suggesting keeping Bartley and dealing Blum?  Because history tells us Bartley can fill the role of sixth or seventh defenseman in a Barry Trotz system with similar production at a discounted rate in comparison to Blum.  It's unnecessary and unwise to pay Blum second pairing money when realistically he is unlikely to play the minutes or give you the production of a second pairing defensemen.
So in this case, give me Bartley over Blum.