The Buffalo Sabres headed into another uncertain offseason filled with large question marks, both offensively and defensively, as the team turned its ship in a different direction with general manager Jason Botterill at the helm.
In his first trade as general manager, Botterill improved arguably one of the team's biggest weaknesses on Saturday when he acquired defenseman Nathan Beaulieu from the Montreal Canadiens for Buffalo's 2017 third-round pick (68th overall).
🚨 TRADE: The Sabres have acquired defenseman Nathan Beaulieu from @CanadiensMTL in exchange for a 3rd-round pick (68th overall) in 2017. pic.twitter.com/fGQbT0WG4a

— Buffalo Sabres (@BuffaloSabres) June 17, 2017
This move came across just under an hour before the expansion draft trade freeze and caught a lot of people off guard.
The Sabres were expected to throw their hats into the ring for other rumored-to-be-available defensemen but until the trade was completed, the team had, at no point, been linked to Beaulieu.
Who Is Nathan Beaulieu?
Beaulieu, 24, is a former first-round pick of the Montreal Canadiens.
In 225 career NHL games, he has amassed only 60 points (7 goals, 53 assists) but 28 of those points (4 goals, 24 assists) came in the past season.
Beaulieu's contract status is currently unknown because he is a restricted free agent, but it is assumed that he will officially be under contract sometime in the near future.
He was entrusted with a big role to begin the 2016-17 campaign and endured some bumps in the road, but still appears to be a promising young talent.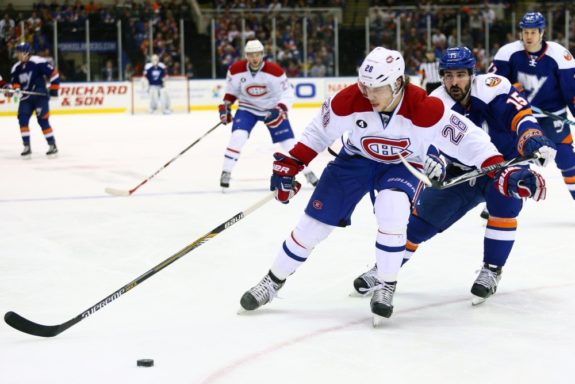 As soon as the trade broke, fans throughout the Western New York area wondered what to expect from Beaulieu and why Montreal would give up on a young, former first-round draft pick.
Luckily, the great team here at The Hockey Writers can give you a look into what Nathan Beaulieu brings to the table.
We spoke to Montreal Canadiens writer Ryan Szporer about the trade.
Learning More About Beaulieu
THW: What kind of defenseman is Beaulieu?
RS: He's a puck-moving defenseman, who's highly mobile, but is prone to defensive lapses.
THW: What circumstances do you think led to Beaulieu becoming expendable?
RS: The Habs arguably acquired Jordie Benn, another left-handed defenseman, because Greg Pateryn was becoming a distraction. Benn provided more value than most expected, providing the defensive stability further down the lineup that they lacked, partly because of Beaulieu's flawed, inconsistent game in his own zone. The writing was on the wall for Beaulieu to be traded ahead of the expansion draft to allow the Habs to protect Benn instead following the 7-3-1 model and get something in exchange, as Beaulieu was most likely going to be the one selected.
I don't see the third-round pick being nearly enough from a Habs perspective for a 24-year-old defenseman who was a former first-round pick and just reached a career-high 28 points. In my mind, the Sabres fleeced the Habs, especially seeing as the Vegas Golden Knights still have to select someone else. Marc Bergevin could have not made the trade and left Beaulieu exposed. The third-round pick isn't worth losing two players in my opinion.
THW: Where do you see Beaulieu's ceiling being?
RS: I don't think he has the defense to be a top-pairing defenseman, but a role he had been playing more than adequately was as a top-four who can quarterback a power-play unit. In Montreal, he generally got second power-play-unit time. He has the talent to move up in that regard.
THW: Would you protect him over a defenseman like Zach Bogosian?
RS: I think he's more valuable than Bogosian for the simple reason that Beaulieu's still very young and his offensive prowess is still untapped. He has room to grow, whereas I see that element in Bogosian's game is regressing slightly. They're very different defensemen, though. Obviously, Marc Bergevin felt Beaulieu wasn't worth wasting a protection spot on and will most likely choose to protect a stay-at-home defenseman instead, so take it all with a grain of salt.
What Does This Do For Buffalo?
Heading into the offseason, it was discussed that the team would likely need to pick up two to three defensemen to make the overall top six deeper.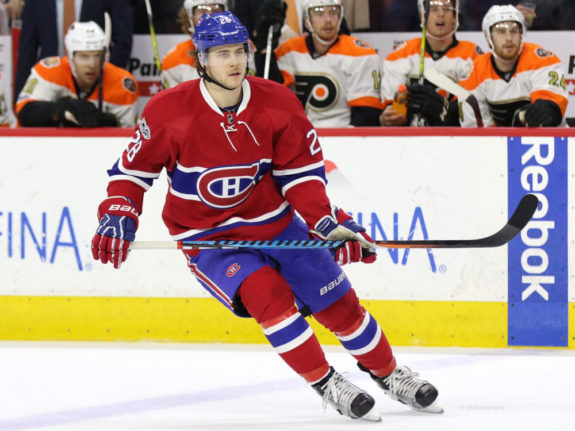 With the arrival of Victor Antipin, the Sabres took a big step forward and with this acquisition, they took an even bigger step forward.
At this point, there are currently seven defensemen under contract: Antipin, Beaulieu, Zach Bogosian, Justin Falk, Josh Gorges, Jake McCabe and Rasmus Ristolainen.
With how last year's group struggled with ineffectiveness and injury, it is hard to imagine the defensive retooling is done.
Josh Gorges still finds himself to be a buyout candidate and Justin Falk is certainly not a full-time NHLer, but he could find himself a fit as a seventh defenseman.
Botterill said he wanted to play an uptempo style of hockey, a sentiment echoed by head coach Phil Housley. The acquisition of Beaulieu continues to push the needle in that direction.