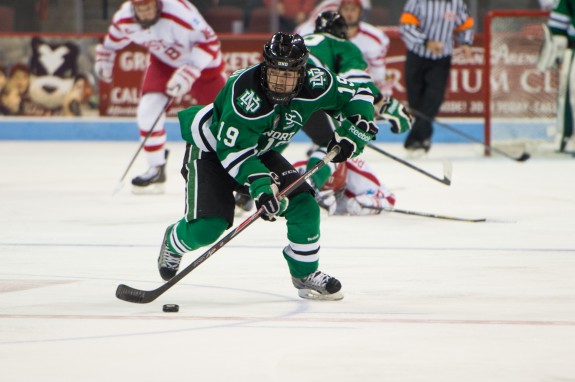 This past weekend, I was able to watch four college hockey games on my television in my living room. One of the reasons I have DirecTV, instead of normal cable, is because it allows me to watch college hockey match-ups that you can't normally see on cable.
When you purchase DirecTV with the sports pack, this allows you to watch events like The Great Lakes Invitational, The Bean Pot, and other college hockey match-ups you can't normally see on your regular cable package.
I would like to see college hockey have a College Hockey Center Ice like the NHL does, but that's a discussion for another day. I am not sure it's feasible with the various conference television deals.
Poor officiating is a buzzkill
I feel that poor officiating ruins your college hockey viewing experience. Whenever a team travels to play in non-conference games, they're going to get the officials from the conference of the team they're playing. In essence, college hockey has six conferences (Atlantic Hockey Association, Big Ten Hockey Conference, East Coast Athletic Conference, Hockey East, National Collegiate Hockey Conference, and the Western Collegiate Hockey Association). This means there are six standards for officiating. You're at the mercy of the conference host you're playing. Word of advice to the head coaches, pick your non-conference games carefully.
One of the series I watched this weekend was between Boston University and the University of North Dakota, in Boston, Massachusetts. For the most part,the officiating was atrocious.  It was a two game series and they used two sets of officials, which is unheard out west.
Point of disclosure, I am UND fan. Night one, the home team BU, was given seven power players opportunities to UND's two power plays. In third period, BU was awarded a power play on a questionable elbowing call against Drake Caggiula which leads to a BU power play goal 1:27 later, putting the game out of reach. Many calls went uncalled, and it appeared that North Dakota was getting homered in an opponent's building. It's not like UND came into the game leading the NCAA in penalties, they're ranked 26th in the nation.
Night two, again, different set of officials, the penalties were miraculously even, with each team getting seven power play opportunities.
During the second game, I witnessed one of the worst calls I have ever seen called in a hockey game. At the 16:57 mark of the third period UND forward Brendan O'Donnell was assessed a two minute minor for slashing.  The video revealed that O'Donnell never slashed anyone on the Boston University hockey team. Luckily, it didn't cost UND a goal against, but none-the-less it was a bad call. Poor officiating is a buzzkill for fans and the players.
What's a penalty in the NCHC, should also be a penalty in Hockey East, and vice versa. Maybe the officials in the NCAA hockey need to be trained to the same standard, by the same trainer. Do they not have the same rule book?
On Sunday night, I watched a non-conference matchup between Minnesota and Minnesota Duluth. The Big Ten Officials called every ticky-tacky infraction on the ice, or at least it appeared that way from my vantage point. That affects the flow of the game and your viewing experience.
Isn't there supposed to be a national standard for officiating? There shouldn't be a lot of disparity between leagues when they play hockey. The players shouldn't look confused when they step out on the ice to play a hockey game.  This past summer, the NCAA Ice Hockey Rules Committee said this.
"We looked at the game overall and really believe the standard of enforcement at all levels needs a renewed focus," said Tom Anastos, chair of the committee and men's coach at Michigan State. "This is a perfect time to reset the standard a bit, since it does not require any rules changes."
What's a penalty in the NCHC, should also be a penalty in Hockey East, and vice versa.  Maybe the officials in the NCAA hockey need to be trained to the same standard, by the same trainer. Do they not have the same rule book?
Time for Neutral Officials for non-conference games
Last season, Cornell head coach Mike Schafer said this. "One of the things I'll push for as head coach is that we have neutral officials for non-conference games across the country. The only way I'd ever come back to the WCHA is if there are neutral officials."
Of course, Schafer's team had a bad weekend on the ice and was swept by a WCHA opponent. I am sure that most of us said things when we're upset. But I don't think that his comments are out of line. Are they? The NCAA tourney is played with neutral officials. Why not have showcase match-ups officiated by officials that have no stake in the games?
In conclusion, whenever a non-conference game is played, there is always going to be the "possibility" of bias towards the home team.  Neutral on-ice officials could alleviate any chance of this happening. Is this that controversial of an idea?
Eric is a 1996, 1999 graduate of the University of North Dakota. Eric covers the University of North Dakota Hockey and Division I college hockey. Eric is the Contributing Editor for Inside Hockey.