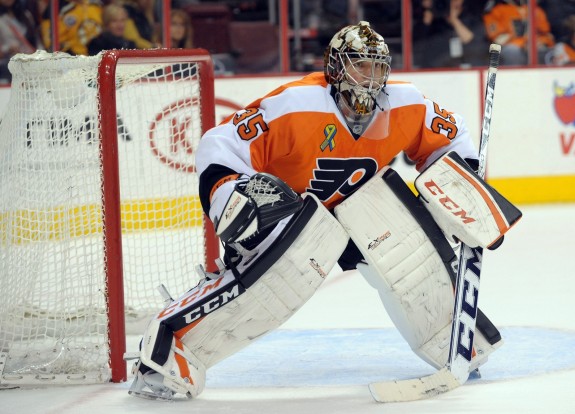 The Flyers' season started out bad – real bad.  After three games, Peter Laviolette was canned; the team was at the bottom of the barrel in the NHL standings; the offense wasn't scoring; the defense didn't play defense; there was no consistent effort.  The team was in such disarray that they held a players-only meeting to discuss their horrid gameplay.
Over the following couple weeks, the Flyers were able to string together a nice winning streak making themselves contenders – not pretenders.  Now Flyers fans have reason to cheer on this festive Thanksgiving Eve.  The horizon is bright for the once struggling franchise.
Goaltending
It's the age-old story.  Fans have heard it countless times before.  The team has not had a great goalie since Ron Hextall lead the Flyers to the Stanley Cup in 1997.  The crease has become a revolving door for many brave netminders daring to step foot to their eventual demise.
However, Philadelphia no longer has the "goaltending controversy" label thanks to Steve Mason.  Mason boasts a 2.17 goals-against-average, which is better than goalies like Halak, Quick, Crawford, Lundqvist, Anderson, and Bobrovsky.  Coupled with a .931 save percentage, Mason has been a consistent bright spot on this Flyers team.
His back-up, Ray Emery, isn't doing too shabby either – 2.54 GAA/.910 SV PCT.  For once, blame isn't being put on the goalies and that's relatively refreshing.
How "G" got his groove back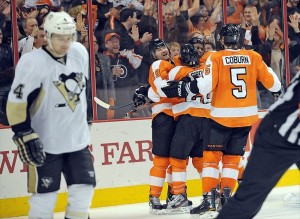 It took Claude Giroux six games before he got his first point.  It took him 15 games before he scored his first goal.  Off to a sluggish start, the "elite-level" captain was playing anything but.  He was snakebitten and wasn't creating opportunities that fans had been accustomed to in previous years.
In the first 14 games, Giroux had zero goals and seven assists.  In the past eight games he's notched three goals and six assists and his line seems to be clicking like days of old.  Getting off the schneid was key for G's confidence and has helped him regain his form in recent weeks.  At times in the early going he looked disinterested, but he's slowly gained that fire that made him such a success last season.
Recent Schedule
Let's face it.  The Flyers wouldn't be in the fortunate position they are in right now without some help from other teams.  They beat up on Edmonton (who just can't seem to get anything going), Ottawa twice (one of the most porous defenses in the league), New York Islanders (a team with no solid #1 goalie), and Buffalo (need I say more?).  They did manage to squeeze out a 2-1 victory over Pittsburgh, but fell to a lackluster Florida Panthers team.  Overall, having to play against some of the league's worst opponents have given the Flyers a chance to turn things around.
Buying in
The time it takes for a new coaching system to be implemented can take months.  When Craig Berube was introduced as head coach of the Philadelphia Flyers, talk was he'd stress the defensive aspects of the game and develop an all-around style of play that creates offense from their defense.  In recent games, fans are beginning to see these strategies take shape.
Philadelphia has played sound defensively with very few lapses.  Every player is being held accountable for what they do on the ice.  As a result, the team is playing as a cohesive unit and can now begin challenging the rest of the Metropolitan division for a playoff spot.  And this system took weeks to adapt to…not months.
East vs. West
Can't beat around the bush here.  The Western Conference is superior to the Eastern Conference.  Philadelphia finds themselves with a fighting chance to be playoff bound each and every season.  This is not to say that teams in the East are dreadful.  They have a few prominent teams, but on the whole, it's no comparison to the juggernauts of the league – Chicago, St. Louis, San Jose, etc.
Currently, the top six teams in the NHL (points wise) are all based out West.  Only Boston and Tampa are the two Eastern Conference teams in the top 10.  Furthermore, there are only two Western Conference teams in the bottom 10 – Edmonton and Calgary.
See!  The City of Brotherly Love has loads to be thankful for this Thanksgiving.
Follow Shawn Reznik on Twitter: @ShawnTHW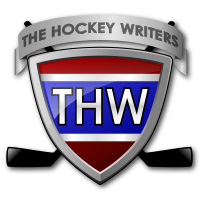 The archives of THW contain over 40,000 posts on all things hockey. We aim to share with you some of the gems we've published over the years.