With still over a month left before the February 29th NHL trade deadline, some teams have already started to make noise. As more names enter the fold throughout the league, there are opportunities for teams to build up their rosters and make their final push for an elusive playoff spot with the help of some new faces.
The New Jersey Devils seem like a team that would be interested in examining the trade market. Since last offseason there was speculation that the Devils would be looking to make a deal and they did when general manager Ray Shero acquired forward Kyle Palmieri at the NHL Entry Draft. At the time the move seemed promising. But as the season rolls on, it is becoming more apparent how important that deal was with Palmieri now leading the team in goals.
New Jersey is in the midst of a tight playoff race in the Eastern Conference where with a little less than half of the season to go, the postseason outlook could still be considered wide open. The Devils need a push and to go on a run.
Shero has already gone on the record saying that he would be looking for that extra goal if the team continues to drop games and lose critical points by one-goal differentials. But he has remained firm that if the Devils do make a move, it will have to benefit the team's long-term outlook and not just the remaining 2015-16 season.
A Hurricane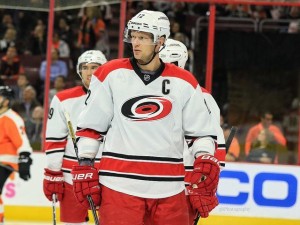 Carolina Hurricanes forward Eric Staal has always been a nuisance for New Jersey and this year was no different when the veteran tallied a two-goal game against the Devils on December 29th. The matchup ended with a New Jersey victory but not before people began discussing the possibility of Staal, who is in the final year of his contract, donning a Devils' uniform in the near future.
While Staal has not been linked directly to the Devils, his presence in New Jersey would make some sense. He's a reliable, big-bodied player who would help the Devils in the faceoff circle and be a nice addition to the lineup.
However, it could be argued that Staal does not fit New Jersey's long-term plan. The Devils want to get younger and while Staal is only 31-years-old, he would not be locked up to a long-term deal, especially with questions about whether or not he is already past his prime. He too has seen a drop off in goal production this season, which is not something that New Jersey would find desirable.
Moreover, Staal has previously said that he would prefer to remain in Carolina, which means he could be one of the trading season's top rental players. It is possible that Staal just needs a change of scenery, even if it is only briefly. However, while the door is not closed, it is not likely that it will happen in New Jersey.
A Bolt
While there is nothing concrete to confirm that New Jersey is even interested, one name that has been circulating with fans is Tampa Bay Lightning prospect Jonathan Drouin.
Drouin would assumingly match what Shero would likely be looking for. He is young, skillful and encompasses a great deal of offensive potential. Yet, Drouin is going to have a questionable asking price. Tampa Bay general manager Steve Yzerman is a brilliant hockey mind and he is not going to bend just to make his prospect happy. He will not deal Drouin unless it benefits Tampa Bay and the young player is not helping himself as of late or his market value by getting suspended for not reporting to his AHL game.
Drouin's NHL sample size includes 32-points (4-28-32) in 70-games during the 2014-15 season as well as 19-games this season, which has resulted in eight-points (2-6-8).
The Lightning are allegedly seeking a talented, young defenseman in the deal, which yet again would make New Jersey a solid trade partner. But Drouin's deal could make a team trigger happy. That is dangerous for a club like the Devils who do not have as much depth as some of their opposition does and cannot afford to make a risky move. While the prospect of Drouin could be fun for New Jersey fans, they also must keep in perspective what he could cost them.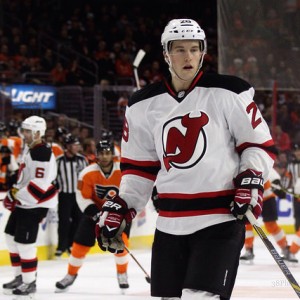 Drouin's asking price could include defenseman Damon Severson or even Adam Larsson could enter the conversation. Nevertheless, there are very few scenarios throughout the league where a person could imagine Larsson being dealt and Drouin definitely is not one of them.
Severson is a top three defenseman for New Jersey. While the team has Boston College standout Steve Santini on the horizon, both Severson and Larsson in combination with Santini is better than just one of them. Just as Yzerman will not move Drouin unless his price is met, New Jersey should not consider moving Severson unless the deal is too good to pass up. Severson's upside is too positive and he is the total package. He has shown more than Drouin has. If Drouin became a true possibility for New Jersey, the team would be smart to package their first round pick before selling any players, especially one of Severson's caliber.
Adding Without Subtracting
New Jersey needs to help its offense by adding, not subtracting, and draft picks make that an option. While the Devils have the ability to move a young defenseman, New Jersey's defensive pool could be very strong in the future. As all of the players continue to develop together, they may have the ability to be a top defensive unit.
Unless the team succumbs to a major collapse, the Devils will likely not be in the mix for forward Auston Matthews, who is expected to be the number one overall pick in this year's NHL Entry Draft and this is especially true if Shero adds a scorer. While a first round draft pick is highly coveted by every team, if the Devils can get a young scorer who could be in New Jersey long-term rather than waiting for a player to develop, then a top pick is worth losing.
Other names on the market include Columbus prospect Kerby Rychel as well as forward Cam Atkinson. It would be an understatement to say that Columbus is not meeting expectations this season. The Blue Jackets will be looking to make moves. Rychel's asking price is skewed since there is a very limited amount to go off of at the NHL level. Depending on how badly Rychel and Columbus want to get a deal done, could inevitably factor into his cost. New Jersey should not reach for Rychel but if the price is right, he could be worth going after. Cam Atkinson has a much bigger portfolio than Rychel and he is also a Devils killer.
Atkinson does fit New Jersey's long-term plan. He could make a name for himself with the Devils and he would add to the team's scoring. Nevertheless, Columbus may prefer to move him outside of the division rather than to a Metropolitan opponent. Lastly, the Devils could research Toronto Maple Leafs forward Tyler Bozak as well as look at Edmonton Oilers forward Jordan Eberle. Although, these players have arguments going against them, they could compliment New Jersey as well.
The key remains that the Devils cannot overpay for anyone. Just because a big name enters the picture, while it is tempting, the player is not always worth the move. New Jersey's future success does not only reflect the player being acquired but also the deal itself. If the right trade is not available, there is no point in forcing it or renting someone. Sometimes the teams that receive the best deadline grades are the ones that do not make a move.