Season tickets to an NHL team can cost anywhere from a few thousand dollars to tens of thousands. For New Jersey Devils fan Nick Donnelly, it only cost a few minutes of his time on social media.
The Lucky Devils Fan
On Tuesday, Sept. 12, Donnelly asked his favorite team what would it take to score season tickets using the currency of Twitter retweets. It was a simple and straight forward request.
The Devils answered fairly quickly with a cockamamie formula. To score a free five-game "PattyPack", they added up the teams' five retired numbers, then multiplied the sum by 35 in honor of the team's 35th season. Get 3,150 retweets and 'ding ding ding,' you're going to five Devils games at the Prudential Center.
To score a season ticket, the Devils multiplied that number by three–the number of Stanley Cups the team has won–for a grand total of 9,450. Rack up those retweets and he's got himself a freebie season ticket.
How's our math?

3,150 for the 5-Game #PattyPack.
9,450 for a 2017-18 Full Season Ticket Membership.

You have one week. Good luck! pic.twitter.com/qL1zhw4xeP

— New Jersey Devils (@NJDevils) September 12, 2017
Ten thousand? Really? That's small potatoes on Twitter.
Wendy's Nugget Guy
For a little context, back in April 2017, Carter Wilkerson, a 16-year-old high school junior in Nevada, tweeted Wendy's, a fast-food burger chain, with a similar question: How many retweets to score free chicken nuggets for a year. Wendy's replied by setting the bar pretty high. They said 18 million retweets and he'd be fed.
HELP ME PLEASE. A MAN NEEDS HIS NUGGS pic.twitter.com/4SrfHmEMo3

— Carter Wilkerson (@carterjwm) April 6, 2017
While he earned more than three million retweets, Wilkerson still fell well short of the enormous goal set by Wendy's, but the chain still rewarded his efforts, hooking him up with a year's worth of nuggets anyway. Wendy's also went above and beyond the request, donating $100,000 in Wilkerson's name to the Dave Thomas Foundation For Adoption.
"You've more than earned our respect … and the nuggets," said Kurt Kane, Wendy's chief concept and marketing officer.
Mission Accomplished
Donnelly broke the ten thousand retweet threshold within eight hours–a typical work day. He got help along the way from Devils winger Taylor Hall and Toronto Maple Leafs' fan Dart Guy. The Devils stayed true to their promise and plan to award Donnelly a season ticket (the exact number of season tickets and seat location has yet to be determined). Several players including Kyle Palmieri and Keith Kinkaid congratulated Donnelly and welcomed his support for the Garden State team.
You got this dude!

— Taylor Hall (@hallsy09) September 13, 2017
The Value of a Retweet
The cheapest season ticket for the Devils is $1,238, per the team's web site. Rounding up to 11,000 retweets for Donnelly, each of his retweets is valued at approximately 11 cents. If he scored the most expensive seat in the house ($15,500), each retweet value jumps to $1.40.
In Wilkerson's case, if an order of ten nuggets at Wendy's goes for, say $5 and he gets one pack a day for a year, he just scored himself a $1,825 value. Rounding up his efforts to four million retweets, it means each retweet was worth approximately $.00045625. Contrary to Connelly's work, Wilkerson had to work extremely hard for those pieces of fried chicken deliciousness.
A Boost for the Team
The Devils averaged less than 15,000 fans per game last season (14,567 to be exact). It was the league's fourth-lowest total. Perhaps the Devils' decision to low-ball the mark for Connelly was a good will gesture–a public relations/marketing move to drum up some publicity (it worked). Or is the team's social media manager so out of touch that he or she thought 9,450 was a challenging goal for a fan these days?
The Devils haven't been anywhere near Cup contenders recently. They've missed the playoffs for the last five years and six of the last seven. The last time they were in the playoffs was in 2012, when they lost in the Stanley Cup Final to the Los Angeles Kings.
This offseason, the team finally has some forward momentum. Luck came their way, landing the first overall pick at the 2017 NHL Entry Draft. They chose Swiss phenom Nico Hischier and quickly signed the center to a three-year, entry-level contract. They also acquired skilled forward Marcus Johansson from the Washington Capitals and traded for Mirco Mueller from the San Jose Sharks.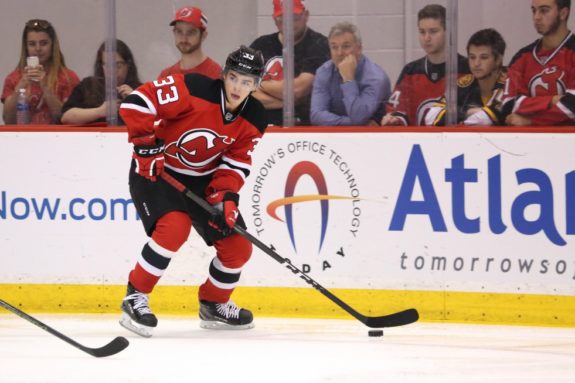 These new additions should give the franchise a boost and help generate interest as the team strives to compete at a higher level. Hopefully, it will also mean they won't need marketing ploys based on tweets to get people to attend the games.
What Would You Be Willing to Do?
Maybe this will become the new norm, with fans and consumers asking outright for free goods in exchange for reaching a numeric goal on social media. It sure worked for Donnelly and Wilkerson. One has to think other devoted fans will follow their lead. It also leaves one to wonder how many retweets it would take for season tickets to watch the Montreal Canadiens, Edmonton Oilers, or Chicago Blackhawks?
Jeff has been covering the NHL for over a decade for various sites. He's been with The Hockey Writers as a lead Sabres writer three years, while also writing a satire column called "Off the Crossbar."