At least Montreal Canadiens owner Geoff Molson and general manager Marc Bergevin seem to be on the same page. Unfortunately, it does not seem to have the league rules to contract tampering on it.
Molson's Head in the Stars
After saying that he and Bergevin discuss stars, "including [John] Tavares," earlier this week, Molson may face a fine for publicly insinuating he's interested in another team's player. That's a no-no, and one with which the Canadiens should be familiar after Bergevin filed a complaint with the league last summer when Vancouver Canucks GM Jim Benning "crossed the line" by admitting to talks between the two regarding P.K. Subban.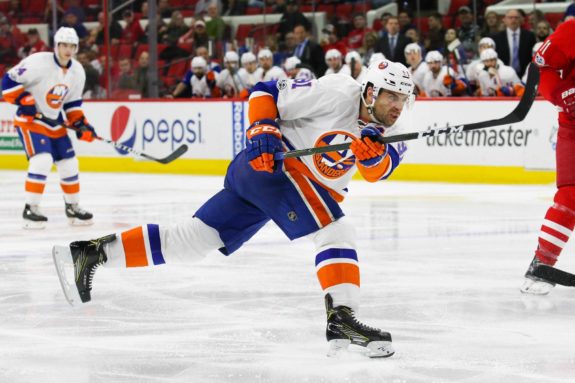 The point is, Molson may have inadvertently admitted to something else, maybe even worse in the eyes of some hardcore fans: that he and Bergevin have discussions pertaining to the direction of the team. Shocker.
That in and of itself is hardly damning, obviously. It's what it represents that is the smoking gun. While Molson has never denied the notion that the two talk a lot, the idea that they do about potential moves seems to run counter to the official party line Bergevin threw out there right after Subban had been traded to the Nashville Predators.
Speaking to Dave Stubbs at NHL.com, Bergevin seemed to indicate that Molson was a very hands-off owner, saying, "He leaves it to me to make the hockey decisions. I keep him informed… And I lay it out to Geoff and he tells me, 'You're here to make hockey decisions, so make this team better. That's your job.'"
Drouin or Tavares?
While the team's diminishing returns in terms of playoff performance since Bergevin took over back in 2012 isn't exactly impressive, what's more in doubt is pretty much whatever comes out of the mouth of management these days. Case in point, if Molson and Bergevin are talking about Tavares, an undisputed No. 1 center, what's all this nonsense about Jonathan Drouin being the team's top-line pivot all of a sudden? That's what most revealing about the Tavares quote.
Bergevin says Drouin at C was decided as an experiment when the trade was made. #Habs

— Jared Book (@jaredbook) September 11, 2017
It's almost as if Bergevin, Molson and co. understand putting a winger, who has rarely played as a center in the NHL, down the middle is a so-called "experiment" that is doomed to fail. And, seemingly just to further cover themselves from flak if it does, Bergevin also said: "No matter where he plays, I would have made that trade, because getting a young player with that skill level doesn't come that often, especially a French-Canadian kid that wants to be here and wants to be successful."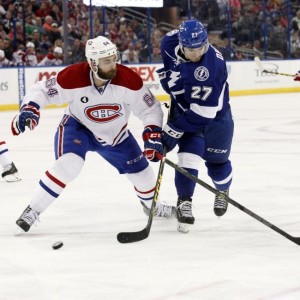 There's no denying the trade in question, Drouin to the Canadiens for Mikhail Sergachev, is a huge win taking all other variables out of the equation. Drouin is a talented playmaker just entering his most productive years with star potential. Sergachev, while also possessing massive potential, was drafted a few years ago and has not proven much in the NHL. It's not so far removed from trading a yet-to-be-made first-round pick for an established star in the league. Most teams would make that move every single time.
Nevertheless, it's hard to look at the Canadiens roster and see how acquiring Drouin, a natural left-winger, should have been a priority. They have Max Pacioretty. They have Artturi Lehkonen. Let's not forget about superstar Andreas Martinsen. On the other wing, they have Brendan Gallagher. At the time of the trade, there was also hope that the Habs would be able to retain the services of Alexander Radulov, the team's incumbent top-line right-winger. The Habs have since acquired fellow-winger Ales Hemsky to take his spot.
Then, the Habs were (and are still) down a No. 1 center, especially with the hardline stance Bergevin seems to be taking with regard to Alex Galchenyuk (another left-winger), saying he can't handle the defensive side of the position right now. Keep in mind Drouin has received much the same criticism from Tampa Bay Lightning coach Jon Cooper.
Canadiens Down Two No. 2 Defensemen
With Sergachev and Andrei Markov now gone, the team is also down a No. 2 defenseman both in the present and for the future. No, Sergachev may not yet develop into that stalwart they need on the blue line, but proponents of Drouin also seem to dismiss the idea that he may not yet develop into that ever-elusive No. 1 center. If you're willing to trade the stud defensive prospect you will surely need sooner rather than later, wouldn't it make more sense, or, you know, sense at all, to trade him for help at a position you're at your weakest?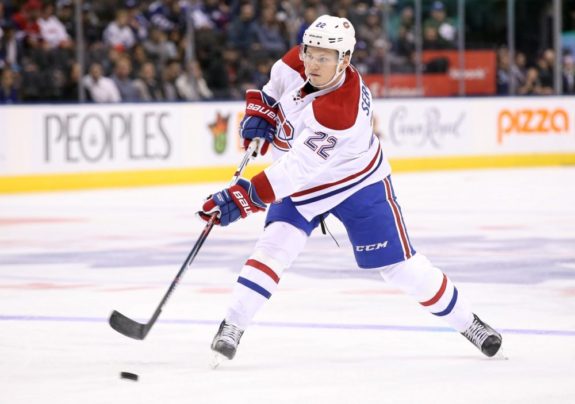 As such, it's becoming dangerously clear Drouin isn't slotted in as the team's top option center because he can be just that. He's being slotted in there because the team, specifically Bergevin, acted relatively impulsively acquiring him (despite talks taking several weeks) and needs him to be. If Drouin doesn't pan out, they'll have two future holes in their line-up instead of just one.
That is, unless of course the Habs are able to secure the services of John Tavares, who will have many other teams vying for his services, just to be clear. If the Habs are lucky enough to sign him, then the logjam on the wing will re-materialize. The one on the left side, comprising solely depth defensemen, will still be there.
Alternate Habs Timeline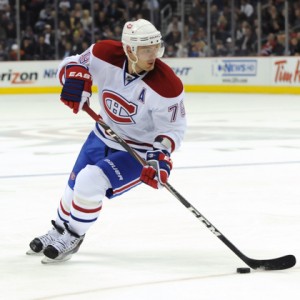 So, to summarize: Had Bergevin not traded for Drouin, it's entirely possible the Habs would have been able to re-sign Radulov and Markov and still had Sergachev in the fold to be brought along by the latter. Considering Drouin's reported defensive deficiencies, they'd be in a similar position down the middle, with Galchenyuk assuming the No. 1 center role out of necessity.
Since Markov had been willing to re-sign for just one year and his and Tomas Plekanec's deals would be coming off the books next summer, they'd be in the same position as they are now in regard to Tavares: ready to make a bid (if you assume that's what Molson was alluding to).
In spite of the 2016-17 edition's shortcomings, which were on full display during the playoffs, the status quo wasn't all bad. In fact, in many ways it was better than the line-up set to take the ice in October. In essence, the Habs are now down two potential No. 2 defensemen (one for the present, one for the future), and, in spite of their hope that Drouin develops into that No. 1 center, still woefully undermanned down the middle. This, all because Bergevin felt it necessary to trade for the young winger.
Bergevin Rooting for Drouin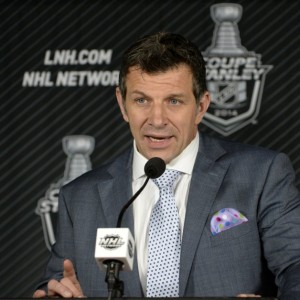 Some fans are behind the move 100% and it may even work out. No one is rooting against Drouin here, because if he does play well enough to earn ("earn" being the operative word here) top-line minutes at center, the team will be in much better shape than most analysts are expecting, including yours truly.
Bergevin will admittedly have done a passable job managing his assets too. He'll have plugged one hole at the expense of another, essentially giving up a past-his-prime, 38-year-old defenseman and a 19-year-old one who's still relatively undefined for a 22-year-old playmaker coming into his own. The trick is Drouin becoming that center when all signs point to that not realistically happening.
As Bergevin always says, "Expect the unexpected."
Unfortunately, it's gotten to the point when the "unexpected" equates to the opposite of what the Habs say in public. It's been well established that Canadiens fans don't have to trust Bergevin in order for him to his job. He doesn't have to be liked. He answers to Molson above everyone else.
In light of this recent Tavares "incident," however inconsequential in the grand scheme of things, it would be nice to know someone on top knows what they're doing though. Molson may not have said anything all that incriminating or inflammatory, but if he's mentioning Tavares he had best not count his chickens before they're hatched. If he's already dreaming about acquiring a new player, when it's not even his job to do so, it doesn't bode well about the current incarnation of the team.
It's all very telling about the state of affairs in the Bell Centre, which is great, because few higher-ups are saying anything worthwhile you can take to the bank these days.