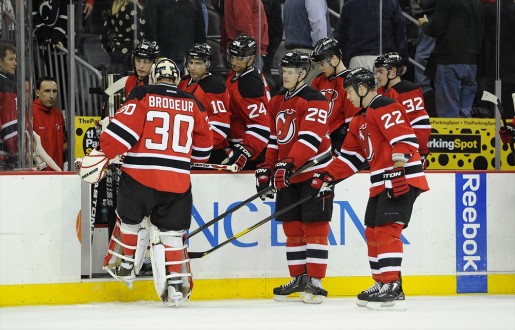 The New Jersey Devils played their first game after the NHL All-Star break on Tuesday night, defeating their arch-rival, the New York Rangers, by a score of 4-3 in the shootout. The win helped them get into seventh place in the Eastern Conference with a little over two months left in the regular season.
Obviously, the team still has a lot of work to do before a playoff spot is a sure thing. Every game in the second half counts for something, and the intensity levels will be on the rise.
But which games on the Devils schedule are worth watching the most?
Here are nine games that New Jersey fans should not miss.
Feb. 5: vs. Pittsburgh Penguins, 1 p.m. EST
Before Devils fans rush to watch the New York Giants in the Super Bowl, they'll want to check out this Atlantic Division matchup at The Rock.
The Penguins and Devils have already met three times this year, and New Jersey leads the season series, two games to one. They have won 3-1 twice, on New Year's Eve and January 7.
In the last game of 2011, Ilya Kovalchuk scored on a penalty shot in the first period, and the Devils never looked back en route to victory.
However, when the teams first met in October, Jordan Staal had two goals to give the Penguins a 4-1 win.
Pittsburgh has struggled against New Jersey in recent years, and they will come into Prudential Center looking to get some momentum in the fourth meeting of the season.
Feb. 7: at New York Rangers, 7:00 p.m. EST
The Devils do not have to wait long to try and get one more win against their rivals, as they head to Madison Square Garden for the first of two meetings in New York City in February.
The season series is currently tied at one game apiece. The Rangers took a win back on December 20 thanks to three-point nights from Derek Stepan and Marian Gaborik, while Artem Anisimov had two points.
In Tuesday's game, Gaborik and Carl Hagelin had two points. However, Kovalchuk had the only goal of the shootout to give New Jersey two points.
Feb. 9: vs. St. Louis Blues, 7:00 p.m. EST
This is the only meeting between the Devils and Blues this season, and St. Louis will come to town with two former Devils Stanley Cup winners on their roster.
Jason Arnott played in New Jersey from 1998-2002 and posted three 50-point seasons. He was a member of the 2000 Cup championship team with 20 points in 23 games. In 2001, he was on the team that went back to the Finals, but lost to the Colorado Avalanche. Despite the Devils not repeating as champions, he had 15 points in 23 games.
Arnott returned to New Jersey last season, posting 24 points in 62 games before being traded to the Washington Capitals.
He currently has 24 points in 48 games for St. Louis.
Jamie Langenbrunner was in New Jersey from 2002 through 2011, serving as captain from 2007 until he was traded to the Dallas Stars in 2011. He was on the 2003 Stanley Cup team, leading the NHL with 18 points that postseason. While with the Devils, he hit the 50-point mark six times, putting up at least 60 points three times.
He has 17 points in 47 games with the Blues.
Last season, St. Louis defeated New Jersey, 3-2, in a November 2010 meeting. This year, the Blues have emerged as a Western Conference team to watch under new coach Ken Hitchock. This matchup should not be overlooked.
March 1: at Boston Bruins, 7:00 p.m. EST
If the Eastern Conference standings remained unchanged, or at least if the Devils and Bruins remained in the right positions, this game would serve as a possible Stanley Cup playoff matchup.
However, New Jersey has struggled against the defending champs this year, as Boston has won all three games of the season series. This included a 6-1 blowout back on January 4, which saw four Bruins post multiple-point games.
Back on November 15, Nick Palmieri had two goals for the Devils, but it wasn't enough, as Boston still pulled out a 4-3 win.
The Bruins have held the Devils to one goal in two out of the three games this season. New Jersey will have to try to generate more offense to pull off an upset victory.
March 4: at New York Islanders, 3:00 p.m. EST
This game will mark the beginning of a week-long stretch where the Devils and Islanders will play each other three times. It will be also the first game since it was announced that the two squads will play a preseason game at the new Barclays Center in Brooklyn.
The Devils and Islanders have not played each other since a home-and-home in November. New Jersey won the first game, 1-0, on a Petr Sykora goal and a 23-save shutout from Johan Hedberg. However, the Islanders answered back the next day (November 26) and won, 3-2. Adam Henrique had two points in the loss.
March 13: at Philadelphia Flyers, 7:00 p.m. EST
This will be the second of a home-and-home with the Flyers and marks the last time New Jersey will face Philadelphia this regular season. The first game of the brief series is on Sunday, March 11.
The Flyers have won two out of three meetings this year, including spoiling the Devils' home opener back on October 8 with a 3-0 shutout win.
But the Devils answered back in November and won, 4-3, despite surrendering a penalty shot goal to Philly's Max Talbot. Kovalchuk had two points, while Patrik Elias scored the game-winning shootout goal to give the Devils two points.
March 31: at Carolina Hurricanes, 7:00 p.m. EST
This matchup marks the first time the two teams have faced off since the Hurricanes traded Alexei Ponikarovsky to the Devils back on  January 20. Ponikarovsky has one goal through three games with the Devils. He had 15 points in 49 games with Carolina before the move.
The Devils lead the season series between the teams, 2-1. Ironically, back on October 10, Ponikarovsky had a goal for Carolina in a 4-2 New Jersey win. However, Kovalchuk had three points and Zach Parise posted two goals to carry the Devils.
The highlight of this series came on December 26 when Carolina won, 4-2. Hurricanes goalie Cam Ward was credited with an empty-net goal when it was determined he was the last player to touch a misguided Devils pass. Tim Brent and Tim Gleason also stood out for Carolina in the win, with each posting two points.
April 5: at Detroit Red Wings, 7:30 p.m. EST
This is New Jersey's last road game of the year and their only meeting with the Red Wings this year.
In 2010-11, the teams met twice, with Detroit winning both games. Back on December 11, 2010, Pavel Datsyuk had three points and Henrik Zetterberg and Tomas Holmstrom each had two points as Detroit won, 4-1.
On January 26, 2011, the Wings won, 3-1, with seven players posting a point for Detroit. Brian Rolston had New Jersey's only goal.
April 7: vs. Ottawa Senators, 3:00 p.m. EST
New Jersey closes out the regular season at Prudential Center with a meeting with the Ottawa Senators. Hopefully, by the time this game comes around, the Devils will be looking ahead to a playoff run.
The teams have met twice this season, with each of them winning once. Back on December 8, the Devils were heading for a 4-3 win when Jesse Winchester scored with five seconds left in regulation to force a shootout. Adam Henrique had the winning shootout goal to give New Jersey a 5-4 victory.
Back on January 2, the Sens won 3-2 in overtime on the heels of two-point nights from both Erik Karlsson and Jason Spezza. The Senators win ended a brief two-game winning streak for the Devils.
Alison is currently covering the Wilkes-Barre/Scranton Penguins of the AHL for The Hockey Writers after writing about the NHL's New Jersey Devils from 2011-2012. She is currently employed for the fast growing sports website Bleacher Report as a quality editor and hopes to one day have a media relations career with a professional hockey team. Follow her on Twitter @AlisonM_110.