Despite numerous rumors and reports, the Pittsburgh Penguins are not looking to add a top-6 forward to their already potent offensive line-up. With Jordan Staal's imminent comeback later this month and Evgeni Malkin's hot streak, the Penguins are back in the thick of the playoff race with 62 points in 50 games, good for the 5th spot in the Eastern Conference. The Pens are on a roll going 8-2 in their past ten games despite the Crosby saga.
With only a few hundred dollars to reach the league salary cap, the team's budget is very slim to acquire a significant salary before the NHL trade deadline, unless the team decides to put Sidney Crosby on the long term injury reserve (LTIR). In light of the recent developments in the Crosby saga regarding the medical errors or omissions made by the Penguins' medical staff, exams have now discovered that Crosby doesn't have any fractured vertebrae, but is rather suffering from a soft-tissue injury to the neck that could be contributing to his concussion-like symptoms.  This means Crosby could make a return this season as the injury is not career-threatening.
Potential trade targets for the Penguins: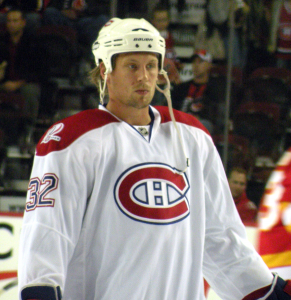 Travis Moen (MON): The gritty left-winger has 9 goals and 16 points on the season and is third on the Habs with 73 hits. The 6-foot-2, 220-pound veteran provides that the type of grit and toughness that the Penguins lost after Michael Rupp's departure as a free agent and Aaron Asham's loss to a concussion earlier this season. Asham's return is pretty doubtful this season as he's still suffering from concussion symptoms.
Moen, 29, won a Stanley Cup with the Anaheim Ducks in 2007. The versatile winger can play in a lot of different roles, averaging 15:40 of ice time per game and killing penalties on the Habs' first unit with Tomas Plekanec. Moen is carrying a very affordable $1.5 million cap hit. The power forward will be highly coveted this season as the Red Wings, the Canucks and the Blackhawks are also interested in his services.
Paul Gaustad (BUF): Another interesting option is center Paul Gaustad from the Buffalo Sabres. The impending UFA is having a down season playing on the Sabres' third line. In 44 games this season, Gaustad has only 5 goals and 13 points in 44 contests. Gaustad, also 29, carries a less affordable $2.3 million cap hit, but is a gritty and tough player that can also kill penalties just like Moen. The 6-foot-5, 215-pound pivot has 85 hits on the year and is 55.7% in the face-off dot.
However, the Sabres are exploring options regarding Gaustad and will most likely try to sign to a contract extension before the February 27, 2012 trade deadline.
Taylor Pyatt (PHX): Another player having a tough season, Pyatt is also slated to become an unrestricted free agent at season's end. Carrying an affordable $1.0 million cap hit, Tom Pyatt's older brother has scored 6 goals and 13 points in 51 games for the Coyotes. The 30 year-old winger is known for his physical, yet disciplined, play as shown by his 102 hits and 12 penalty minutes this season. Pyatt, 30, is a 6-foot-5, 215-pound winger that can move up and down the line-up depending on the pace and speed of the game.
Pyatt's future is less than certain with the Coyotes as the team will most likely not play in Phoenix next season, which means he will probably not be-resigned by the team in the next few weeks leading to the trade limit.
Dominic Moore (TBY): If the Lightning decide to become sellers this season Moore would be a sought-after commodity at the trade deadline given his playoff performances the past two years for Montreal and Tampa Bay. While Moore is not a physical player, he's a versatile forward who can play center and both wings. Moore, 31, is in the last year of his contract, carrying a very affordable $1.1 million cap hit. He has a disappointing season, notching only 4 goals and 18 pts on the season.
Moore is very proficient at killing penalties and can chip in offensively as shown by the 18 goals he scored for the Lightning in 2010-11. However, as per ESPN's Pierre Lebrun, discussions are ongoing between between Steve Yzerman and Moore's agent about a contract extension.
Which player would you like the Penguins to acquire? Why?
A long-time Joe Sakic fan, Fred, 35, is a freelance sports writer and translator. Fred earned a Bachelor of Translation in 2002 at Laval University in Quebec City. He also writes on the Montreal Canadiens for HabsAddict.com and he is an associate editor and a baseball columnist on Dobberbaseball.com. He is also fluent in English, French and Spanish.