Everybody knows that the hockey business can be coarse for any player in the NHL, and in many cases, they don't know what kind of work they wake up to in the morning. That's the harsh reality for someone who is balancing the thin line that comes with being a stopgap player. Don't misunderstand me, this is not pity-article about those players. However, it doesn't always have to be that way.
When I'm saying this, I think about the New Jersey Devils center Jacob Josefson.
The situation of Josefson is shared by many others in the NHL, but the length of his struggle, as well as his long-suffering patience, is rather uncommon nowadays. He's been in the Devils' organization for six years, without ever really owning an assured position in the lineup. He's been off and on for six years.
The start of the 2016-17 season has been no exception. As I'm writing this, the 25-year-old Swede has taken part in nine of the Devils' 17 opening games. When he has played, he has made the best out of it, but that hasn't changed the locked situation for him.
I understand that Josefson is widely appreciated by many fans and within the Devils' organization. His personality is great to have in a locker room, he never whines but always puts the team first. Of course, the Devils coaches and general manager Ray Shero know this and aren't late to take advantage of it, but at the same time, while doing so, they are wasting Josefson's best years of his career.
Low Self-Esteem
In July this year, the New Jersey Devils re-signed Josefson on a one-year contract worth $1,100,000. Looking back at that decision now, you could easily question if that was the right call for both the Devils and Josefson himself.
What's making his case even more difficult is that it doesn't only appear as if Josefson's own club underrates him, but it also appears as if he continuously underrates himself. In that destructive sense, he's very Swedish. If he just could get a bit more confidence, boosted by his surroundings, I am positive that Josefson could progress in a significant matter over the next few years.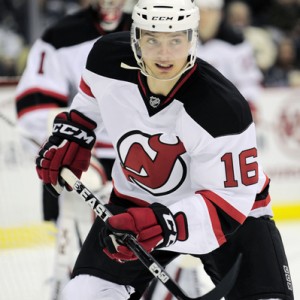 Instead, as his reality is now, he seems to have a hard time coping with the bitter side of the business in the NHL.
"The only thing I think about when I get the chance is to not get removed," he told Swedish newspaper Dagens Nyheter earlier in November. "It's not a fun situation. I felt good during the preseason camp when I also got to play as forward. I had not done that in many, many years. But once the season started [the coaches] chose to go with other players."
Offensive Savings
Looking at Josefson's role whenever he gets to play, it's easy to understand why he has struggled to stay in the lineup. Only Vernon Fiddler of the Devils has a higher Defensive Zone Starts percentage than Josefson. However, Josefson so far has a 65 percent faceoff win rate in the defensive zone, which makes him better than Fiddler and everyone else in that category, out of those who have taken in at least ten faceoffs during this season.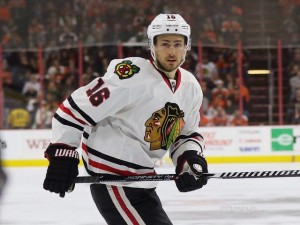 As a consequence of this, whatever offensive qualities Josefson hides are overshadowed by his defensive responsibilities. It's easy to forget that he actually was a creative player during his years in Djurgården in the Swedish Hockey League. In the NHL, however, he hasn't been given the liberty to showcase those attributes. And that's fine, a lot of players make a living in the defensive zone, but it should be noted that Josefson can be more than that, and I don't see him as the Marcus Krüger type, who categorizes himself as a mainly defending kind of player.
"Everybody wants to score as many points and goals as possible and I feel that I still have a lot of that in me," Josefson said to Dagens Nyheter. "In my situation maybe you should try to play a bit more offensively, but you don't dare to do it as much as when you know that you have a permanent place."
Trade Valuable
Josefson has played at a solid level in the NHL for several years, but what should be the most underlined point is that he still has the potential to reach even higher in the future. Being 25 years old, he's still quite young and has his best years before him, if we suppose that all hockey players attain their individual peak in the late 20s, sometimes even over the border to 30, which different studies have shown.
Considering this, Josefson should stand on the verge of entering his prime. If the Devils will acknowledge that as a fact, they surely will be able to get a lot in return for a trade involving Josefson. Other than this, the Swede has at least three variables arguing for his trade value: 1) He has proven that he's a capable two-way center in the NHL over a number of years, 2) he has proven that he can impact the offensive game, if the opportunity is given, having scored 10-plus points in three straight years without playing a full season, and 3) he has proven he's dependable when it comes to consuming defensive zone time and turning it into offense.
Expiration Date
But if the Devils want to act, and trade Josefson away for good exchange, they have to do it really soon. As mentioned, his contract expires after this season, so if they want to get at least something, they can't wait that long. Josefson will be a restricted free agent next summer as well, but it would surprise me if other teams wouldn't want to take a leap of faith by pursuing him.
Until then, I could easily see him taking the next step of his career playing for some other NHL team. It's dangerously easy to get passive when closing in on seven years in the same location. Also, since the Devils, in a short period of time, have discarded every Swede on the roster – except Josefson – I think a trade would be good for him off the ice as well.
For the sake of Josefson's own development, in every aspect there is, he desperately needs a new environment.