Last season at the New Jersey Devils training camp Keith Kinkaid edged out Scott Wedgewood for the backup goaltender job and while he was in the AHL Wedgewood got injured and needed surgery to repair a torn labrum in his shoulder. He pushed himself during the recovery process and was able to rejoin the Albany Devils for the playoffs, but never saw action in a game.
This summer both Kinkaid and Wedgewood signed new deals with the Devils as the latter looks to make the jump as a full-time NHLer backing up Cory Schneider in the Devils' crease. It was at the end of the 2015-16 season when Wedgewood made his NHL debut, appeared in four games in ten days and he played like he belonged: 2-1-1, surrendering five goals on the 116 shots that he faced. One of those wins was a 39-save shutout in Pittsburgh against a Penguins team that went on to win the Stanley Cup three months later.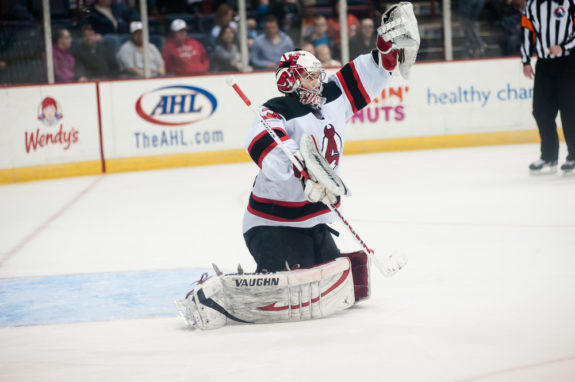 Ten months after his surgery Wedgewood finally got into a live game, in New Jersey's preseason opener against the Washington Capitals and the Devils didn't make it easy on him. They let Kinkaid start the game and at the ten-minute mark of the second period, after sitting on the bench for 90 minutes of actual time, they sent Wedgewood into the game with the score tied 1-1.
"Scotty came in and played fantastic," said Devils coach John Hynes. "I thought his lateral movement, side-to-side on a couple of power play situations, rush plays; late in the game when they had some real quality chances he looked quick. He arrived at the puck on time and I thought his rebound control was very good."
Scott Wedgewood
New Jersey Devils
Vaughn V7 setup pic.twitter.com/rdAHrRROIo

— Tendy Gear (@Tendy_Gear) September 19, 2017
He stopped all 14 shots he faced in the game (three in the second period, 11 in the third) and helped the Devils to a 4-1 win over the Caps. Seven of the minutes he played were while New Jersey was shorthanded, as coach Hynes alluded to earlier, and all in all, it was a good first test for Wedgewood as the team tries to determine which goalie slots where behind Schneider.
"He's another guy, he strongly believes that he's ready for the NHL and it's always nice to see a guy come in – he's had a long road back to being able to play – but he certainly put the work in," added Hynes. "It's nice to see him playing well tonight."
Following the game The Hockey Writers caught up with the recently turned 25-year-old netminder to see how he was feeling, to find out about his rehab process and his take on goalie coaches among other things.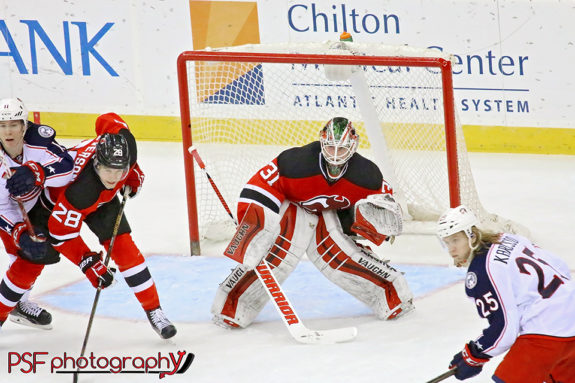 THW: It's been a long time since you played in a game, ten months long; how'd you feel out there tonight?
Scott Wedgewood: Yeah, it's funny I was talking to one of the trainers before I went in when we switched goalies halfway through the second (period). I said, 'It's weird, you get a little antsy now because it's been so long.' But once I got out there they fired a few pucks at me (for a quick warmup) and then the first shot I made the save, it was just back to normal. That was nice.
THW: There was a lot of special teams play tonight, does that hurt or help you get into the flow of a game?
SW: It kind of slows the game down, depending if your team is on the power play or the penalty kill. It was nice to play every situation, and I think that was the fun part for me – ten months is a long time. Now it doesn't feel like a long time because I'm back and it's behind me; definitely, to be able to pay every situation, I played the puck, faced shots from everywhere, one-timers from everywhere. So that was nice to feel your angles; it was a little different, some rushes, I felt like I may have been off here or there but nothing hurt me – so that was obviously nice. We came away with a nice win.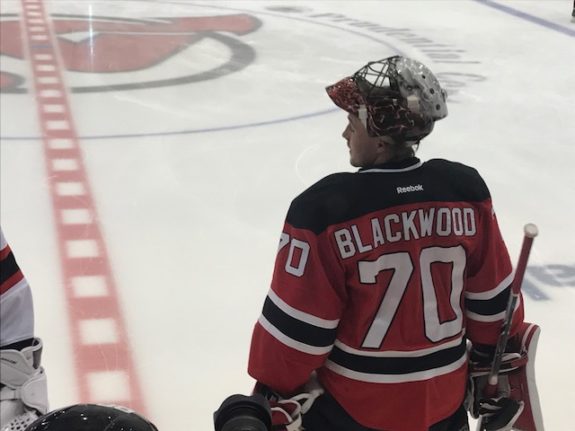 THW: How close were you to coming back at the end of last season?
SW: I made it all the way back. I was there in Toronto (with the Albany Devils) and could have played if anything had happened or (Mackenzie) Blackwood didn't play well. If there was a situation that they needed me I wanted to play and that was my goal. The whole time they told me six-to-eight months and I got back to Albany in four-and-a-half, feeling great. To myself, I felt like that was a tribute to how hard I worked away from the scene. I got good treatment and I put my mind to it – three to four hours at the gym, every day. It worked out that I was able to suit up and let them know that I was here and an option. The summer I used to prepare as much as I could and get as strong as possible. Now I'm ready to go again.
THW: This franchise has added some new, young talent; specifically Nico Hischier and Will Butcher. What are your early impressions of them?
SW: First of all they're all great kids. I've had a chance to have a few dinner with Butcher and Nico I haven't got that opportunity yet, but I think his family is still around so he's been a bit busy. But getting to talk to him, he's feeling a lot of pressure. I wasn't a first overall pick but when you come in (to the NHL), you feel it. You just say hi, talk to him a bit; you try to ease the pressure.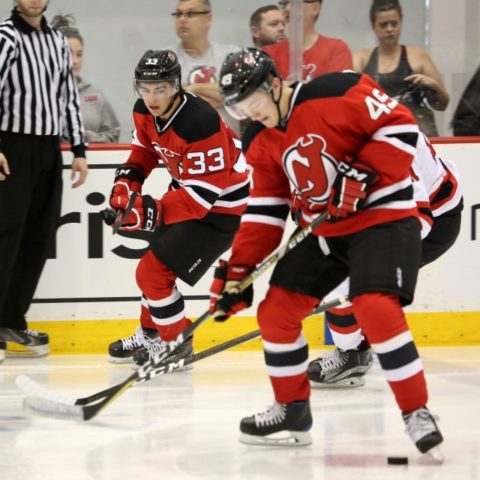 The skill level you can see out there – they're both calm, they're both very impressive stickhandlers. Butch sees the ice really well and Nico is slippery; he kind of reminds me of, if he can keep going the way he is, like a Datsyuk in a sense – that inside/outside move. They both have high promise, it's going to be fun. We have a lot of guys that have impressed this week, that's the fun part of having new faces here.
THW: How much has Scott Clemmensen helped you in your development with the Devils franchise?
SW: Since I've been here we've had Marty, Jacques Caron, Chris Terreri, I had (Johan) Hedberg as a goalie coach for a year. I had Clemmensen as a goalie partner, Yann Danis was down there with me. The experience, and the knowledge that those guys all have was obviously a tremendous help for me. Now we've brought Rollie (Melanson) in and he's been doing this job for a long time, and he's smart. With Clemmer, having him as a partner and then as a coach – we have a nice friendship that works well with how we can talk about anything and break things down on a friendship level; and Rollie has a lot of professionalism and we're obviously still feeling each other out for two or three days. I like him a lot, and we've got a lot of stuff that we've already put in my game. I tried a little bit of it tonight and it worked out well.
THW: Having him as your partner/friend and then a coach must make that working relationship much easier right?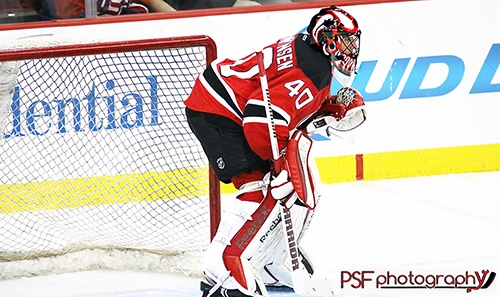 SW: It was a super easy transition. As a partner, I was over at his house having dinner with his family a few times and we were good teammates; he knew his role when he was down there. He ended up playing a little bit more as we went down the stretch into the playoffs, but he was always there to help me from day one and I think that's a tribute to his NHL career. Anyone you talk to anywhere that was his teammate says what a great guy he is.
I respected him when he came down. He was an NHL goaltender and he came to the American League with a good attitude and worked every day. He was kind of my goalie coach that year along with Hedberg where we all talked with each other and watched video together.
THW: There are five goalies here in camp currently, have they told you what spot you're fighting for?
SW: Not really, but you look at the numbers. They signed Keith (Kinkaid) to a contract this summer. They re-signed me after a couple of unhealthy seasons; that stuff happens. My goal from, two years ago was to play in the National Hockey League. I mean (smiles) from a long time ago, but two years ago when I got up here I think I've proven that (I can play). My goal right now is to hopefully make an easy decision towards me or a hard decision of what they are going to do with us. We have six goalies, five spots depending on what they do with the AHL and ECHL and Cormier is eligible for juniors still. But my goal right now is to play in the NHL, and I'm going to put my best foot forward. There's a lot that can happen, there's a lot of movement in this league so…I want to be here, I want to play here and we'll see what happens.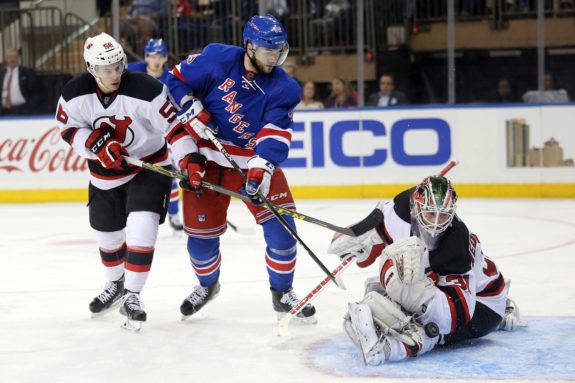 *Of note: Coach Hynes confirmed that Scott Wedgewood would have to pass through waivers if the Devils assigned him to the AHL 
Dan Rice is in his 9th year of reporting for THW & has covered NJ Devils home games for 15+ years at various websites. He began his journey working for legendary broadcaster/writer Stan Fischler from 2002-04 & completed an internship at the ECHL; he also has been writing features for the NWHL (nwhl.zone) website since 2016.