Oh, Canada! Throughout their history, the New Jersey Devils have suited up some great Canadian players. Many of these players have represented their country at the Olympics and team in the Stanley Cup Final.
10.) Colin White
The New Glasgow, Nova Scotia native skated eleven seasons on defense with the Devils. In his first season, White would help New Jersey win its second Stanley Cup. During his official rookie campaign, he made the NHL All-Rookie Team, registering career highs with 20 points, 155 penalty minutes and a plus-32 rating. The rugged stay-at-home defenseman would be instrumental in helping the Devils win a third Stanley Cup as well. Whitey's plus-79 rating and 848 penalty minutes rank ninth and eighth respectively in franchise history.
9.) John Madden
The Toronto, Ontario native, known as "Mad Dog," was one tough customer and a relentless hockey player on both sides of the puck. Madden helped the Devils raise the Stanley Cup on two occasions. In 2000-01, he was awarded the Selke Trophy. Mad Dog's 17 short-handed tallies are a franchise record and his six short-handed tallies during the 1999-00 season are a club single-season record and rookie record. He also tallied 140 goals across ten seasons with New Jersey.
8.) Jason Arnott
Born in Wasaga Beach, Ontario, Arnott was the power forward between Petr Sykora and Patrik Elias, forming the vaunted "A line." Obtained initially from Edmonton, the top line center played six seasons in two stints with New Jersey. From 1998 to 2002 he netted more than 20 goals in each season. In Game 6 of the 2000 Stanley Cup Final, the Devils alternate captain netted the series-clinching goal in double overtime. During his time with the Devils, No. 25 potted 18 postseason tallies. In 1994, he helped Canada win a goal medal at the Ice Hockey World Championships.
7.) Claude Lemieux
Before Jacques Lemaire and Larry Robinson arrived in East Rutherford, Lemieux brought the winning culture change down from Montreal. A thorn in the side of opponents, the Buckingham, Quebec native was a clutch player with New Jersey, playing six seasons across two stints. The pesky forward netted more than 30 goals on three occasions in a Devils sweater, including a career-high of 41 in 1991-92. During the 1995 Stanley Cup playoffs, the Devils Left Wing topped all scorers with 13 markers and earned the Conn Smythe Trophy, helping the Devils win it all.
After the Devils had trouble advancing in the postseason for a few seasons thereafter, they brought back No. 22 from Colorado and his experience helped them win again in 2000. On the international scene, Claude helped Canada win the gold at the 1985 World Junior Championships and the 1987 Canada Cup, plus a silver at the 1996 World Cup.
6.) Bruce Driver
Playing defense for 12 seasons in New Jersey, Driver saw it all. The Etobicoke, Ontario native helped the Devils raise their first Stanley Cup banner. In 1991-92, Driver served as the fourth captain in team history. The longtime Devils defenseman ranks seventh in club history with 316 helpers. No. 23, was a smart and savvy defenseman on both ends of the rink.
5.) John MacLean
Johnny Mac helped put the Devils on the map. MacLean's overtime goal on April 3, 1988 against the Chicago Blackhawks, propelled New Jersey to its first playoff appearance. Following that, No. 15 registered three consecutive 40-goal seasons and led the team in goals five times.
The longtime alternate captain helped the Devils out of the doldrums of the 80s and contributed to the glory of the 90s, winning the Stanley Cup in 1995. In Devils franchise history, he ranks second in points (701), goals (347), even strength goals (245), power play goals (92), game-winning goals (55) and fourth in assists (354).
4.) Ken Daneyko
Mr. Devil. The Windsor, Ontario native was an anchor on defense and helped the Devils win three Stanley Cup titles. Daneyko spent his entire 20-year career with New Jersey and his sweater No. 3 hangs from the rafters. Dano played with a lot of tenacity and toughness in his time with the Devils. The stay-at-home defenseman holds a couple of Devils records which may never be broken, 1,283 games played and 2,519 penalty minutes. In 2000, he earned the Bill Masterton Memorial Trophy. Currently, the longtime alternate captain provides color analysis on Devils broadcasts on MSG Plus.
3.) Scott Niedermayer
A member of the Hockey Hall of Fame, Scott Niedermayer was a smooth skating blueliner. Niedermayer is the lone Devils' defenseman to win the James Norris Memorial Trophy. Folks in the Garden State remember his coast-to-coast goal against the Detroit Red Wings in the 1995 Stanley Cup Final. Speaking of which, No. 27 won three Stanley Cup titles with New Jersey, leading all scorers with 16 assists and 18 points during the 2003 postseason. A three-time All-Star with the Devils, Scott ranks sixth in franchise history in games (892), second with 364 helpers, fourth with 476 points, second in plus/minus (172) and tied for fifth with 51 power play tallies. Niedermayer's No. 27 hangs from the rafters in Newark.
The Edmonton, Alberta native also has quite an international resume. He helped Canada win Olympic gold in 2002 and 2010, the Ice Hockey World Championships and World Cup of Hockey in 2004, a silver in the 1996 World Cup of Hockey and a gold at the 1991 World Junior Championships.
2.) Scott Stevens
Scott Stevens was a true tenacious tone setter with the Devils. Stevens could intimidate, hit, chirp and back it up. A member of the Hockey Hall of Fame, No. 4 captained New Jersey to three Stanley Cup titles. A ten-time All-Star, Stevens was awarded the Conn Smythe Trophy in 1999-00. A leader by example he served as team captain from 1992 to 2004. During the 1993-94 campaign, his scoring prowess showed, leading the NHL with a plus 53 rating and topping all New Jersey scorers, recording 60 helpers and 78 points. In Devils franchise history, Scott ranks fourth in games (956), fifth in assists (337), eighth in points (430), first in plus/minus (282) and fourth in penalty minutes (1,007). His No. 4 hangs from the rafters at Prudential Center.
Hailing from Kitchener, Ontario, the Hall of Fame defenseman helped Canada win a gold medal at the 1991 Canada Cup, a silver medal at the 1996 World Cup of Hockey, and two silver medals and a bronze medal at the Ice Hockey World Championships.
1.) Martin Brodeur
Everyone has their own style and preference, but look at the record books and Martin Brodeur is at, or near, the top of virtually every goaltending record. In an era when goalies went butterfly, Marty played to a style and form of his own and it worked. Yes, No. 30 played behind some epic defensive units but he was a workhorse and helped take the Devils to the next level. The Devils top netminder was a three-time Stanley Cup champion and almost led the Devils to a title as a rookie and a 40-year-old.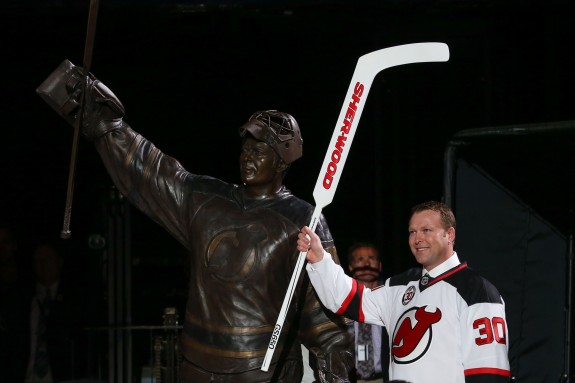 The New Jersey legend still has more wins than a handful of franchises and his puck handling play forced the NHL to instituted the trapezoid behind the cage. He was a nine-time All-Star, won the Calder Memorial Trophy in 1993-94, five William M. Jennings trophies and four Vezina trophies. Martin led the league in games played six times, wins nine times, goals against average once and shutouts five times. During the Stanley Cup Playoffs, No. 30 has 113 victories and 24 shutouts, including a record of seven set in 2003. In Devils franchise history, the one of a kind puck stopper is first in games (1,259), wins (688) and shutouts (124). Brodeur's No. 30 is retired at "The Rock." When eligible, he will be a member of the Hockey Hall of Fame.
Internationally, the Montreal, Quebec native has his fair share of hardware. Playing for his home country, he helped Canada win Olympic gold medals in 2002 and 2010, plus silver medals at the Ice Hockey World Championships in 1996 and 2005.
Michael Gwizdala covers the New York Islanders for The Hockey Writers. Michael is also an Associate Producer at WNYT NewsChannel 13. Additionally, Michael was once a Media Relations intern for the AHL Albany River Rats. Michael is a graduate of The College of Saint Rose in Albany, NY.