Facing Off is a weekly column debating five of hockey's hottest topics each and every Monday. From current events like trades and hat tricks to bigger-picture stuff like scandals and expansion — you name it, we're debating it. Albeit, not always with a serious tone. We're keeping this column light, so keep that in mind when reading, and feel free to join in on the fun by leaving a comment. Follow us on Twitter (@FacingOff_THW) and get in on the debate there too.

It's time we — the hockey world in general — give John Tortorella his due.
A stick tap. A slow clap. A congratulations Christmas card from Bob Hartley. Tortorella deserves all of the above today.
The guy, who many felt the game had passed by, just earned his 500th career coaching victory, becoming the first American-born bench boss and 24th overall to achieve that feat. And Torts did it in fitting fashion by defeating his former team, the Vancouver Canucks, in overtime on Sunday.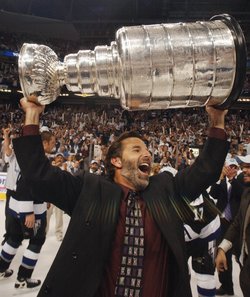 Tortorella's current team, the Columbus Blue Jackets, are exceeding all expectations this season, having extended their winning streak to nine games with that milestone triumph.
Truth be told, as that game was in progress, myself and Félix Sicard were recording Episode 6 of the Facing Off Podcast. We wrapped up before the result was available, but Tortorella and the Blue Jackets certainly got their share of praise nevertheless.
Tortorella's name came up in the conversation for the Jack Adams Award — surprisingly so, as both Félix and I had envisioned Columbus ending up in the draft lottery rather than a playoff spot. We had even discussed, in the past, the possibility of Tortorella being the first coach fired this season.
Boy, is he making us feel shame now. Especially me, since I flip-flopped on Columbus from my offseason standings predictions in August — when I was higher than most on the Blue Jackets, ranking them third in the Metropolitan Division (where they stand today) — to my preseason standings predictions in October when I dropped the Blue Jackets to seventh place in their division and second-last in the Eastern Conference.
Why the drastic change, two months to the day later? Because of Torts and his apparent incompetence, coming off a disastrous — and winless — showing with Team USA at the World Cup of Hockey. Flash forward two more months and, again, Tortorella is making me look foolish just over a third of the way through the regular season.
It's been quite the run for not only the Blue Jackets, but most of the Metro teams.
Top five teams in Metropolitan Division have won a combined 28 straight games

— Jon Lane (@JonLaneNHL) December 13, 2016
We didn't have time to get into that dominance, or the fact that the Pacific Division is also in position to send five teams to the playoffs as of today, but we spent plenty of time debating the frontrunners for this season's major awards — including the aforementioned Jack Adams, plus the Hart, Norris, Vezina, Calder, Rocket Richard and Art Ross trophies — while also disputing whether it has been a "bad" year for analytics, before discussing several roster possibilities for the Vegas Golden Knights through the expansion draft.
The latter topic has been of utmost interest to me, having just completed a mock draft for the Golden Knights. If you are as intrigued as I am about Vegas' potential lineup, definitely give the podcast a listen starting at the 53-minute mark and be sure to check out my draft results.
Golden Knights Mock Expansion Draft: Christmas Edition https://t.co/BAPrsigHVo #THW

— The Hockey Writers (@TheHockeyWriter) December 15, 2016
Naturally, I'm already second-guessing a number of my selections, thinking I might now prefer Nick Holden over Kevin Klein as a defenceman from the Rangers if both are indeed exposed, and maybe even David Schlemko over Paul Martin from the Sharks as well. Those two — Holden and Schlemko — are quietly having really nice seasons and you'd have to think that Vegas is taking notice.
Decisions, decisions — ever-changing decisions. I'm sure the expansion draft will get plenty of play in future Facing Off columns and podcasts, as the Golden Knights promise to be one of hockey's hottest topics over the next six-plus months and leading up to their inaugural season next fall.
Look for Félix to cover the Anaheim Ducks' protected-list options ahead of the expansion draft, providing additional insight such as he did in his latest in-depth piece on the Ducks' season to date and what's to come after the holiday break.
Major Hurdles Remain For Ducks – https://t.co/adoWPtSqMV #hockey #THW pic.twitter.com/iggLn8IAkT

— The Hockey Writers (@TheHockeyWriter) December 15, 2016
As for next week's Facing Off column, the plan is to compile some predictions for the upcoming world juniors, with pre-tournament play starting tonight and the puck dropping for real on Boxing Day. Stay tuned!
---
Who won this round of Facing Off? Feel free to weigh-in with your opinions in the comments below. We will be checking in periodically to both defend and expand on our initial answers. If you want us to face-off over a topic, we're open to suggestions as well.