ESPN's Scott Burnside called it a "gong show" — other fans have used stronger language.
Regardless, the last month has been a mess for the Florida Panthers. They fired their coach, placing their general manager behind the bench and skidding to a 3-3-4 record since. The latest fiasco, as Yahoo's Greg Wyshynksi reported, relates to conflicting reports about Dale Tallon's role with the organization. Some say the former general manager has been restored to his original role. Others, including the club itself, claimed that nothing has changed.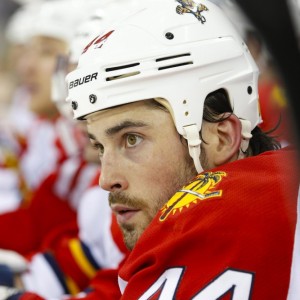 Official titles notwithstanding, Tallon's impact on the Panthers can't be understated. He brought the team to the cusp of contention in his six years at the helm, and built a strong foundation of young skaters.
But how well did he do selecting players on draft day?
This article will break Tallon's selections into three categories based on the round in which they were made — one section for first-rounders, another for second and third round picks and a final group of players drafted between the fourth and seventh rounds. Each category will also feature a tally of its total games played and its points (G/A/P) — all stats are courtesy of Hockey DB unless otherwise noted.
Premier Picks
Players Selected: Eight
Games Played: 1,421
Point Production: 234/360/594
As far as cracking the roster goes, Tallon's first-round picks have succeeded. Each of his eight early selections — Erik Gudbranson, Nick Bjugstad, Quinton Howden, Jonathan Huberdeau, Michael Matheson, Aleksander Barkov, Aaron Ekblad and Lawson Crouse — has appeared in at least 26 tilts.
Most have developed into solid players. Five skaters — Gudbranson, Bjugstad, Huberdeau, Barkov and Ekblad — have dressed for 1,264 NHL contests, accounting for over 59 percent of all games played by Tallon draftees.
https://twitter.com/NHLDaily365back/status/806315527752843269
Cornerstone players Ekblad, Barkov and Huberdeau highlight the bunch, while top-nine pivot Bjugstad has proven to be a solid two-way presence.
Generally, the buck stops here, as three of Tallon's six draft classes — 2012, 2013 and 2014 — failed to yield a single NHLer after the first round.
Mid-Round Selections
Players Selected: 16
Games Played: 456
Point Production: 61/86/147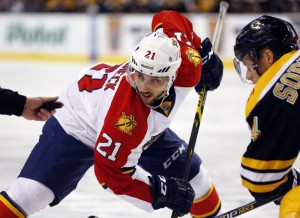 Despite succeeding with marquee selections, Tallon's mid-round track record is discouraging.
While expected, this set contains its fair share of whiffs. Despite producing Rocco Grimaldi, Logan Shaw and Connor Brickley, a handful of picks have failed to pan out.
John McFarland, a 2010 second-round pick, was a bust, spending the bulk of his North American career toiling in the minors before signing with SaiPa Lappeenraanta of the Finnish Elite League. Rasmus Bengtsson — the 59th pick of the 2011 draft — never made the jump, opting instead to stay in his native Sweden.
Although seven of Tallon's first eight picks in this category have cracked the NHL, his more recent selections have fallen flat — since the 2011 draft, no player from this group has made their NHL debut.
Furthermore, the bulk of this group's production is concentrated in two players — Vincent Trocheck and Alex Petrovic.
As far as goal scoring is concerned, Trocheck has carried the load. The Pittsburgh native's 45 career NHL tallies account for almost 74 percent of the group's total.
https://twitter.com/NHLDaily365back/status/807805364284620800
The duo has also generated approximately 90 percent of the group's assist output, along with 85 percent of its total offensive production.
Despite that most of the mid-round selections have been disappointing, the group houses some serious potential. The 31st pick in the 2013 NHL Entry Draft, rearguard Ian McCoshen, is having an exceptional start to his professional career in Springfield. While he has yet to don a Panthers sweater, the former Boston College captain figures to evolve into an imposing presence the Panthers have missed since trading Gudbranson.
The only goaltender drafted by Tallon higher than the fourth round, Samuel Montembeault, wowed spectators during the team's 2016 Development Camp and has strung together performance after impressive performance during his 2016-17 Major Junior campaign. According to the QMJHL's homepage, the Quebecois netminder is among the league's best, ranking in the top five in goals against average (2.36), save percentage (0.918), wins (12) and shutouts (3).
Late-Round Bargains
Players Selected: 26
Games Played: 260
Point Production: 32/54/86
If superstars are picked in the first couple of rounds, teams are built on the backs of depth selections.
But here's the thing — you need to sign them first.
No player from this crop, save for 2015 fourth-rounder Denis Malgin, has dressed or scored for the Panthers. 231 of the group's 260 total games played occurred away from the BB&T Center — Joonas Donskoi has appeared in 106 games with the San Jose Sharks, while Zach Hyman of the Toronto Maple Leafs and Iiro Pakarinen of the Edmonton Oilers have skated in 46 and 80 games, respectively.
Per @EliasSports: Denis Malgin became the second teenager in @FlaPanthers history to score an OT goal (also Stephen Weiss on Jan. 25, 2003). pic.twitter.com/1kIkl9YRpT

— NHL Public Relations (@PR_NHL) November 13, 2016
A handful of prospects — namely puck-moving blueliner MacKenzie Weegar — are making headway in the minor leagues. However, another subset has struggled. Russian wingers Yaroslav Kosov and Alexander Delnov jumped ship, choosing the KHL instead. Fifth-round reach Miguel Fidler has totaled 11 points through 30 NCAA games.
The bulk of this group still needs time. With four goaltenders and numerous skaters taking the patient route, it'll be years before Tallon's more recent draft classes properly pan out.