The World Junior Championships have become a staple in the Canadian holiday season, and with the Toronto Maple Leafs announcing that the tournament will serve as a canvas for their Centennial celebration, there will be extra attention paid to the 10 nations that will take the ice in Toronto and Montreal later this month.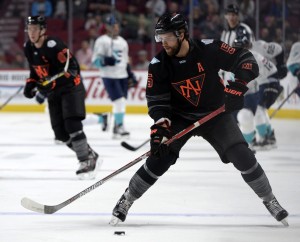 Historically, the world's top international junior-aged hockey tournament has housed some of the top young talent in the entire world, with Connor McDavid, Aaron Ekblad, and Auston Matthews just a few of the many great young players to have played in the World Juniors.
The parity and competitiveness of the tournament has also grown exponentially in the past decade, as previous powerhouses Team Canada and Russia have combined for just two gold medals between them in the past seven tournaments. In fact, the Canadians, who seem to be prohibitive favourites entering every tournament, have missed out on the medal round in three of the past four tournaments.
As one of the can't-miss events of the hockey season, the World Juniors often serve as a perfect setting for breakout performances. Jordan Eberle's heroics in the 2009 tournament cemented his legacy as one of the tournament's best performers of all-time and introduced him to the hockey world prior to becoming an NHL star with the Edmonton Oilers.
Every year, it seems a handful of players stand head and shoulders above the rest and become household names overnight. Here are a few players that you may not have heard of heading into the tournament, but could have a huge hand in determining the results.
Martin Necas, C, Czech Republic
Seemingly one of the tournament's biggest underdogs every year, the Czech Republic hasn't captured a medal at the tournament since earning bronze in 2005. They've had some talented players play for their squad since, including Michael Frolik, Jakub Voracek, and Petr Mrazek, but they haven't been able to keep up with the relative firepower of the much deeper squads from Canada, Russia, and the United States.
The Czechs bring yet another unheralded team to Montreal, so on paper, it appears they're in for yet another medal-less tournament. However, coming off their first Ivan Hlinka gold medal in the tournament's history, there's hope for the future of Czech hockey. With eight players on their roster that have been drafted in the past two years, the Czechs have the potential to upset one of the bigger hockey countries with a disciplined style of play and a little luck.
North American stage proving no problem for Czech star Martin Necas, via @JonathanWillis https://t.co/gK9TWJmo8d pic.twitter.com/GSjYbk0xM1

— Sportsnet (@Sportsnet) November 7, 2015
The captain of the Ivan Hlinka gold medallists, Martin Necas, could be an integral part of the Czech team in the event they open some eyes with their performance at the WJC. Already one of the youngest players in the top Czech league at 17 years old, Necas has impressed with six goals and 13 points through his team's first 29 games. In fact, his great play to this point has shot him up draft boards, and he is now a near-consensus to be drafted in the first round of the 2017 NHL Draft.
A speedy skater with great offensive skill, Necas put up two goals and six points while leading the Czechs past some of the world's best junior talent in the Ivan Hlinka tournament in August. If he can replicate that great two-way ability during the World Juniors, the Czechs could be a threat to beat out one of the pre-tournament favourites for a spot on the podium.
Eeli Tolvanen, LW, Finland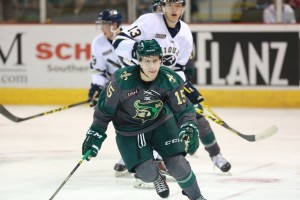 Despite having a population of just over five million, Finland has captured gold in two of the previous three World Junior Championships thanks to a dominant team effort and some heroic performances from the likes of Patrik Laine, Teuvo Teravainen, and Jesse Puljujarvi. While both Laine and Puljujarvi are eligible to return to the team this year, both are thriving at the NHL level and are unlikely to be loaned to Finland for the tournament.
In order to replicate their success from last year, Finland will need some huge performances from some of their younger players. The blue line appears to be a strength for the Finns this year, as 2016 lottery pick Olli Juolevi is supported by a trio of first-round prospects for 2016 in Miro Heiskanen, Juuso Valimaki, and Urho Vaakanainen. However, the most important player for Finland could be Eeli Tolvanen, the top-ranked Finnish player for the 2016 Draft and arguably its biggest scoring threat.
Tolvanen's profile has risen dramatically in the past year thanks to fantastic performances for Finland on the international stage and a historic scoring rate in the USHL, America's top-ranked junior league. After posting one of the best scoring rates by a 16-year-old in USHL history with 38 points in his 49-game rookie season, Tolvanen highlighted his 2015-16 season by notching seven goals in seven games in the 2016 U-18 World Championships.
Widely considered likely to be a top-10 draft pick in next summer's NHL Draft, Tolvanen's scoring prowess could push Finland to its third World Junior Championship gold medal in the past four years, and his own draft stock into consideration for a top-five selection.
Rasmus Dahlin, D, Sweden
While it's not a certainty Dahlin will crack the Swedish roster and have a meaningful role, it's still worth noting that Dahlin, at the young age of 16, is poised to aid Sweden in their quest for their first gold medal since 2012. Traditionally considered a tournament for 19-year olds, there's been a shift towards exceptional young players in the tournament in the past few seasons, with the likes of Connor McDavid, Patrik Laine, and Jesse Puljujarvi all playing starring roles for their squads.
Dahlin has the chance to join some exclusive company if he is able to make Sweden's World Junior squad. The list of 16-year-olds to play in this tournament is extremely short, and Sweden has never brought a defenseman so young to the World Juniors. However, with his play early in this season, Dahlin has established himself as one of the most promising young players in hockey and a top prospect for the 2018 NHL Draft.
A brilliant skater and puck handler, Dahlin looks like just the latest in a long line of top-notch offensive defenders from Sweden:
Dahlin would be the youngest player on Sweden's roster, but that doesn't mean he wouldn't be one of its most important. Sweden has been plagued by a lack of offense in recent years at this tournament, resulting in missing out on a podium finish in each of the past two seasons.
Sweden's roster isn't devoid of top-tier talent this year, but they'll need a big contribution from their blueline if they want to trade punches with the heavyweight countries of this tournament. Dahlin may not be leaned on in all situations, but the Swedish Elite League's youngest player has the talent to be a real difference-maker for the Swedes if he can inject a dose of offense from the back end.