When the New Jersey Devils drafted Patrik Elias with the 51st pick in the 1994 NHL Entry Draft, the franchise was unknowingly adding a team icon. Now at 39-years-old, Elias is one of the most important as well as beloved players in team history. However, after a lackluster last season and the organization shifting to a team built around youth and speed, Elias' role could appear to be unclear. But if there is one thing that New Jersey fans know better than anyone else, it is to never doubt number 26.
The Questions
When a player reaches a certain age, whispers grow louder and when that is coupled with a poor statistical year, those whispers can turn into screams. It is not a secret that Elias, along with the rest of the offense, struggled last season. But even coming off of a year where he only put up 34-points, Elias was still the team's third highest scorer. Bluntly, 34-points this season will not be enough to help New Jersey achieve any kind of success. For Elias to remain within the top-six, he will need to break into the 40 to 45-point range or even higher.
Nevertheless, there is no reason to assume that the lifelong Devil cannot achieve this, especially with the right support. He has been one of the team's most consistent and reliable players. Since the 2011-12 season, Elias has averaged 50-points, including the shortened lockout year and accumulated a total of 201-points. Additionally, he has repeatedly been one of the Devils' top three scorers.
https://youtu.be/4y4PwsX3KKs
It is beginning to appear more likely that Elias will miss the start of the regular season due to a sore knee that has held him out of training camp and preseason action. Until Elias is ready to go, there are several possibilities of who could play in his spot.
If he remains on the roster to start the season, rookie Pavel Zacha could play wing. Additionally, Zacha could potentially center the second line shifting Adam Henrique over to wing. Another option would be to have Henrique play wing with Jacob Josefson as the center or vice versa. Nevertheless, when he returns, Elias should eventually have the opportunity to reclaim his role in the top-six.
Head coach John Hynes and general manager Ray Shero have repeatedly stated that the team will need Elias to be an impact player and that will not happen if he is placed back into a checking capacity like he was during the second half of last season. It would be a fair argument to say that the top-six should be stacked with speed and that if Zacha, Josefson or any other player excels in that top-six role, that they should stay in that slot. But for Elias to raise his numbers, he should be placed on a line with Henrique and seemingly based on preseason games, Kyle Palmieri.
The line of Elias, Henrique, and Palmieri has the potential to produce the offense that New Jersey needs. Elias and Henrique have chemistry on the ice and that familiarity while adjusting to a new system could benefit the Devils. If Elias comes back and is a step slower or is not making the same impact that his substitute did while he was injured, then it would be time to consider dropping him down in the lineup.
Devil at Heart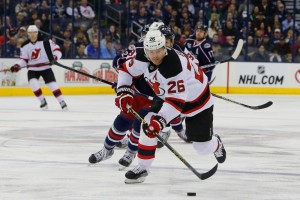 Throughout his career Elias has experienced the heartbreak of losing, the joy of winning, and everything in between. His leadership is instrumental to the franchise as the team grooms young players and brings new faces into the locker room. With so much uncertainty surrounding a team that was once known for its consistency, Elias provides stability. He may not be the youngest or quickest player on the ice, but his experience and his hockey sense is something that the Devils cannot replace and is currently invaluable to the franchise.
New Jersey has fully embraced a new era. With Martin Brodeur, Lou Lamoriello, and Scott Stevens gone, Elias is the last man standing. The only way that should change is if Elias wants it to. No one knows what will happen this season with the Devils. It could be the first step in developing a solid core foundation for the future or it could be a year that surprises everyone. While there are other players on the roster that were with the team when New Jersey faced the Los Angeles Kings in the Stanley Cup Finals in 2012, the feeling of hoisting Lord Stanley over their heads eluded them that year. However, Elias has experienced that first hand. He is a winner and well respected throughout the NHL. He represents the success of the past while the organization attempts to restore their winning ways with a new generation of players.
Someday the number 26 displaying Elias' name will find a permanent place up in the Prudential Center's rafters alongside other Devils' legends where it belongs. But until that day comes, New Jersey fans will watch and hope that Elias can write another chapter in his book, and yet again prove what makes him a true Devil at heart.