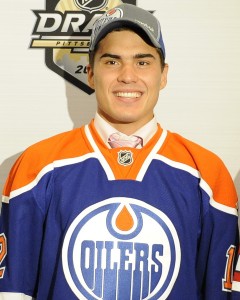 Despite his first overall draft status, life in the NHL hasn't been easy for Nail Yakupov. The Oilers selected him despite the belief that scouts really wanted defenseman Ryan Murray, who went at number two to the Blue Jackets. Yakupov has the skills, but gets unfairly saddled with the enigmatic Russian label. Strong play on the ice would put that all to rest, however last season proved to be one he'd like to forget.
"I haven't even thought about last year. I have recovered from my foot injury. I worked over the summer on my foot and tried to skate a little bit. I feel pretty good and I'm ready to go. I'm 100 percent', Yakupov told reporters during his visit to an Oilers hockey school. 

"I'm pushing myself hard and I'll work 100 percent every day in order to get better. We'll see what it's going to be like this year. I promise I'll work hard, play 100 percent every day. I hope it's going to be good for me and good for the team. We have to play better than we did last year, so we'll see how it goes." [NHL.com]
Playing better is must, not just for Yakupov but for the Oilers as a whole. Taylor Hall and Jordan Eberle are the leaders of this team now, and they need to step up and allow the others to follow suite. Yakupov must be a huge piece of the puzzle if the Oilers want to see success.
Last year, he struggled on the defensive side of the game, posting a minus -33 ranking, and scoring just 11 goals. The plus/minus stat can be deceiving, especially on a bad team like Edmonton, but it's still a glaring number. Yakpuov, like the rest of the team, has to improve on attention to detail when they don't have the puck. The trouble with Nail last season was his lack of production to go along with the defensive lapses. At times he looked overwhelmed by the game, and found himself benched on numerous occasions.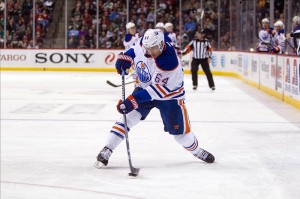 Like any good superstitious hockey player, Yakupov is making a change to help turn the tide, opting to go with the familiar number 10 on his jersey. The number wasn't available when he joined the team, it was warn by former captain Shawn Horcoff.
"I've always played with the No. 10. It's my favorite number," Yakupov said. "[Horcoff] said I could wear No. 10, so I'll take it. There may be a different number on my jersey, but the last name is going to be the same." 
Like any young player, adjusting to the NHL, and being effective, is a learning process. It's been a tough environment in Edmonton, but perhaps, equipped with his comfortable number, Yakupov can take some strides forward. The good thing about the Oilers is that even the smallest improvement is cause for optimism.