The New York Rangers have made an ambitious and progressive decision with their rebuild regarding Filip Chytil. Now it's up to the struggling rookie center to reward the team's faith – even if doing so takes a while.
The 19-year-old played in his 10th game of the season, officially burning the first year of his three-year entry level contract. That means that there's no turning back now — that sending him back to the minors would seem pointless. Coach David Quinn has referred to Chytil as a big part of the Rangers' future on more than one occasion.
Now the question is whether Chytil can prove Quinn right — and how much time he needs to do so.
The 21st overall pick in the 2017 draft has yet to show that he can translate his considerable offensive skills into an effective nightly effort during his short stint in the NHL. Despite making the team with a strong training camp last season, only two games with the big club laid bare the fact that Chytil wasn't ready, and he spent most of 2017-18 in the AHL before being recalled late in the season.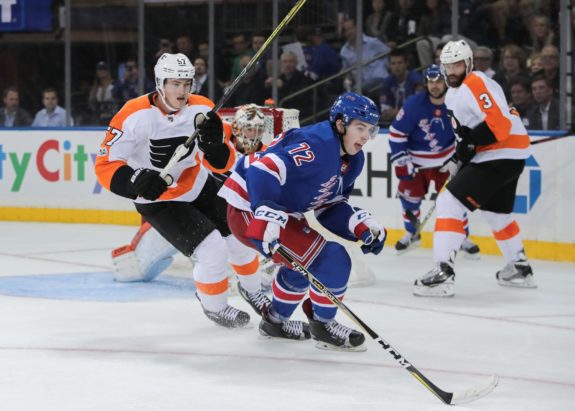 This season was supposed to be different for Chytil. A year spent adapting to the North American game, along with the accompanying physical and mental growth, were supposed to have him better prepared for 2018-19. That seemed to be the case in training camp as he again made the club with an encouraging performance.
While he hasn't looked completely overmatched like last season, the results haven't been there. Chytil has no goals and three assists in 13 games, and his impact, and consequently, his ice time, have diminished.
After Chytil struggled at his natural spot in the middle, Quinn pushed him to the wing in hopes of jump starting his game. That had little effect, and Quinn now has him back at center on the fourth line as he tries to find a way to get him going.
Quinn, Rangers Show Commitment to Chytil
Still, despite routine in-game benchings that have left Chytil watching much or all of third periods of late, it's clear that Quinn and the organization are committed to the youngster, both through word and deed. Keeping Chytil on the roster rather than saving a year on his contract was the first strong signal of that. Quinn's tough love has been the second.
"He's 19, and there are going to be ups and downs," Quinn said after the Rangers' 3-2 shootout road victory over the Anaheim Ducks on Thursday gave them two straight wins for the first time this season. "He and I talked about why he sat (for all but 8:53 of a 4-3 shootout win over the San Jose Sharks on Tuesday). It's part of a long process."
"You don't keep throwing young guys out there where that can create a little entitlement. They have to earn their keep."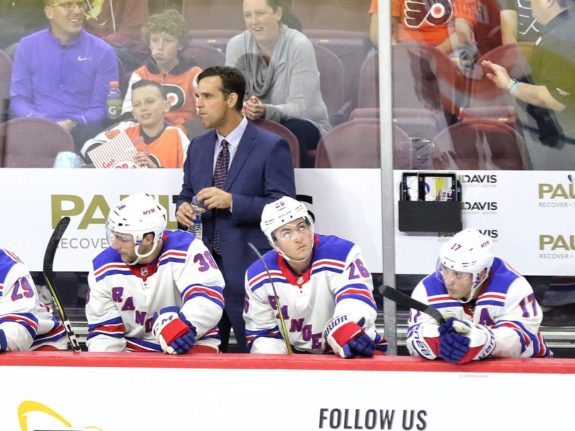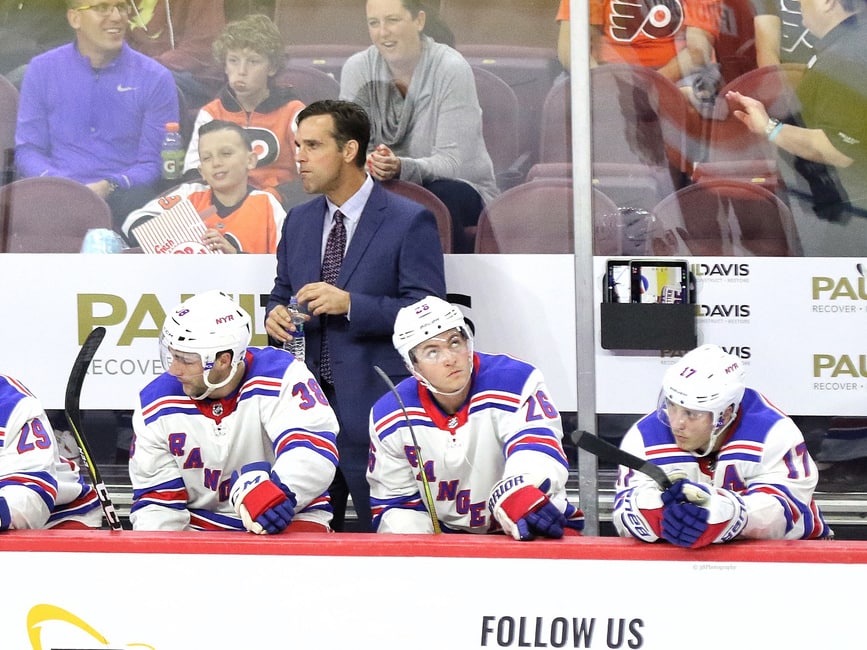 Quinn was hired to teach, and the way the first-year NHL coach has handled Chytil has been impressive. No apparent frustration, only patience mixed with what looks like just the right amount of expectation for a kid that has the ability level to develop into a cornerstone.
The skillful, consistent approach to this youthful but vital young player has epitomized Quinn's excellent work with the entire roster in his first 13 games. He is upbeat and supportive when it comes to players working to find their game, yet utterly intolerant of lack of effort — the only element of hockey that players fully control from game to game. The only time the coach's anger has flashed is when he's seen an absence of effort or attention to detail.
Quinn's ire surfaced after a lackluster performance in the 4-1 loss at Chicago, then again following Sunday's 4-3 defeat to the Los Angeles Kings in which the Blueshirts committed a too-many-men-on-the-ice penalty for the third straight game. Both times, the anger was directed not at the fact that his team lost, but in the way it had done so — with errors that the players alone can avoid.
While Chytil Plays, Buchnevich Sits
While Quinn has seen enough from Chytil to keep him in the lineup, he's let young Russian winger Pavel Buchnevich know that his compete level and commitment haven't been close to what's expected. Despite recording three goals and two assists this season, Buchnevich was scratched for the second straight game Thursday, and third time in 13 games. It's obvious that Quinn has observed that sense of aforementioned entitlement in Buchnevich, who in offseason interviews blamed former coach Alain Vigneault for some of his problems last season.
Quinn has clearly communicated to Buchnevich that he needs to substantially increase his effort and change his attitude if he wants to get on the ice. The message has been put forth loud and clear, again in both word and deed.
"You don't want to teach people it's OK not to play hard, no matter how old you are," Quinn said after the first benching, a 3-2 shootout home win over the Colorado Avalanche on Oct. 16. "I think the biggest things for guys as they continue to get older is changing their definition of what trying hard is.
" … I think it's just a process for every young player. I think it's a major hurdle for any young player to change your definition of what hard work is."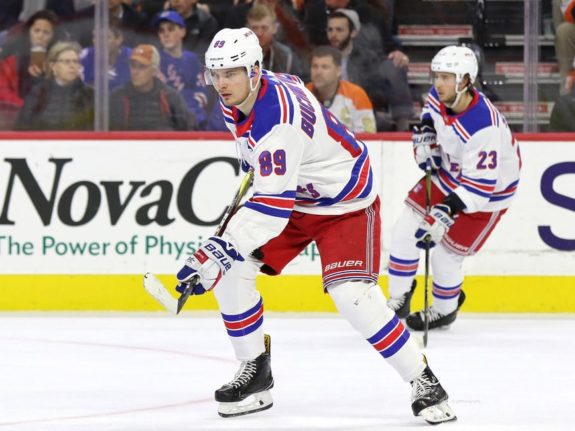 Quinn doesn't have his ideal roster yet, probably not even close. The Rangers in the next few seasons are sure to incorporate plenty of players for whom gritty play and fast, north-south pushing to the net come more naturally than his current group. Even so, Quinn's positive effect on this team, deficiencies and all, is unmistakable.
That seems to bode very well for Chytil, his teammates and the organization's future.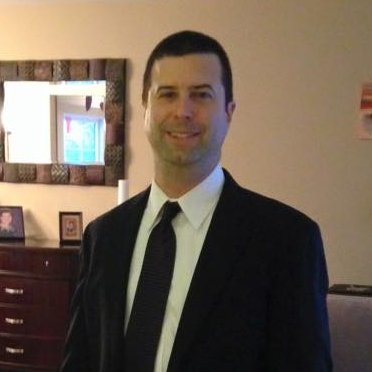 I'm a resident of the Chicago area by way of White Plains, NY. I worked for the Associated Press sports department in New York City for 10 years before moving to the Midwest in 2005, when the AP's then-internet division entered into a joint venture with STATS LLC. I worked for STATS for 11 years, until 2016. I'm very excited to be a part of The Hockey Writers.