Growing up in Markham, Ontario, Jeff Skinner was a precocious kid from an overachieving family. After being picked seventh overall in 2010 and making an immediate impact for the Carolina Hurricanes, he's now playing for his second NHL team. For fans of the Buffalo Sabres who are just getting to know their new star forward, here are some fun facts about Skinner:
1. All in the Skinner Family
Elisabeth and Andrew Skinner were both athletes of the year in law school and have six competitive children, who all did figure skating, power skating, swimming, gymnastics, piano lessons and dance classes, to name a few activities. Hockey, however, was the family's first love.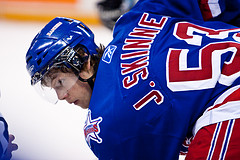 Twins Andrea and Jennifer went on to play at Cornell and Harvard, respectively. Erica suited up for Carleton University, Jillian was a Mercyhurst Laker, and Ben played for the Kitchener Rangers like his little brother Jeff, the second youngest of the clan, and at Wilfred Laurier University.
2. Skinner Can Skate
When Skinner was 11 years old he won a bronze medal at the Skate Canada Junior Nationals, a competition that also included Patrick Chan, who went on to win three Olympic figure skating medals.
The speed, balance and agility he learned through figure skating served the undersized winger as he rose through the ranks, including his time on the Toronto Young Nats with Tyler Seguin.
Despite this background, Skinner's skating abilities were questioned leading up to his NHL draft. One prognosticator suggested that "his skating ability and first step acceleration will need to come a long way if he is to succeed in the NHL." (from 'Ex-Ranger Skinner can't skate? Boy, did he prove some people wrong', Waterloo Region Record, 08/17/2011)
3. He's Neither Taylor nor Tyler
The 2010 NHL entry draft was all about the Taylor/Tyler decision, choosing between the two blue-chip prospects who finished the season tied for the Ontario Hockey League scoring title for first overall. While top pick Taylor Hall tried to play 18-year-old messiah with the Edmonton Oilers and Tyler Seguin was low on the depth chart of a strong Boston Bruins team, the less highly-touted OHL grad quietly skated up the middle.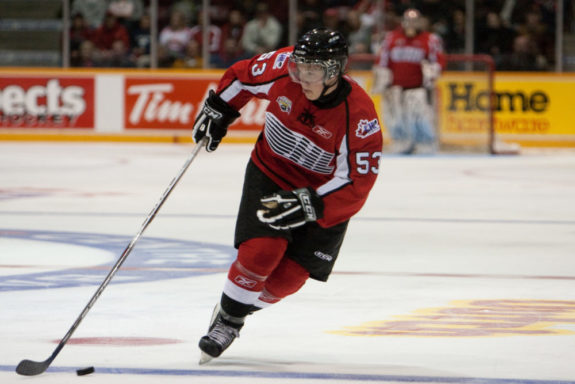 Rick Vaive, the former captain of the Toronto Maple Leafs and Skinner's coach with the Young Nats, said he was "shocked" when Skinner was 47th in the mid-season rankings in his draft year. "He lit it up in Kitchener. He's a great skater with phenomenal balance. His skating didn't look pretty, but you could see he was a natural goal scorer." (from 'Ex-Ranger Skinner can't skate? Boy, did he prove some people wrong', Waterloo Region Record, 08/17/2011)
Skinner, the seventh overall selection from the Kitchener Rangers, scored 31 goals and 63 points, edging out Logan Couture, and Taylor and Tyler, for the rookie scoring lead and the Calder Memorial Trophy.
4. A Star Is Born
At the age of nine, Skinner had a role in the Robin Williams movie "Death to Smoochy", and when he was named rookie of the year in 2011, he was the youngest Calder winner in NHL history. He also became the youngest to play in an All-Star game in any of North America's four major sports that year.
"It is special to come into the NHL and score 30-plus goals," said Paul Maurice, Skinner's coach during his Calder-winning year. "It usually takes three, four or even five years to develop. Everyone down here has fallen in love with him. He is grounded and he looks like he's having fun." (from 'Skinner figures to be NHL star for a long time', Toronto Star, 08/16/2011)
5. Jeffrey Bieber
In his rookie season in Carolina, Skinner's boy band charisma energized the fanbase and bumped up attendance at home games, particularly with young women. "It has a Justin Bieber-type feel to it, but he's got a Justin Bieber-type look, too," said captain Eric Staal.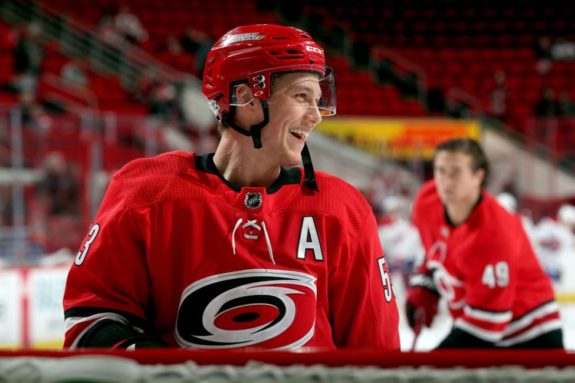 Lisa Musilek's 14-year-old daughter, Madison, waited in line for 90 minutes to get his autograph. "Oh my gosh, it's crazy," said Lisa. "We definitely like hockey, but our interest in hockey has skyrocketed this year and our budget to buy tickets has, too. I see season tickets in our future.
"He's adorable," she added. "He's really good. And he's adorable."
6. EA Shade 19
In August 2018 Carolina traded Skinner to Buffalo for Cliff Pu, a second-round draft pick in 2019, a third-round pick in 2020, and a sixth-round pick in 2020. EA Sports wasn't shy about voicing its opinion that the 'Canes got fleeced, posting a picture on Twitter of Skinner in his new uniform with the caption "When you have trade difficulty set to 'easy.'"
When you have trade difficulty set to 'easy'. #NHL19 pic.twitter.com/vzVPezhSkJ

— EA SPORTS NHL (@EASPORTSNHL) August 2, 2018
7. Skinner's Sabre-metrics
Skinner led the Hurricanes in scoring twice, and left Carolina fifth on the franchise's all-time goal list with 204 and seventh in points with 379. Now, 16 games into his career as a Sabre, his 18 points are one back of team leader Jack Eichel, and he leads the team with 11 goals, including his fifth career hat trick, scored against the L.A. Kings on Oct. 20. He's only one goal behind a four-way tie for the NHL lead.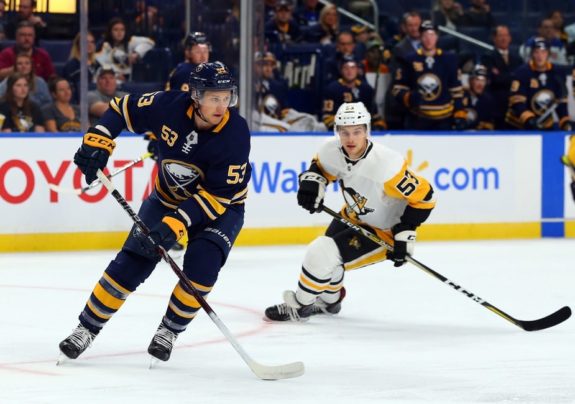 Still only 26, Skinner is in his ninth season, but the veteran retains his impish playfulness. The kid who spent his childhood getting under his older siblings' skin took particular joy in annoying reserved goalie Cam Ward in Carolina. If he's not charming his new Sabres teammates enough with his mischievousness, he's on his way to a career high in goals and points.