The Boston Bruins goaltending situation is always a heated topic. Some believe Tuukka Rask should remain the starter and that his inconsistency in the early stages of the 2018-19 season won't last long. On the other hand, others argue that Jaroslav Halak has been strong enough to usurp the No. 1 role.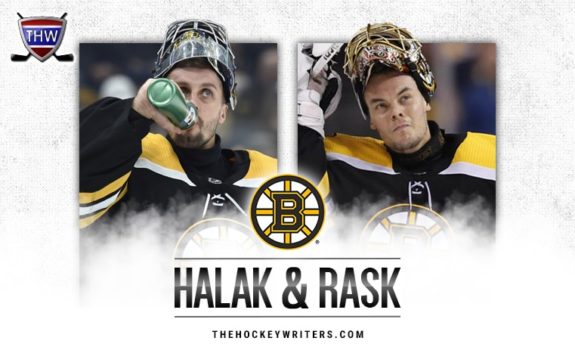 We don't need to take sides. Head coach Bruce Cassidy has already taken a middle-of-the-road stance. Now 12 games into the regular season, Halak and Rask have each started six games. The former has been better statistically but there are a number of reasons Rask should still be a regular starter at this stage in the season.
Jaroslav Halak
Halak joined the Bruins via free agency this past summer. General manager Don Sweeney signed the Slovakian goaltender to a two-year deal worth $5.5 million, with a $2.75 million annual cap hit. It was a price increase from former backup Anton Khudobin's last contract which was also a two-year deal, worth $2.4 million. Sweeney was in discussions with Khudobin about returning but the two decided to part ways. Khudobin went on to sign with the Dallas Stars and has a $2.5 million cap hit annually.
Though more expensive, signing Halak has paid off. He has a 4-0-2 record, a .947 save percentage (SV%) and a 1.51 goals-against average (GAA). It's arguably the best start he's had to a season statistically; the only comparison is when he had a 5-1-0 record to begin the 2013-14 campaign with the St. Louis Blues. The 33-year-old already has two shutouts this season and, considering he was expected to be a backup, has surprised everyone.
The main reason for these low expectations was Halak's performance with the New York Islanders, a team that has only made the playoffs three times in the last 12 seasons. However, the ninth-round pick of the 2003 NHL Entry Draft backstopped the Islanders to two of those postseason appearances despite the team's struggles defensively during Halak's tenure.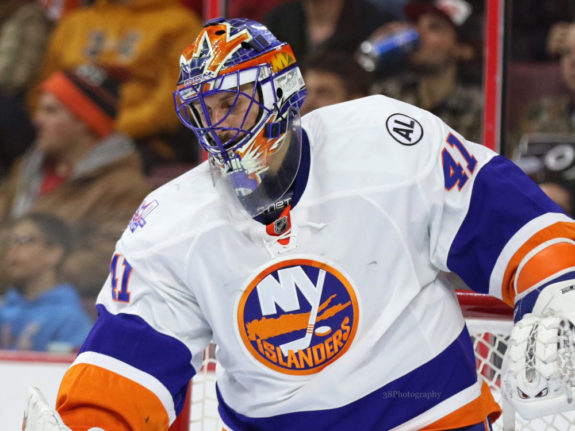 Halak seems on the verge of becoming one of the better starting goaltenders in the NHL once again behind the Bruins' deep defensive roster, which helped him in his first few starts. However, Boston has lost Charlie McAvoy, Matt Grzelcyk, and Kevan Miller. Though Torey Krug has returned to action, he missed the first 11 games of the 2018-19 season with an ankle injury and has shared the ice with Halak once. Despite the injury bug, the goaltender hasn't faltered.
Though Halak has been the better netminder so far, it doesn't mean he should take on full-time duties instead of Rask just yet. It's not because he hasn't earned it but rather that Rask is still searching for his A-game – which he is capable of finding – and not giving the Finn a healthy dose of action could impede his progress.
Tuukka Rask
Last postseason I noted that Rask was meeting expectations but that he wasn't going above and beyond them. Six starts into the 2018-19 season,  that statement still applies. The truth is that Rask hasn't been bad this season, he's been inconsistent. In his three wins, the 31-year-old has a 2.00 GAA and a .939 SV%. In three losses, he has a 3.66 GAA and a .834 SV%. Rask has simply been hot and cold, and should find his groove if he continues to get action on a regular basis.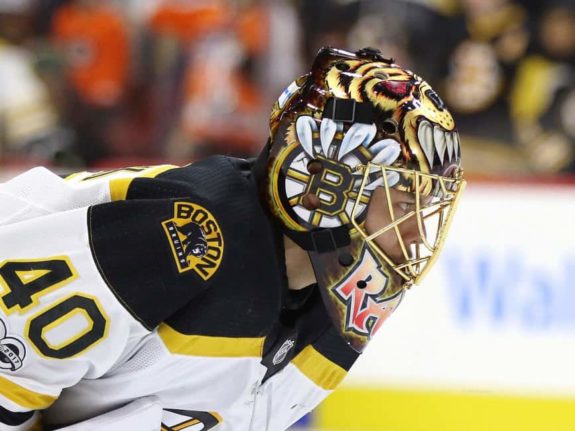 Consider that Rask's stats were far worse at the beginning of last season. In his first six starts of the 2017-18 campaign, he had a 1-3-2 record with a .896 SV% and a 2.83 GAA. Of course, statistics don't paint the whole picture and the reasons for Rask's slow starts in the past two seasons go much deeper than his record, save percentage, and goals-against average.
The 21st-overall selection of the 2015 NHL Entry Draft has been let down by his defense a number of times; turnovers behind center ice have led to odd-man rushes or a defense that's frantically trying to recover from a failed transition. In these instances, it's hard to blame Rask for giving up a goal. If a defender can't cover a passing lane, it forces the goaltender to stay honest: he must prepare for a shot and a pass which dissuades him from cutting off the angle; a strategy that tends to make a save more likely.
Fro's feeling it.#BOSvsCGY pic.twitter.com/voijQTfDGV

— Calgary Flames (@NHLFlames) October 18, 2018
However, there are many instances when Rask has let in a soft goal including when he only gets a piece of the puck that goes on to trickle across the goal line or when he fails to hug the post properly, giving a narrow avenue to the back of the cage. He can't be blamed for all 17 goals against in his six starts this season, but he is at fault for some of them.
It is early and Rask can still have a stellar season. From Nov. 29 of last year to the end of the 2017-18 campaign, the Bruins' starter had a 31-6-3 record with a 2.15 GAA and .923 SV%. After a rough start to last season, Rask had bounced back. Given the current state of his play, however, Rask's performance last year is being tossed aside.
The bottom line is that Rask needs time to find the performances we know he is capable of. He won't find his groove if he only gets one start every four games. It would be wise of the Bruins to continue starting both goaltenders and if Halak and Rask both excel, a tandem of starting netminders is not foreign to the NHL.