Last night, Jason Botterill continued to shake-up the Buffalo Sabres' core by adding veteran winger Jeff Skinner in a trade with the Carolina Hurricanes. The Sabres sent a solid prospect back the other way in the form of Cliff Pu, a 2019 second-round pick and two more selections in 2020 to sweeten the pot.
The deal marks yet another calculated acquisition in a series of moves designed to bring new life to a reportedly poisonous environment in the locker room at KeyBank Center. With a fresh cast of new faces, fans will hold out hope that the new-look roster can establish a winning culture, something we saw taking shape with the Rochester Amerks last year after their lineup was completely overhauled in terms of veteran talent.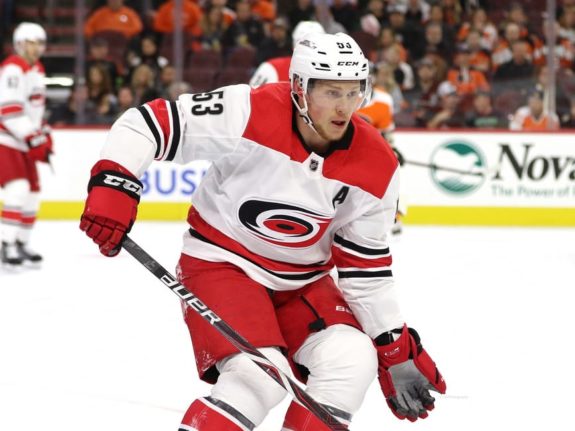 With Skinner now in the fold, the reshaping of the Sabres' top-six is complete, and Botterill has certainly been true to his word. During the team's end-of-the-year press conference, he promised personnel changes, and boy has he delivered. The question now becomes; who skates alongside Jack Eichel, and who rides shotgun with rookie Casey Mittelstadt?
Botterill's Action and Asset Management
Let's take a moment to appreciate just how eventful the Sabres' offseason has been in the wake of yet another year in the league basement. With pressure mounting to assemble a competitive roster and end the second-longest playoff drought in the NHL (interestingly enough, the longest drought belongs to Carolina), Botterill knew that the current core simply wasn't clicking.
Early in the offseason, with a stroke of luck, the organization was awarded the first overall pick in the NHL Draft Lottery and the right to select a franchise-altering defenseman in Rasmus Dahlin. With that addition alone, the Sabres' blueline is much more formidable than it has been in years past, and the future continues to look bright with young talent like Rasmus Ristolainen, Brendan Guhle and Jake McCabe still in the fold.
Just days before the start of free agency, Botterill swung a deal with the Pittsburgh Penguins, acquiring Conor Sheary to help fortify a left-winger pool that was completely devoid of talent. On July 1, he addressed the another area of need between the pipes with the signing of Carter Hutton to a three-year contract, the team's only one-way deal of the offseason (so far).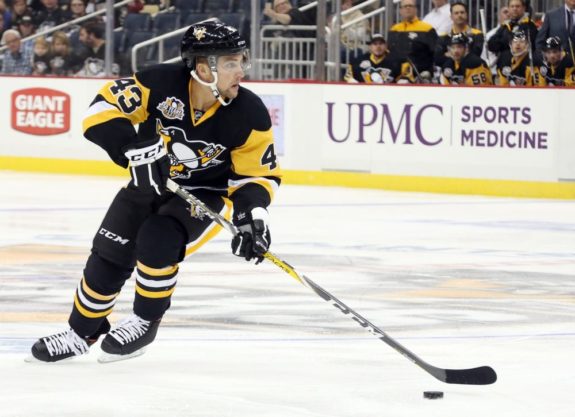 That same evening, the second-year general manager orchestrated the blockbuster trade of the summer by dealing center, Ryan O'Reilly to the St. Louis Blues in exchange for Tage Thompson, Vladimir Sobotka, Patrik Berglund, a 2019 conditional first-round pick and a 2021 second-rounder. Not a bad haul for a player who was quickly running out of favor amongst fans.
At that point, the lineup appeared to be pretty set except for one remaining hole in the top-six. Skinner will fill that void and his arrival should have an immediate positive impact on offense.
Following the trade, Botterill spoke to the media last night, expressing a need to improve the Sabres' scoring output which ranked dead last in the NHL with 199 goals-for last season.
"To find a consistent NHL goal scorer for us, we thought it was important to make this acquisition."
For three years now the team has struggled to find left wingers with the skill set to compliment their strong center spine. Sure, Evander Kane was excellent in stretches, but at the beginning of last year, it felt like a foregone conclusion that his days in Western New York were numbered. With a good portion of Tim Murray's core now gone, Botterill's vision becomes clearer and more impressive by the day.
Who Plays With Eichel?
That's the 10 million dollar question, isn't it? Eichel needs a player on his left side who can keep up with his speed and also produce offense on their own. While Sheary was certainly able to succeed in a similar role during the 2016-17 season with Pittsburgh when he flanked Sidney Crosby, Skinner may be the better fit on the top line.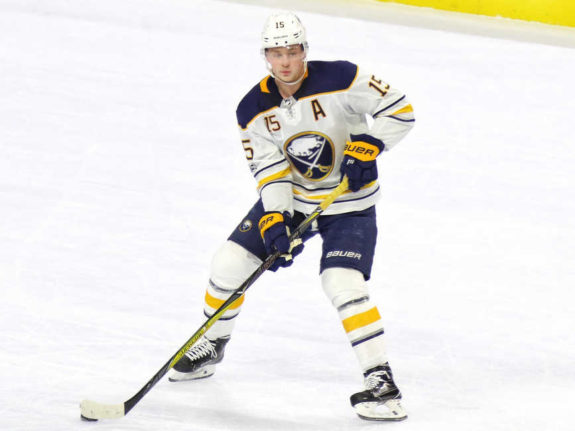 The key here is consistency. Sheary had trouble producing offense last season without an All-Star center. Skinner has surpassed the 20-goal mark in each of his last three seasons with Carolina, notching 37 in 2016-17. His point output did decrease last season, but with Eichel as his pivot, he can hit the prime of his career in stride. At just 26 years old, there is a lot of gas left in the tank and his best days could very well be ahead of him.
Regardless of which player ends up with Eichel, the other will likely serve on a line with Mittelstadt who is an outstanding consolation prize. Given Phil Housley's penchant for juggling his lines (to the point of absurdity), both players will likely get their shot on the first line at some point.
Either way, the Sabres will field a top-nine next season that could feature up to six new faces. Talk about an overhaul.
Related: Mittelstadt and the Sabres' Big Year Ahead
Skinner's Contract
At face value, it's hard not to crown the Sabres as the early winner here. Not only did they get the best player in the deal, but they were able to hang onto all three of their first-round picks in 2019 (two of which are of course, lottery protected). That in and of itself is a major victory.
The key to the long-term value of the trade is Skinner's contract. As of right now, he has one year remaining at a cap hit of $5.725 million. If Botterill can extend him for a similar (or lesser) salary, then there is little question that Buffalo got an absolute steal.
Even the EA Sports NHL19 official Twitter account threw some shade at Hurricanes' GM, Don Waddell for how lopsided the deal appears to be.
When you have trade difficulty set to 'easy'. #NHL19 pic.twitter.com/vzVPezhSkJ

— EA SPORTS NHL (@EASPORTSNHL) August 2, 2018
One concern with extending Skinner to a long-term contract is his concussion history, but over the last three years he has managed to stay on the ice. If for some reason Botterill cannot come to terms on an extension, he could recoup value at the trade deadline if the Sabres are out of the playoff picture.
Fortunately, given the fact that Skinner had to waive his no-movement clause in order to come to Buffalo, it bodes well for his prospects of hammering out a new contract prior to the deadline.
"It excited us that Jeff had a full no-trade (clause), and he came to Buffalo," Botterill said. "You want guys that want to play in your city."
One way or another, the Sabres may just have snuck their way into the playoff conversation in a very talented Atlantic Division.