The Carolina Hurricanes have traded forward Jeff Skinner to the Buffalo Sabres in exchange for prospect Cliff Pu as well as the Sabres second-round pick in the 2019 NHL Entry Draft and their third and sixth-round picks in the 2020 Draft.
The #Canes have acquired Cliff Pu, Buffalo's second-round selection in the 2019 NHL Draft and Buffalo's third-round and sixth-round selections in the 2020 NHL Draft in exchange for Jeff Skinner. https://t.co/oEvNu3fqxH

— Carolina Hurricanes (@Canes) August 2, 2018
It may seem like he's a lot older, but Skinner is still only 26 years old and will be for the entirety of the 2018-19 regular season. Drafted with the seventh overall pick in 2010, Skinner immediately made his debut in 2010-11 and scored 31 goals and 63 points in 82 games as a rookie.
His impressive start earned him a Calder Memorial Trophy as the Rookie of the Year and he would continue to impress despite some injury issues early in his career as he's scored over 20 goals six times in eight seasons, eclipsing the 30-goal mark three times in that span. His best season came in 2016-17 when he scored 37 goals and 63 points in 79 games and he may be only entering the prime of his career now.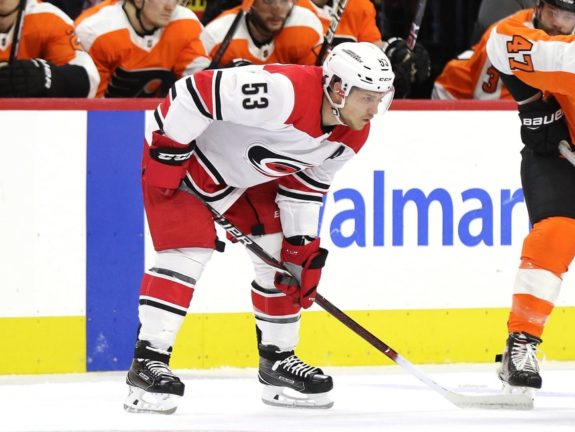 Moving him wasn't an easy decision for the Hurricanes giving their need for a scoring winger, but it was part of a bigger change as a whole for the Hurricanes' roster that was looming for months.
"Jeff Skinner has been with this franchise, he's a 30-goal scorer, proven 30-goal scorer," Hurricanes' general manager Don Waddell told "Hockey Central at Noon." in late June. "We don't score a lot of goals. Saying that we did, you know it's no secret we put his name out there and we've gotten a lot of interest. … When you're trading that type of player, you have to be careful because if you just want to move a player along, certainly there's lots of teams that would love to have that player.
"But he's a big asset for us, and we've got to make sure that we get some kind of assets that we feel are going to help us either today or in the future for a guy like Jeff."
Sabres Appear to Come Out Ahead
On the surface, this deal looks like a very good one for the Sabres and a questionable one for the Hurricanes. While Carolina did receive a solid prospect in the 6-foot-2, 192-pound Pu, the return for a 26-year-old with that kind of scoring potential seemed light.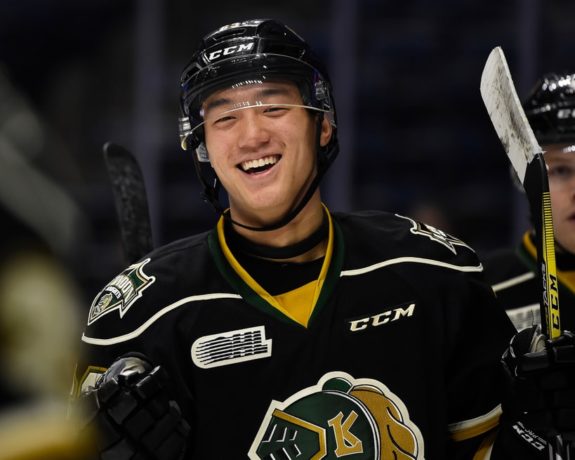 Yet to play a game in the NHL (or AHL), Pu has been an effective winger at the OHL level, primarily with the London Knights but most recently with the Kingston Frontenacs. In 2017-18, Pu scored 29 goals and 85 points in 65 games split between the Knights and Frontenacs last season as well as four goals and 17 points in 15 postseason games.
In all fairness to the Hurricanes, Skinner is on the final year of his contract and that may have played a role. Despite this, time and time again we've seen players worse than Skinner be traded for more at the trade deadline than the Sabres were asked to pay for him prior to the start of the 2018-19 regular season.
Getting away with not paying a single roster player or a first-round pick in this type of deal should give Sabres' fans a lot of confidence in general manager Jason Botterill as he's had a very successful offseason to date in an attempt to make his roster better in the present without mortgaging much of the future.