After a little more then three years as coach of the New York Rangers, Tom Renney's job is finally on the line. The Rangers have played a stretch of terrible hockey and as I sit here writing this they are currently losing 8-2 to the Dallas Stars and who knows, the score may be into double digits by the time I'm done typing this. The Rangers have seem disinterested to say the least and now all the papers in New York are questioning his ability to lead this team (the New York Post at one point had three separate articles about Renney in one day.)
The Rangers on paper aren't a very strong team but aren't this bad either. The offensive system that they play is stifling, and when I say stifling I mean to the fans because they can't figure out just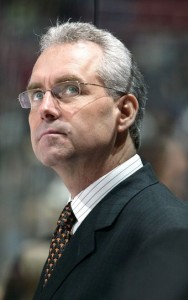 what it is and also to the players themselves because they just can't score.
Score alert: 9-2 Dallas. Hey I was right.
So let me continue. It seems that in the last game versus Atlanta they intentionally tried not to score only to realize late, "Hey let's win this for Adam Graves." So they tied it with twelve seconds to go only to lose in a shootout. Now during tonight's game I have no doubt that the Rangers are throwing the game intentionally.
Score alert: 10-2 Dallas. Pour it on baby! The clock is ticking.
The Rangers are skating with no urgency, no will to win whatsoever and this was after Renney put the team through a very hard thirty minute torture session drill during the last practice. Just read the quotes in the papers, the players aren't directly saying it, but very subtly, they are mocking him. They know he has no backbone and they know he is just awful, but you just can't openly bash your head coach.
Well after tonight, I don't think it will be a problem anymore. Jerry Recco on WFAN the other day said that if the Rangers lost two games in a row Renney would be canned. Well doesn't tonight's game count for two games? If Sather has any sense, Renney must go before the next game versus the Devils because this team needs a wakeup call before a very important rivalry game. Perry Pearn must go to as should Benoit Allaire because clearly Lundqvist needs a new challenge. As far as I'm concerned, Mike Pelino is the only person in the franchise who's job is safe, and that doesn't say much.
So who will replace our hapless friend? People will scream Mark Messier but I don't see that as a possibility right now. So my choice for the next head coach of the Rangers (on an interim basis to start) would be current assistant general manager Jim Schoenfeld. He is a tough huy who actually has backbone and coaching experience and he is someone the players won't tune out. I'd even be for bringing Messier as an assistant coach where he can then take over next season.
Final Score: 10-2 Dallas.
Who says good things can't come from losses? Prove me right Mr. Sather.