This is Part 1 of 2 of a collaboration between New York Rangers writer Tom Dianora and Vegas Golden Knights writer Shayna Goldman about the Rangers' preparations for the upcoming NHL Expansion Draft that will be conducted June 18-20.
With the impending expansion draft, the New York Rangers must establish which of their players they are going to protect. The Vegas Golden Knights will select one player from each of the 30 NHL teams' exposed players—one of which could be a Rangers forward.
Teams have an option of protecting either seven forwards, three defensemen, and one goaltender; or a combination or eight skaters and one goaltender. The Rangers will likely follow the format of seven forwards, three defensemen, and one goaltender.
The only forward the Rangers must protect (unless they move or buy out his contract), is Rick Nash, due to his no-movement clause (NMC). All first and second-year professionals are exempt from the draft, so both Jimmy Vesey and Pavel Buchnevich are safe from exposure without needing to be protected.
This season, the Rangers' greatest strength is their forward depth. That luxury will force them to make some difficult decisions ahead of the expansion draft, as they have a favorable combination of established contributors and young players who have yet to reach their full potential.
In any event, in looking at their roster, five players stand out as being all but certain to be protected, barring any surprising trades or major curveballs from general manager Jeff Gorton and the Rangers' front office.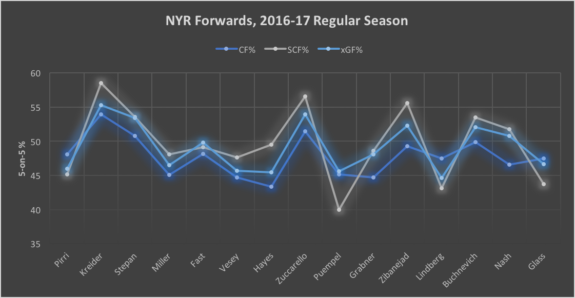 Forwards the Rangers Will (Almost) Definitely Protect
Rick Nash
Rick Nash's name has been speculated in trade rumors throughout the last few seasons—many of which stem from the fact that the Rangers are eternally stuck in a cap crunch and Nash's $7.8 million cap hit is substantial. However, as mentioned, Nash has a no-movement clause, meaning the Rangers have to protect Nash unless they ask him to waive the clause (and he obliges) or buy him out of the final year of his contract.
Nash, who turns 33 in June, has earned a place in the Rangers' protected list though, even without considering his NMC. His contract is only for one more season, which will somewhat relieve the Rangers of their cap constraint in one year. Since he is a valuable asset to the Rangers, it is more likely that they would want a return on Nash if they intended to trade him, so they would protect him regardless of his NMC.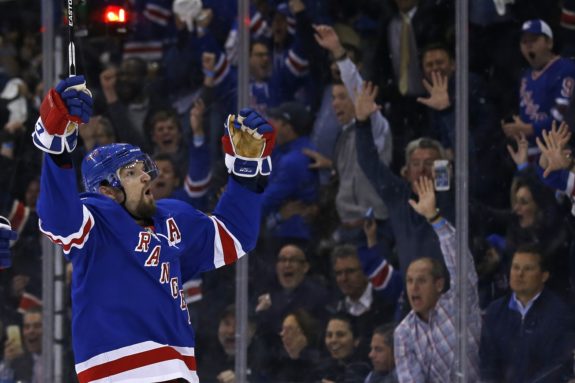 This season, Nash scored 38 points (23 goals, 15 assists, 1.74 5-on-5 points per 60) in 67 regular-season games. Additionally, Nash's five-on-five expected goals for per 60 of 2.82 led the team. Nash's ability to play in all situations adds to his value—along with his five-on-five and power-play time, he is key in shorthanded situations, as he generates offensive opportunities on the penalty kill.
In the Rangers' 12 playoff games, he accumulated five points (three goals, two assists). Nash's play bolstered the offense, as the team generated more shot attempts for in the postseason (five-on-five 62.94 Corsi-for per 60). And his expected goals for per 60 of 2.66 ranked the second-highest on the team in the playoffs.
Due to Nash's NMC, the team has to protect him; however, it is a spot that he certainly deserves based on his play with the Rangers.
Chris Kreider
Kreider, who just turned 26 on April 30, has always possessed a tantalizing combination of elite speed and power. A left winger, he is an imposing figure at 6-foot-3 and 228 pounds, and when he gets his legs moving, he's nearly impossible to stop. Last year, former Rangers teammate Dominic Moore heaped high praise on Kreider, calling him, "the most explosive skater in the history of the NHL."
"He's a game-changer because he can break out and do amazing things because he is a freak athlete," Moore continued. "Guys like that don't grow on trees. He has earned his way into being a valuable player in the league."
Too often though, Kreider has gotten stuck in his own head and played a disappearing act, not always overcoming mental obstacles to exercise his unique skill set to the best of his ability. Nevertheless, this past season, he took major steps toward becoming the consistent threat the Rangers have envisioned ever since they drafted him 19th overall in the 2009 NHL Entry Draft.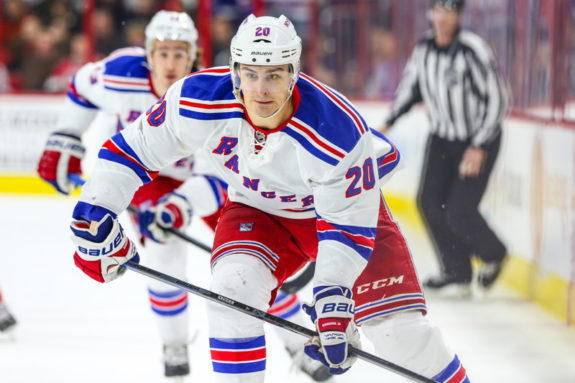 Kreider led the club with 28 goals in the regular season, establishing a career high in the process. He also added 25 assists in breaking the 50-point plateau for the first time. Even so, despite historically being a strong playoff performer, Kreider hit a bit of a rough spot for much of this past postseason before showing signs of life toward the end of the Rangers' run. It was too little, too late, however, as the Rangers fell to the Ottawa Senators in six games in the second round.
The main takeaway for the Rangers, though, is that Kreider showed major signs of growth this past season, and is just about at the point of being that constant 30-goal, power-forward threat the Rangers saw when they drafted him. With three years still remaining on his contract that carries a very team-friendly AAV of $4.625 million, and his best years likely still ahead of him, Kreider is a lock to be protected from the expansion draft.
Mika Zibanejad
Zibanejad, a center who is only 24 years old, was the return for the Rangers when they dealt fan-favorite Derick Brassard to the Senators last offseason. Like Kreider, he has shown flashes of brilliance but hasn't always been able to play at his highest level because of overthinking at times.
Still, even while missing 25 games because of a broken fibula suffered in November, Zibanejad managed to compile 37 points (14 goals, 23 assists) in 56 regular-season contests. He then added another nine points (two goals, seven assists) in the Rangers' 12 playoff games—good enough to lead the club in postseason scoring.
Zibanejad just played the last year of his contract that paid him an average of $2.625 million annually. Having already eclipsed the 20-goal mark twice and the 50-point mark once in his young career, Zibanejad is a player who still has a ton of upside. The Rangers should make every effort to sign him to a long-term deal—or at the very least, a bridge contract—and protect him from Vegas.
Derek Stepan
Although there has been speculation regarding the Rangers trading Stepan over the last season (and especially recently), he is ultimately someone the Rangers will in all likelihood protect—unless a major trade opportunity arises to find a more favorable replacement or a top defenseman.
Statistically, Stepan put together yet another 50-point season—his fourth in a row—with 17 goals and 38 assists. He managed to hit these marks in spite of a brutal 23-game stretch where he did not light the lamp once. Between that and an underwhelming postseason where he managed six points but said himself that he felt like he was skating through quicksand and struggling to make the "right plays," Stepan's name has come up as the subject of some aforementioned trade speculation.
Stepan is signed for another four years at an AAV of $6.5 million, so dealing him would likely net the Rangers some cap relief, depending on the return. However, Stepan has been an integral part of the club's success over the years and is a center who can play in all situations. As such, the Rangers need to exercise caution before rashly pulling the trigger based on a poor showing over a small sample size.
https://twitter.com/Josh_Khalfin/status/866422559641931777
Stepan brings a wealth of experience and proven success to the table but in what is almost a contradiction, he is only turning 27 years old in June. Unless an exceptional trade offer is on the table, the Rangers will use a protection slot on Stepan.
Mats Zuccarello
The Rangers are certainly going to protect Mats Zuccarello. In his time with the Rangers, he has become an essential piece of their core. During the regular season, the Rangers' smallest player produced the greatest number of points (59 points—15 goals, 44 assists)—which equated to 2.01 5-on-5 points per 60, ranking the third-highest on the team. He has consistently produced for the Rangers since appearing in his first full season in 2013-14. In addition to the regular season, he's been a reliable playoff contributor as well (31 points—11 goals, 20 assists—in 60 career playoff games).
As strong has his offensive generation has been, his defensive play is also notable. With Zuccarello on the ice, the Rangers have limited their shot attempts against (5.4 Corsi-against per 60), shots on goal against (27.64 shots against per 60), and scoring chances against (7.39 scoring chances against per 60).
Despite his small size (5-foot-7, 179 pounds), the 29-year-old Zuccarello plays fearlessly against any opponent—regardless of the size difference—which has made him a fan favorite. The team and fan base acknowledge the heart and soul that Zuccarello brings to the Rangers, and he has subsequently been awarded the Steven McDonald Extra Effort Award in three of the last four seasons.
Additionally, Zuccarello's affordable contract (four years, $18 million) that extends for another two seasons with a cap hit of $4.5 million makes him a favorable option for the Rangers to protect.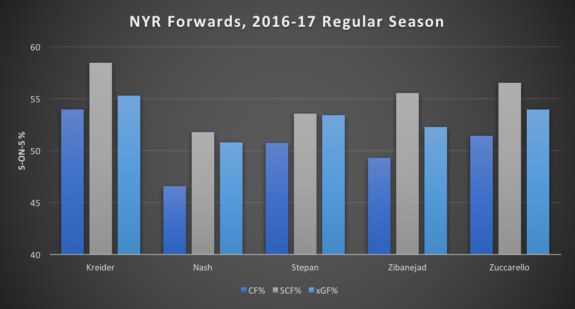 Forwards Whose Fates Are Less Certain
While five of the Rangers' protected slots at forward are fairly certain, the last two slots are not as predictable. The Rangers may look to move forwards prior to the expansion draft to fill their defensive needs, which could free up a protected spot for another player. Impressive play from the regular season and playoffs has forced the Rangers to closely consider which players they expose with the lowest risk of losing them.
Even if these players are exposed, though, the Rangers are not without options to protect them. The Rangers could offer Vegas general manager George McPhee draft picks or prospects to not select a certain player, for example.
J.T. Miller
At first mention, the 22-year-old Miller, who can play center or wing, seems like a lock to be protected. And he will be—if the Rangers do not decide to trade him.
Miller, a former first-round draft pick who had a career-best season with 56 points (22 goals and 34 assists), is still very much on the upswing, but that is precisely what would give him so much value on the trade market, even in spite of his poor playoff performance (zero goals and three assists in 12 games). The Rangers might want to at least take a peek at that market given their surplus of forwards and lack of quality defensemen (more on that to come in Part 2 of this feature).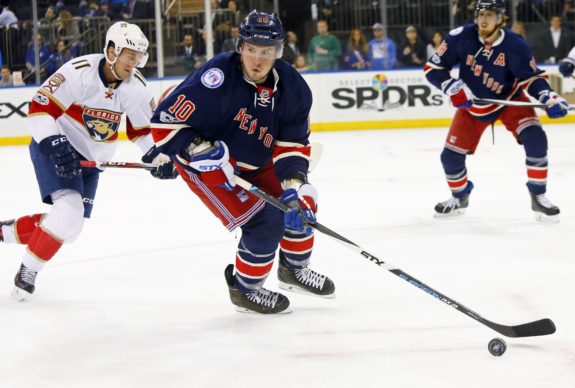 Perhaps the Rangers could look to teams that will have trouble protecting all of their quality blueliners, such as the Western Conference finalist Nashville Predators and Anaheim Ducks. It's something for the Blueshirts to chew on as they look to improve and shore up their weaknesses.
Like Stepan, though, unless a great opportunity is available for the Rangers, Miller, who has one year remaining on a contract that carries an annual cap hit of $2.75 million, will probably be protected. But given his youth and more affordable contract (for now) than Stepan, such a trade opportunity might be a bit more likely with him.
Kevin Hayes
Like Miller, there is little doubt that Kevin Hayes will be protected by the Rangers. Hayes does have a high value, but as it was mentioned, the Rangers may need to move forwards to acquire defensemen, which could result in Hayes being moved before the draft.
Hayes, age 25, was selected 24th overall by the Chicago Blackhawks in 2010. After finishing his college career at Boston College, his rights to the Blackhawks expired and he became a free agent. Hayes signed as a free agent with the Rangers in 2014.
This season's 49 points (17 goals, 32 assists) were a career high for Hayes. It was also considered a bounce-back season after a disappointing 36-point season in 2015-16. His playoff performance was a letdown, as, just like Miller, he only earned three assists (and zero goals) in 12 games.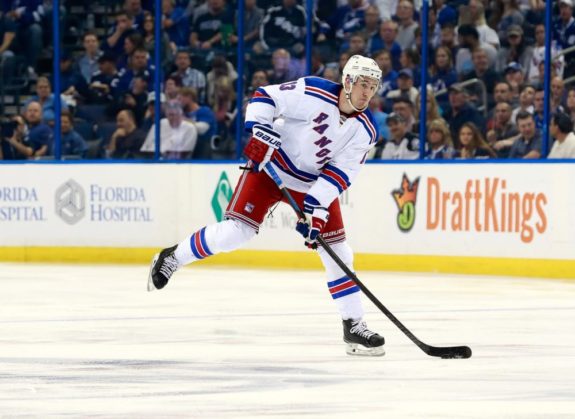 For the majority of the season, Hayes played with Miller and Michael Grabner on the third line. His defensive responsibilities were expanded and because he was in a role that required that much defensive play, his offense has yet to reach its potential, although it was an improvement from his first two seasons.
Hayes is believed to have a high offensive potential and glimpses of that were really seen at the IIHF World Championship. In the three games he played for Team USA, he scored four points (two goals, two assists) in three games. But Hayes was used on a line with offensive players like Johnny Gaudreau, which boosted his production. If the Rangers used Hayes in the same way, with higher-caliber players, he'd have a better opportunity to produce.
Because of that potential, it is likely that the Rangers retain him. However, impressive play from forwards like Oscar Lindberg do create some questions on his role with the team.
Oscar Lindberg
Lindberg's steady regular-season play and impressive performance in the postseason propelled him into the discussion for protection. Even so, if no pre-expansion draft trades happen and Kreider, Zibanejad, Stepan, Nash, Zuccarello, Miller, and Hayes are all protected, Lindberg would be one of the odd men out.
In any event, the 25-year-old center had a very strong finish to the 2016-17 season and looks like someone primed for a bigger role in the immediate future. After missing the first few games of the season because of offseason hip surgery and then suffering through a slow start as he worked to rediscover his game, Lindberg did just that and finished the season with eight goals and 12 assists for 20 points in 65 games. All eight of his goals came after the calendar turned to 2017, as he finished his season very strongly.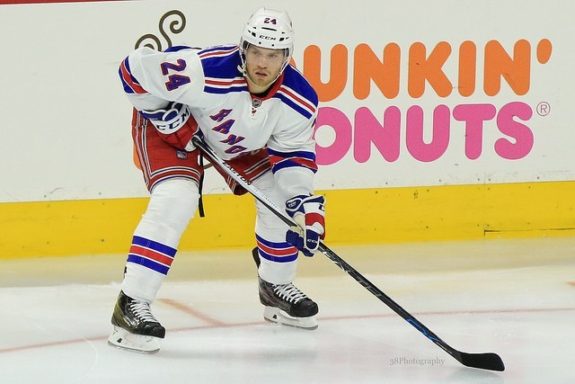 Lindberg added another four points (including three goals) in the playoffs, continuing where he left off at the end of the regular season. He was also the Rangers' best possession player in the postseason, sporting a five-on-five Corsi-for percentage of 57.07 percent.
Lindberg, whose cap hit this past season was a mere $650,000, is a restricted free agent, so it's uncertain if the Golden Knights would want to use one of their 10 free-agent slots on Lindberg. The Rangers, though, might not want to take any chances on losing him. Then again, losing any of the aforementioned seven forwards for nothing would be a major problem as well, so they will have to weigh potential trades with respect to whether they keep or expose Lindberg.
Jesper Fast
It seems more than likely that Jesper Fast will find himself exposed to the Golden Knights in the expansion draft. That being said, it will not be without serious consideration. Exposing Fast puts him at risk of being drafted since he is a commodity for any team's lineup.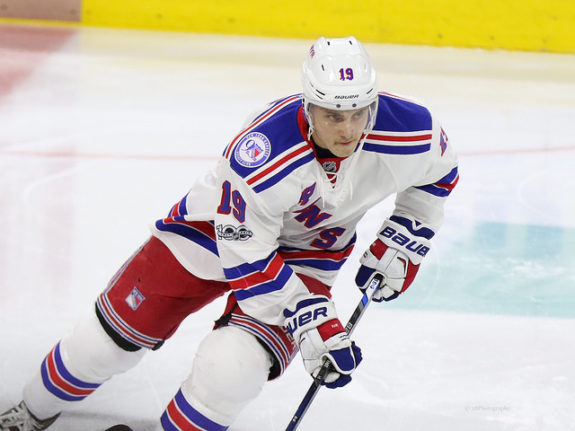 Fast earned 21 points (six goals, 15 assists) in the 68 regular-season games he played this season. He earned six additional points (three goals, three assists) in the postseason. Although Fast is not known for his offense game, it was crucial for the Rangers in the playoffs. Two of the six points he earned in the postseason were from shorthanded plays (one goal, one assist).
One of Fast's greatest assets is his defensive play. With Fast on the ice, the Rangers' shot attempts against were limited (55.39 Corsi-against per 60). He accumulated 31 blocked shots and 93 hits at five-on-five. Not only does he hit and block shots, but he does so at opportune times to make or force plays. Fast is also one of the Rangers' top penalty killers.  
Fast is a pending restricted free agent, as his two-year, $1.9 million contract is expiring. He has been an affordable option for the Rangers' bottom six, and they will likely look to sign him to a cost-friendly contract if he is not drafted by the Golden Knights. If the Rangers do leave Fast exposed, they can hope that he will not be drafted because of his status as a pending free agent—since the Golden Knights are limited to selected 10 free agents from the draft and since Fast is not a flashy player, he may not be picked as one of their few free-agent selections.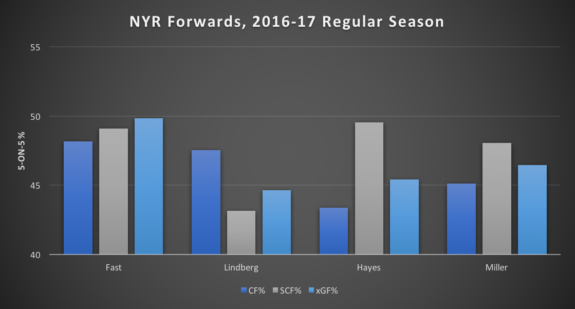 Exposed Forwards
With the Rangers limited to protecting seven forwards, there will be a number of players exposed. Michael Grabner, Brandon Pirri, Matt Puempel, Tanner Glass, and Nicklas Jensen will all (almost definitely) be exposed to the Golden Knights.
Of those players, Grabner jumps out as a potential pick for Vegas. Grabner is a low-risk option, as he only has one year remaining on his contract and a low cap hit of $1.65 million. His impressive season (40 points – 27 goals, 13 assists), makes him an attractive option to the Golden Knights.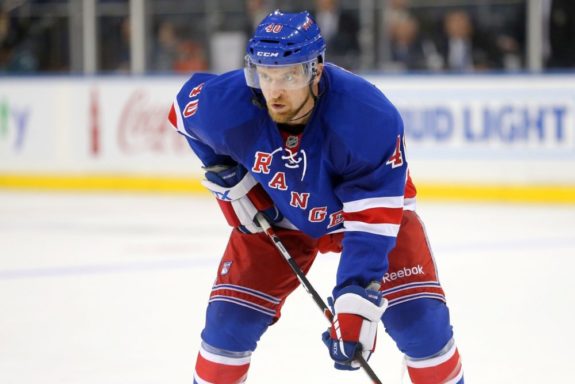 If Lindberg is exposed, there is a significant risk that the Rangers lose him at the draft. Again, Lindberg is a pending restricted free agent and the Golden Knights are limited in the number of free agents they draft—however, he has shown his abilities on both sides of the ice and will likely re-sign an affordable contract this offseason. Because of that, he is a player to consider taking as one of their 10 free-agent slots. But the Rangers do have the option of offering the Golden Knights an asset to protect Lindberg from being drafted if he is exposed.
As it stands, the Rangers are not exposure eligible because they do not have two forwards available to the Golden Knights that are signed through 2017-18 and that have met the minimum-games-played requirement (40 or more NHL games in the 2016-17 season, or 70 games played over the last two seasons)—unless Hayes or Miller are exposed.
In order to meet the parameters for the expansion draft, the Rangers must either re-sign a pending free agent (Glass, Pirri, Fast, Puempel, or Lindberg) or acquire another eligible forward before the draft.
*All CF%, SCF%, xGF%, and other possession data is at 5-on-5, via Corsica.hockey.