With less than a month until NHL training camps open for the 2018-19 season, the New York Rangers find themselves in a far different position than a year ago. After dealing away key veteran pieces at the trade deadline in February and parting ways with former head coach Alain Vigneault in April after one of the most disappointing seasons known to date, the Blueshirts have decided that it is time to rebuild. Although, one player stands in their way of making a smooth transition altogether—Henrik Lundqvist.
Operation 'Rangers Rebuild'
Rebuilding from both the management and fan perspectives is one of the most difficult challenges an organization will face. A franchise goes from title contention one year to bottom feeder the next. It's like almost reaching Mount Everest's peak, but bad weather forces you to trek downwards without reaching the ultimate goal of standing on top of the world.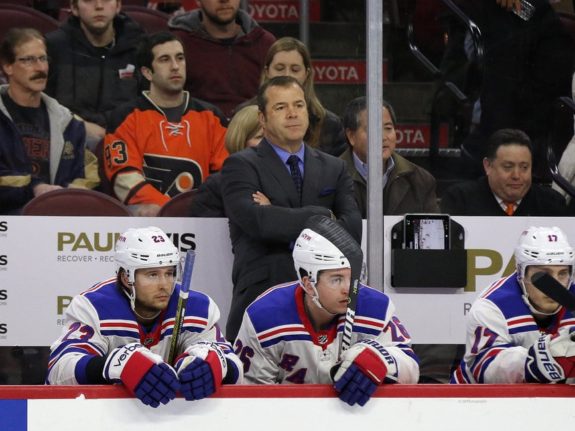 New York hasn't hoisted the Cup since 1994, and up until last August, many thought that they were close. The Rangers had depth on the blue line, balanced offensive units and a head coach in Vigneault who has been to two Stanley Cup Finals and helped upset the Montreal Canadiens in the 2016-17 playoffs the year prior.
Nobody expected the extreme drop off that the Rangers endured last season and what would transpire over the next several months. Now, New York must take to the drawing board and create a new plan to compete in the near future. The plan will center on younger prospects within the system, draft picks over the next few years and creating a new culture in the Big Apple.
Lundqvist and New York Must Move On
New York had arguably one of the biggest draft steals in NHL history at the 2000 Entry Draft. They selected Lundqvist in the seventh round (205th overall) and he has been one of the league's most dominant goaltenders over the past decade. He is a two-time All-Star and won the Vezina Trophy in 2011-12 as the league's top goalie.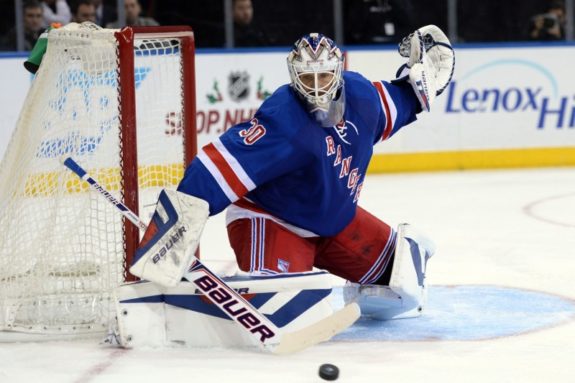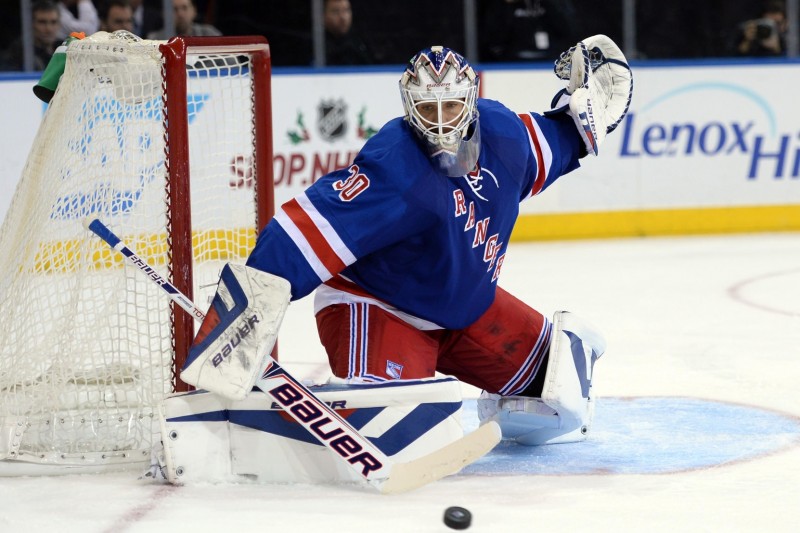 Rangers new head coach David Quinn met with Lundqvist this past week to discuss the future and it seems as if the 36-year-old is excited about the new plan and atmosphere that organization is bringing to the city. He wants to be a part of the rebuild and believes that the Rangers can win now.
That's all well and good, but in order to rebuild, you have to essentially clean house. You have to get rid of veterans that couldn't get the job done and develop young prospects around a steady core. Yes, Lundqvist has been unbelievable for the Rangers, but with him in net, the team's rebuilding chances will take a back seat. The objective is to still "try" to win games, but you do so by putting younger players in the lineup to develop them and have them learn at the NHL level.
Over the past decade, Hank has ranked outside the top 12 in wins just twice, while averaging nearly 30 wins per season. Injuries and playing for a lottery pick hindered his chances of reaching 30 wins last year, but he still finished with 26. 2017-18 was considered a declining season for the Swedish native, but he is still the face of the franchise and will steal games for the club from time to time.
Rangers Options
Lundqvist is under contract until 2020-21 with a cap hit of $8.5 million, and New York either needs to get him to waive his no-trade clause or play him in a limited role this year. The easiest way to rebuild at this moment is to find a suitable trading partner willing to take the salary cap hit and develop goaltending prospects already in the system.
One option is to play backup Alexandar Georgiev more consistently in 2018. The Russian native is just 22 years of age and played in 10 games for the Blueshirts last year. He produced a .918 save percentage (SV %) and a 3.15 goals against average (GAA) and looked steady at times in between the pipes when called up. He also had a stellar season in the AHL for Hartford in 2017-18, posting a 2.98 GAA and a .909 SV %.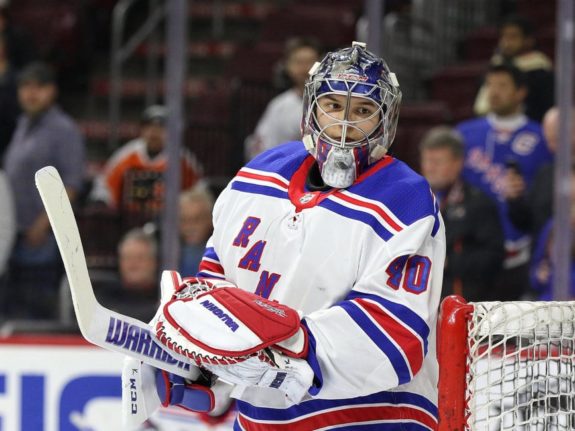 After signing free agent goalie Dustin Tokarski this week, New York opened the door for another option this fall. Tokarski has experience, but has been an up and down talent between the NHL and AHL throughout his career. He appeared in the 2014 Eastern Conference Final against the Rangers after Carey Price went down with an injury and played extremely well. In the five playoff games that he started, he posted a .916 SV % and a 2.60 GAA, and over his NHL career he is averaging .904 SV % and a 2.84 GAA in 34 games played.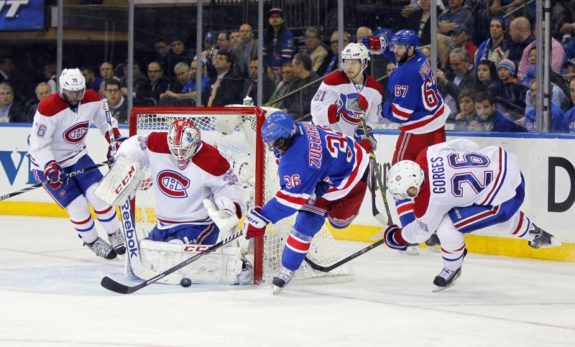 New York's most highly touted goaltending prospect, Igor Shestyorkin, is a year away from joining the club. He is currently under contract in the KHL until the 2019 summer and will likely remain there this season. He served as a backup for Team OAR's Olympic squad in the 2018 Winter Olympics in PeyeongChang, South Korea, and played in four games for Team Russia at the 2018 World Championships, posting a .921 SV % and a 1.90 GAA.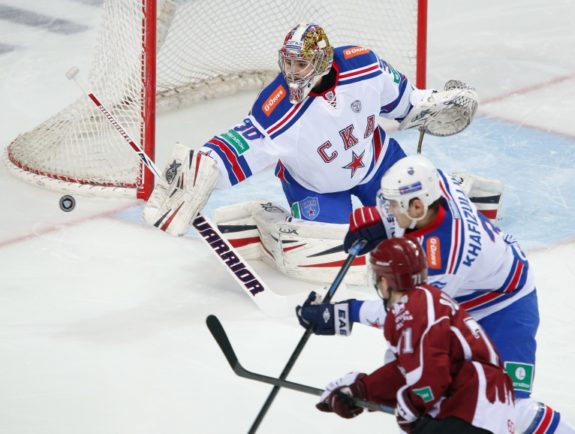 What New York Must Do
When ready, Shestyorkin he will likely take over as the main guy in New York, but until then the Rangers must move on from their franchise goaltender as they enter the rebuild. As hard as it may be from a personal relationship standpoint, the business aspect of the game says otherwise.
Yes, Hank can serve as a mentor to these younger talents, but deep down he definitely wants a ring and will likely not want to take a step back as far as playing time goes. With Lundqvist in the net, selecting in the lottery of the 2019 NHL Draft becomes more difficult.
The ultimate goal is to develop younger talent and retain high draft choices until the rebuilding process turns into a reloading process. New York must move on from Lundqvist as the main guy and build around a new core for the future.
Former Division 1 hockey player at Colgate University. Covering the New York Rangers for THW and isportsweb.com.