The New York Rangers are coming off a stellar regular season in which they won the Presidents Trophy and made it to a seventh game in the Eastern Conference Finals, where they eventually fell to the Tampa Bay Lightning.
The Rangers have moved out some bodies to stay under the salary cap and despite the changes made, they will still be expected to be a contender for the Stanley Cup. They will again rely on 33-year-old net-minder Henrik Lundqvist to be solid while the new players work out the kinks and mold into the team. The Rangers didn't go out and grab any "big name" players from free-agency, so this team is going to need their key pieces to continue to be effective and even grow.
This club will again look to be a speedy, transition team with defenders who join the play. The style has been working for the club, but it does take some getting used to for the new guys as they rely heavily on knowing what their teammates will do in certain situations. Still, the strategy seems to be working so expect the Rangers to get better with every passing game.
Head Coach Alain Vigneault has proven to be an excellent acquisition so far, as in two-years the bench-boss has led the Rangers on deep playoff runs. Vigneault will still have a talented core to work with, but the test for him in his third season will be getting players like Chris Kreider and J.T. Miller to step into leadership roles and become consistent offensive threats on this club.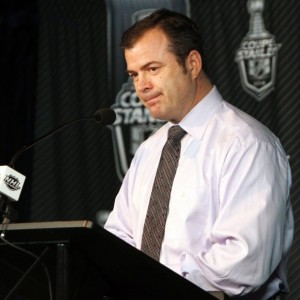 2014-2015 Record: 53-22-7 (113 points)
NHL: 1st
Conference: 1st
Division: 1st
GF: 3rd (248)
GA: 3rd (187)
PP: 21st (16.8%)
PK: 6th (84.3%)
---
Key Additions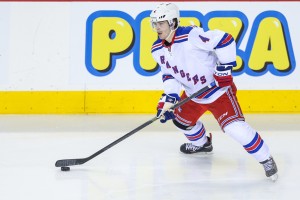 Viktor Stalberg

Jarret Stoll

Emerson Etem

Raphael Diaz

Antti Raanta

Brian Gibbons

Jayson Megna
---
Key Losses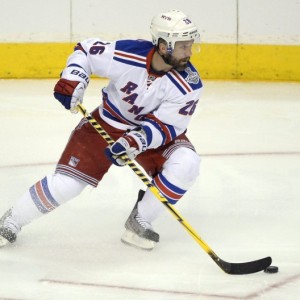 Carl Hagelin

Martin St. Louis

Matt Hunwick

James Sheppard

Cam Talbot
---
 Forwards
Projected Lines
Kreider- Brassard- Nash
Zuccarello- Stepan- Miller
Etem- Hayes- Fast
Stalberg- Moore- Stoll
Rick Nash
Nash is coming off of his best goal scoring year of his career having notched 42 last season. He also was able to match his career high in points with 69, but those numbers came in the regular-season, and despite posting 14 points in last years post-season Nash wasn't as dominant as he had been. The big winger is entering his fourth season on Broadway and will be expected to produce nicely again this year. Nash was a critical player for the Rangers both offensively and defensively last season and as long as he continues to move his legs and work hard, his skill level should allow him to continue to produce excellent numbers on the Rangers top-line.
Mats Zuccarello
Zuccarello suffered a horrible injury last year during the post-season when he took a Ryan McDonagh slap-shot to the head. He didn't play again in the playoffs, but will be ready for the start of the 2015-2016 campaign. The Norwegian winger posted 49 points last season which was down from the 59 he recorded the year before. With St. Louis retired expect Zuccarello to end up in more offensive situations, as they have similar skill sets.
Chris Kreider
The 24-year-old left winger will look to be more consistent as he enters his third season under Head Coach Alain Vigneault. Kreider is a natural athlete and he skates like the wind, but this will be the first season where the team will need the powerful winger to be a consistent threat to win games. Last year Kreider would have slumps where he just didn't look himself, but with veterans like St. Louis and Hagelin now gone he will need to minimize those stretches and lead by example as a top-six threat.
Emerson Etem
He was the main piece acquired for Carl Hagelin and he will be expected to be a top-nine forward on this club. Etem hasn't established himself yet in the NHL, as last season he only had 10 points in 45 regular season games. But watching him gives you the feeling that he's close to being a force. Etem plays a similar game to Hagelin in that he uses his legs to create space,  and has that drive to always get his stick on the puck. One difference between the two is that Etem is a bit grittier than the Swedish winger and has more of a tendency to throw some big checks and even mix it up in the corners. Still the 23-year-old shows some serious skill and could easily be an offensive threat in this league. Look for him to secure a spot on the third-line.
---
Defense
Projected Pairings
McDonagh- Girardi
Staal- Boyle
Yandle- Klein
Ryan McDonagh
The 26-year-old is the back bone of the Rangers defense, and an injury during last years post-season kept the defender from being dominant. For the Rangers to have success they will need the American defenseman to continue being a force on both sides of the puck. Last year the rear-guard averaged 23:07 per game during the regular season and notched 33 points which was down from the 43 he posted in 2013-2014.  I expect McDonagh to continue to have a heavy work-load despite the Rangers depth. The Rangers would love for the defender to reach the 40 point plateau again.
Dan Girardi
The right-handed defender is headed into his tenth season as a Ranger, and he will again play a crucial role in this teams push for a Stanley Cup. Last year Girardi played an average of 22:41 per game which was second only to his partner Ryan McDonagh. The thick defenseman was also first on the team, in blocked shots with 184, hits (224), and short-handed time on ice averaging 2:47. Girardi plays a heavy style and does tons of the under-appreciated work for this club; if he can kick in more than the 20 points he had last season, then it's a bonus. Girardi's stiff defense allows McDonagh to play to his full potential.
Marc Staal
Staal has become a key shut-down man for the Rangers and will again be expected to anchor the second pairing on the defensive side of the puck. Staal is a big man who isn't afraid to dig in the corners and play a physical game against the leagues top forwards. Staal doesn't really carry the puck up to make plays happen like he used to, but he still has the ability to put the puck in the net when he has an opportunity. Staal led the Rangers defense in takeaways with 43 and logged an average of 21:08 per game. He's key because he gives the Rangers options when they are attempting to shut down teams with deep offenses.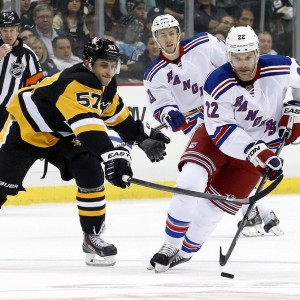 Dan Boyle
Boyle is a veteran who was brought in before last season to replace Anton Stralman and get the Rangers power-play working. The defender was injured in his first regular season game with the club, but went on to record 20 points in 65 contests with the Rangers. Boyle was good for stretches of the regular season, but he found another gear in the playoffs when he had 10 points in 19 games. Boyle never looked more comfortable with the Rangers than he did in the post-season and that could help him be more of a threat in the coming season.
Keith Yandle
He was the big add at last seasons trade deadline, and now with a new campaign looming Yandle will be expected to be a key part of the Rangers. Yandle had 11 points in 21 contests for the Rangers during the regular-season and 11 points in 19 games during the playoffs. He had flashes of brilliance and a fresh start with a full camp should get Yandle on the same page with the team from the jump. Yandle will be expected to run the power-play and add some extra offense to the back-end. Even though he was good last playoffs he did lose that power-play role to Boyle so the Rangers probably want to see him grab the role by the horns to start the season.
Kevin Klein
Klein's name was thrown around in trade rumors this off-season but, the Rangers decided to stay with the grizzly right-handed defender. The 30-year-old is coming off a career year where he had 26 points in 65 games and at this point is expected to be a defensive force on the teams third-pairing. Klein brings some grit to the back-end as he isn't afraid to drop the gloves, and aside from being good in his own end he has shown he has sound offensive instincts. It's unlikely the defender shoots at 11.8% again this season, but he could certainly continue to add some offense from the back-end.

---
Goaltending
Henrik Lundqvist
Lundqvist is still the key between the pipes for the Rangers. Heading into his 11th NHL season Lundqvist has consistently been one of the best in the world when it comes to stopping pucks. Last year he went down with a scary throat injury that opened the door for Cam Talbot to show what he had. Now the 33-year-old Lundqvist will prepare for another regular season in hopes that he can finally get his team the big trophy. Even though he's in his 30's he has shown no signs of slowing down; last season the net-minder recorded 30 wins in 46 games played recording a .922 Save Percentage and a 2.25 Goals Against Average. Lundqvist will probably play a bit over 60 games this season if he stays healthy.
---
Breakout Player
J.T. Miller
Miller finally made himself a mainstay in the Rangers line-up this past season and I see him taking the next step this year. Miller had 10 goals and 13 assists in 58 games played last year. In the playoffs he often times found himself playing with the Rangers big guns which indicates the level of faith this organization has in him. Miller is quick, has good hands, plays a physical game, and even has experience playing center, which makes him a candidate to play in any position with the club. The 22-year-old is part of this teams future and after a few years of development the winger finally seems ready to be a force on this roster.
---
Player With Most To Prove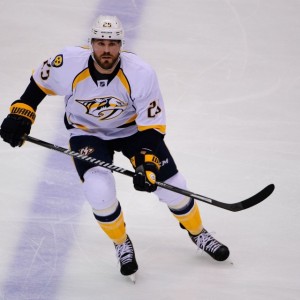 Viktor Stalberg
It was only this past off-season that the big Swedish winger was bought out of a 4-year ,$12 million contract. Now he's signed with the Rangers for this season at 1.1 million and the winger has a chance to prove that he could still compete at this level. In Nashville he never found his game posting only 28 points in 95 games over the course of two seasons. With the Rangers it appears that the speedy winger will be fighting for a spot on the bottom six to start the year and if he proves he can cause some havoc then he might get some minutes on the big lines. If he can't show that he's still got some gas in the tank, then the winger may be approaching his last season in the league.
---
Season Outlook:
The Rangers are again expected to be a contender. They have a great forward core, one of the best goalies in the game, and a deep defense. The club lost some valuable pieces in St. Louis, and Hagelin, but made great moves in the off-season to fill the voids. For me this team doesn't have any serious question marks in key roles.
The Rangers have had some issues to start each of the past two seasons under Head Coach Alain Vigneault, but they haven't panicked and the team seems to come around and start looking like the club you'd expect. I could see the Rangers coming out of the gate a bit sloppy, but I would say after about six or seven games this team will find their rhythm, as the new guys get accustomed to one another.
This team will be judged on if they can get to the next level in the post-season, that being said it's critical that the Rangers keep their eyes on the task at hand and have a successful regular-season. Last year we saw a few big teams miss the playoffs (Los Angeles Kings, Boston Bruins) who were expected to compete. So anything is possible when it comes to these playoff races; and even a team as skilled as the Rangers can struggle if they take things for granted.
I graduated from Brooklyn College with a B.S. in Broadcast Journalism. Shortly after, I began writing for the Full Tilt Hockey Network, where I still contribute, covering a broad range of topics across the NHL.
I have been contributing to The Hockey Writers since February of this year focusing on the New York Rangers. My articles tend to focus on analysis of players, and possible directions that the organization could go.