The Boston Bruins will enter the 2015-16 regular season with something to prove. After missing out on the playoffs in heartbreaking fashion last season, the B's will be looking for vengeance after a long summer of heat, chaos, and anticipation. At the head of the pack stands Brad Marchand, who will be entering his seventh season in a Bruins uniform.
Marchand, a.k.a. "The Little Ball of Hate", or "Nose Face Killah", has already stood out at training camp for the Bruins, having come to camp in the best shape he's ever been in. Everyone at training camp has been raving about Marchand's intensity, and it sure looks like he too, along with the team as a whole, has something to prove.
Boston's leaders, most notably Patrice Bergeron, Zdeno Chara, and David Krejci, will have a huge impact on the Bruins' success this season, especially given the new look that the team has. Brad Marchand, who is one of Boston's veterans, is looking to join that group, and become a leader for the Bruins this season. There's no doubting that he's off to a great start.
"I think he wants to really be a good example this year," said Bruins head coach Claude Julien, according to nesn.com. "He's come in with a real good attitude, thinking it's time for him to step up and take an even bigger role than before. He's always been a pretty good guy in the dressing room as far as the things that have to be done in order to win, whether it's trying to rally the guys or that kind of stuff. But he's taken that next step, again. And again, leading by example is always a great way to do it.

"He's come in in unbelievable shape, probably his best shape ever. And that's not to say he wasn't in good shape before, but he's in even better shape now. He's doing the things and showing the things that indicate that he wants to be a real good leader and wants to lead by example."
Marchand, who has been known as an edgy player throughout his career, took some time to mature in his early years. While doing so, he's established himself as one of Boston's most valuable point-getters, that is, when he's focused on winning. At the start of last season, there was some discussion about trading Marchand, as some people believed that he didn't have the attitude that Boston wanted on the ice.
A year down the road, Marchand is proving his critics wrong, and has taken it upon himself to take on a new role for Boston, both on and off the ice.
"I think it's just kind of where I'm at now," said Marchand, who participated in the last of Friday's three practice sessions. "I'm one of the older guys if you look around the room. It's a bit of a weird position to be in, but I am looking at taking more of a leader role. It's something that I'm going to have to force a little bit, but we've got a lot of great guys that kind of take over when the time's right with Bergy (Patrice Bergeron), Kells (Chris Kelly) and Z (Zdeno Chara), and I can kind of sit back at the right time. But great guys to learn from, and I'm just looking forward to start the year."
Brad Marchand has been a lock in the left wing role alongside Patrice Bergeron for a while. Bergy, despite wearing the "A" is undeniably the heart and soul of the Bruins team. There's no doubt that Marchand's time with Bergeron has helped him to become the player he is today, and it looks as though Marchand is taking the next step in the path of Bergeron.
Brad Marchand is practicing like it's Game 7 of the Cup finals. A lot of bite to his game already.

— Joe McDonald (@JoeyMacHockey) September 18, 2015
It's exciting to think of the possibilities that could emerge if Marchand can take the next step in his career. Sure, it's important to play with the edge that he's always had, however, he'll be looking to use that edge to the team's advantage, rather than getting drawn into taking penalties.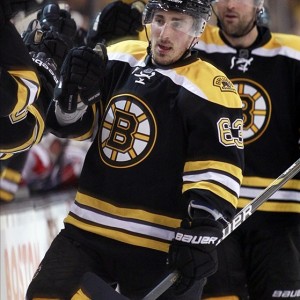 All things considered, it's a pretty great time for Marchand to make that next step. With the brand new Bruins locker room, as well as a new system, the B's will be relying on some of their core players, Marchand included, to lead by example. He's taken the challenge head on.
This of course, includes practice. Especially at the start of the year, it's important to get things going in the right direction, so that you can prepare to play competitive hockey. That includes the physical aspect of the game – that which has been cherished in Boston's hockey culture for a long time. After all, they are the Big Bad Bruins.
Marchy knows that this sort of preparation leads to success. After all, he's been there before. Remember 2011?
"It's something that, the year we won (the Stanley Cup in 2011), I think everyone knows that in practice, we were extremely competitive," Marchand explained. "We knew it was nothing personal — we were just trying to push each other to get better. As long as you go out there and you know that that's what you're going to get, then you can do the same thing. At the end of the drill, you give (each other) a tap, and you move on.

"Sometimes you don't like it at the time, but it's only pushing us to be a better team and a better group, and that's what we need. We want to start right now and make sure we carry that through training camp and into the season."
When the season starts, be sure to keep an eye out for #63 in black and gold. I'd bet that he's going to be one of Boston's big impact players this season, and from the sounds of it, he won't be wasting any time.