The NHL and the NHLPA has announced that a feasibility study will be conducted at the University of Illinois in Urbana-Champaign to determine their eligibility for NCAA Division I hockey. The announcement came at a press conference at the United Center two hours before the start of Round 1 of the 2017 NHL Draft, being held in Chicago.
The #Illini will partner with the @NHL and @NHLPA to evaluate the possible addition of hockey as a varsity sport. https://t.co/S6vNnPO9r8

— Illini Athletics (@IlliniAthletics) June 23, 2017

NHL commissioner Gary Bettman, Illinois athletic director Josh Whitman, Chicago Blackhawks president John McDonough, Buffalo Sabres owner Terry Pegula, the NHLPA's Mathieu Schneider and USA Hockey executive director Pat Kelleher all attended the press conference.
While four other U.S. colleges will participate in similar studies in the future, the University of Illinois will be the first. This does not guarantee Illinois will make the jump to D-I; but, it's a tremendous leap in progress from what they've had previously surrounding this concept.
If the Illini were to go D-I, the Big Ten is likely where they'd end up. The conference contains seven teams and is open to adding more after Notre Dame left Hockey East to join them for this upcoming season.
Illinois boasts a successful club team in Division I of the American Collegiate Hockey Association (ACHA), winning two national titles in the last twelve seasons. They ranked No. 13 last season and remained competitive in the ferocious Central States Collegiate Hockey League (CSCHL), where all five teams in the division qualified for the national tournament.
The Goals of a Feasibility Study
The feasibility study will help determine how Illinois can make the jump to varsity hockey, from setting a financial budget to gauging interest in the area of southern Illinois. Pegula helped fund the initiative, but this isn't the first time his name has shown up in varsity hockey news. He donated $102 million to Penn State in 2012 to help propel the Nittany Lions into D-I.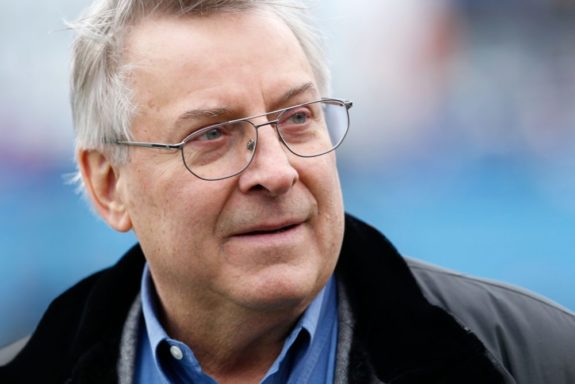 Pegula's donation allowed Penn State to build the Pegula Ice Arena, a multi-purpose facility that holds over 6,000 people. Thirteen million dollars included in the donation covered scholarships for athletes, which was a game-changer. Illinois would need to find funding in the form of $60-80 million in order to make varsity hockey a legitimate project. Illini club hockey head coach Nick Fabbrini chimed in:
"It's obviously a big moment for hockey at Illinois," Fabbrini said. "It's very exciting to hear this news and the school would really benefit from a Division I program, I think."
The club hockey program has had brief talks with the university in the past half decade, but none seemed to generate real traction. However, a feasibility study shows the school is actively pursuing a route into varsity hockey. This will prove to be beneficial down the line if handled properly. With Whitman on board, they are light years ahead of where they used to be.
A Positive Reaction from Illini Hockey
Fabbrini is not the only member of club hockey that supports the initiative from the NHL and Whitman. "The possibilities are endless," senior defenseman Joey Caprio said."If they go D-I, Illinois will be able to draw away kids from other schools since the state has become a hockey hotbed." 
Former Illini Hockey president and recently graduated defenseman Austin Zima believes the announcement is a needed stepping stone if D-I NCAA hockey will be adopted in Champaign in the future. "They would expand their athletic foundation," Zima said. "Not only that, they'll start attracting both students and athletes interested in the sport of ice hockey."
Current president and team captain Joey Ritondale applauds the groups that made the feasibility study possible and offered this sentiment regarding the outlook of hockey at Illinois:
"The thing about Illinois is that there are so many offerings at the school, aside from hockey," Ritondale said. "Chicago is a hockey town and the Blackhawks have contributed to that in the last ten years or so, which has spread to us here in Champaign. I'll be proud to say that I was a member of the last few teams before the jump, if it happens. As a future alumni, it means a lot."
Would NCAA Hockey Work in Illinois?
Despite an absence of a Division I ice hockey program in the state, Illinois has a plethora of amateur hockey organizations that have molded NHL players such as Ryan Hartman, Vinnie Hinostroza, Ryan Dzingel and Christian Dvorak. These Illinois natives either pursued college hockey outside of their home state or went north to play juniors.
But, with a D-I program at Illinois, recruiting efforts would be made to establish connections with players hoping to ascend the hockey ladder. According to College Hockey Inc., a record 32% of current NHL players played at the collegiate level. Illinois should have no problem assembling a roster. Whether they become competitive out of the gate is another conversation.
Is there a market for college hockey in Champaign, though? Look no further than the club team, which is independent of the university in terms of promotion. During the 2015-16 season, the team racked in over $97,000 in ticket sales alone, according to Fabbrini. The University confidently believes in the area's ability to house a D-I program also, which is why Whitman has played a monumental role in the process already.
Many thanks to NHL, NHLPA, USA Hockey & Blackhawks for their support of this exciting initiative. Let's get this done! #ILLINIHOCKEY pic.twitter.com/ehNrSbv1PU

— Josh Whitman (@IlliniAD) June 23, 2017
The program has also developed a cult following, including its own student section: the "Harassing Illini." Perhaps we will see a rapidly increasing Illini hockey fanbase at the NCAA level if all goes well with the feasibility study and funding is reached. It will take time to complete, although Fabbrini and Co. hope to see varsity hockey at the University in the near future.
Until then, however, college hockey fans in Illinois will continue to dream.
Cristiano Simonetta is in his third year studying broadcast journalism at the University in Illinois at Urbana-Champaign. He is also the executive producer and lead play-by-play broadcaster for Illini Hockey's ACHA DI club. Follow him on Twitter at @CMS_74_.