Hockey has always been a game that thrives when young talent skates through its open door, and into the vernacular and hearts of their fan base. In the 2015-16 NHL season, business is booming in the youth department. Speed demons. Stickhandling aficionados. Electric two-way defensemen. High quality goalies. And most certainly, franchise altering players with endless potential. This year's rookie class has it all, and hockey is unquestionably a better sport because of it.
Picking the best rookie? It's all about perception. The fact that there is no perfect formula for awarding the Calder Trophy to the NHL's top new addition is both a gift and curse. Each individual voter can make their own decision free of numerical binds and qualifiers, but that same decision can be dissected and disputed in the public forum. Free speech is definitely a good thing, but it can lead to verdicts that are less than popular (anybody remember when this same award was given to Barret Jackman over a couple of upcoming forwards by the name of Henrik Zetterberg and Rick Nash?). You can judge the candidates based on numbers, team success, or general likability if you so choose. Because at the end of the day, it's your vote and yours alone.
Now let's dive into the best rookie class the sport of hockey's seen in a long time, starting with the players who have flown completely under the radar.
The Rodney Dangerfields
If you're over a certain age (or like me, stayed up way too late and came across his stand-up specials as a kid), you're well aware of comedic legend Rodney Dangerfield. His act was based on the concept that no matter what he did or how hard he tried, he got no respect.
https://youtu.be/DODvxqkUlac?t=2m22s
In the current Calder Trophy race, there are a few candidates that have separated themselves from the pack with truly superb performances. But as a result, the hockey world is inadvertently ignoring a few other terrific rookies. It's as if the crème of the crop is sipping wine in their suites on the Titanic, while the next tier is trapped in third class. Doesn't quite seem fair to me.
Let's start with St. Louis Blues defensive surprise Colton Parayko. The 22-year-old Canadian took the long route to the big leagues, stopping for stints in college and the AHL before making the Blues' opening night lineup. Parayko hit the ground running (or ice skating in this case), and instantly made an impact on a team that is an active championship contender, not just playing for their future.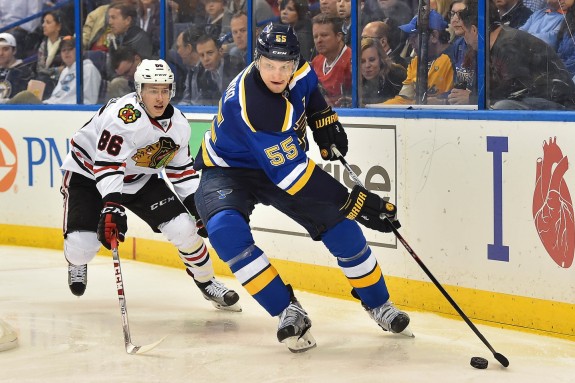 His 29 points is second among rookie defensemen (to a guy further down on this list), and he leads all first year players with a plus/minus rating of +21. There's a lot to dig about this star in the making, who at 6ft 5' can skate and shoot like someone much smaller. Injuries, a brief lull in his stats, and an otherwise crowded field will prevent him being a Calder finalist. But when all is said and done, Parayko could be near the very top of this list as an overall talent. Plus, he makes plays like this: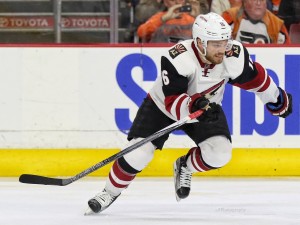 The same lack up respect is being shown to Arizona Coyotes rookie Max Domi. The second generation Domi has a completely different style of play from his face-flattening father Tie, and has registered 45 points for a Coyotes team that appears destined for big things down the road. Unfortunately, that road is a long winding strip of one-way traffic deep into the desert. The Coyotes have towed the line between promising and undisciplined, between hopeful and dysfunctional, and the results have been mixed to say the least. Domi is prone to the same rough patches as his team, and as a result his Calder chances have been marred with similar inconsistencies. His game might not have the outright flashiness or athletic proficiency as his counterparts, but Domi has shown that he is well-rounded in areas that his rivals are not just yet.
The last Dangerfield class rookie is the only goalie on this list. When I mention Anaheim's netminder John Gibson, I'm sure many of you are thinking the exact same thing. How is this guy still a rookie? It's hard to believe, but Gibson kept falling short of the minimum number of games played in order to lose his rookie status (he'll hit it this year, unless another clerical error occurs). The Ducks were sputtering out of control around the recent holiday season, until they flipped the script and embarked on a string of wins that vaulted them right back into Stanley Cup contention. It's no coincidence that Gibson's started to see increased playing time during that stretch, posting a save percentage of .919 and a goals against of 2.07 for the season. Most Calder voters will probably consider this too little too late, or fail to realize he's up for this award like most of the general public will do. But there won't be a rookie who makes more of an impact as the NHL Calendar winds down than Anaheim's goaltending treasure.
The Most Talented Rookie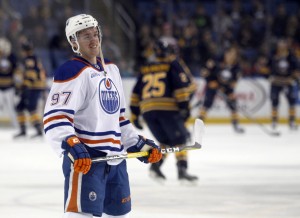 The fact that there are this many serious candidates to the Calder Trophy would have seemed borderline comical a few months ago. There was one teenager that was going to win this award, demonstrating the dazzling display of speed and skill that we all hoped we'd see. That teenager was Connor McDavid, and he was handling the hype of being a generational player as good as any rookie since Sidney Crosby did a decade prior. But McDavid broke his collarbone on a routine play, and his rookie dreams were dashed.
Or were they?
McDavid's first game back was against the Columbus Blue Jackets. And this happened:
In sports right now, there are a few athletes that will make you drop everything and get to the nearest TV or internet streaming device (Steph Curry, Adrian Peterson, and Patrick Kane come to mind). Connor McDavid has broken into this exclusive club, and every time he trends on Twitter it becomes a code red. What did he do this time? Where is the video! I need to see it! McDavid's 39 points are not up to par with his rookie competitors, but that can almost entirely be blamed on his injury. The stat that stands out is 1.05. That would be his points per game average, fourth in the entire NHL. McDavid's lack of a full season will cost him the Calder Trophy, and it should, given how stellar this rookie class has been. But we don't need a piece of hardware engraved with his name to know that the kid in the #97 Oilers sweater can play. My goodness can he play.
The American Trio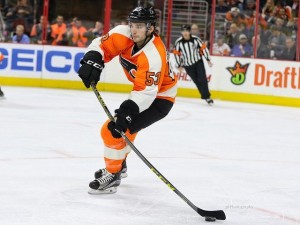 Three Americans are making a serious push for this year's Calder Trophy. There has been no greater surprise story than Philadelphia Flyers rookie defenseman Shayne Gostisbehere. The product of Union College (where he won a national title in 2014) was called up from the AHL in November, and has been the driving force behind the Flyers surprising playoff push. 39 points in 52 games is a great clip for any defenseman, let alone a rookie. Gostisbehere plays fundamental defense, quarterbacks the power play, and makes precise reads with the puck on his stick. His arrival helped clear up a logjam on the Philadelphia blue line, and enabled his team to play a more frenetic style that has positively affected his teammates as well. And as the video below demonstrates, the ghost has turned into a certified weapon in overtime, where he has registered four game winning goals:
https://www.youtube.com/watch?v=p8GlMKbC0YM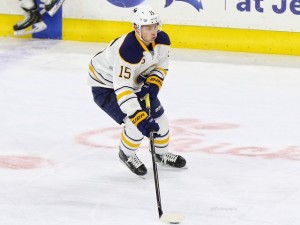 Next on the list we have Buffalo's Jack Eichel, who was the second player taken in the most recent NHL entry draft. Looking back, it seemed very unfair to compare the Boston University product or any rookie to the gold standard that McDavid continues to set. Regardless of his Canadian counterpart, Eichel has fit in nicely on the new-look Sabres. His 20 goals this year have cemented his place as an impact player in the NHL, and he has emerged as a leader on a team that is often outmatched in the talent department. Eichel doesn't have the luxury of playing with a Claude Giroux, Vladimir Tarasenko, or Jonathan Toews. He has to be the player to set the tone, ignite his team's physical presence, and lead by example. Eichel understands this, and despite the standard growing pains that endure all NHL rookies, he has continued to evolve as a hockey player and as the face of his franchise. Case in point, he always had the ability to finish at the net, but here he is delivering a saucy assist to Matt Maulson: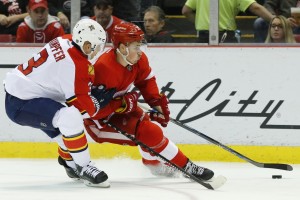 In Detroit, there is another teenager making waves in the Calder race. Dylan Larkin has captivated hockey town with his high motor and spirited play. Larkin has an extra gear few NHL players can reach, but it's his refusal to shy away from physical contact that makes him especially dangerous. Larkin actually welcomes physicality, like Happy Gilmore in the batting cages with 365 days until next month's hockey season. He's every defenseman's nightmare; the power forward with speed. Once Larkin gets that extra step, he pushes through the attempted hits and keeps chugging towards the net. His 21 goals and 43 points are nice numbers, but so is his shiny plus/minus rating of +18. The Red Wings are an aging team, and one with stars that sadly won't be around much longer (Pavel Datsyuk and Henrik Zetterberg). It may seem odd to hear, but Detroit's high flying teenager has been one of the main reasons they are in the 2015-16 playoff picture.
If I had it my way, there would be five Calder finalists so McDavid and all three Americans could be properly recognized. Unfortunately, I have no jurisdiction with the NHL, and seats at the year-end award show in Las Vegas are limited. As of this very moment, I would bring Eichel and Larkin to Sin City. Gostisbehere missed over a month of action, and that will ultimately be the difference. Of course, everybody mentioned on this list is still chasing one man.
The Front Runner
Artemi Panarin is more than likely going to win the Calder Trophy. The 24-year-old traded in his KHL jersey for some Blackhawks threads, his Trues for some Robins, and proceeded to shred the NHL to the tune of 25 goals and 62 points (not exactly 1738, but bear with me). I know the easiest cop-out is that he is playing with Patrick Kane, the game's best offensive player, and it is easy to attribute much of the bread man's success to #88. There is certainly some truth to that. But Panarin was still signed by the best front office in all of hockey, and put into this position by a world-renowned coaching staff to have this sort of impact. He still had to perform. He still had to deliver. And he did just that, styling and profiling along the way. Panarin is the Blackhawks second most dynamic offensive threat, trailing only the current NHL flag bearer in that regard.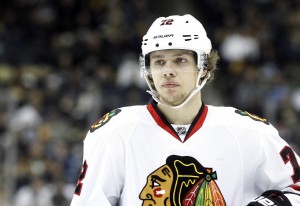 If anything, the only prerequisite to this award worth considering is whether someone with prolonged professional experience should be eligible. The KHL is not the NCAA, Canadian or American junior hockey. It's a grown man's league. The level that Panarin had to jump pales in comparison to the adjustments McDavid, Eichel, and Larkin have made. I still think all newcomers should be considered for the Calder Trophy, but it is a fair discussion worth having.
The 2015-16 rookie class has the ability to go down in NHL lore as both trendsetters and game changers. While the eventual Calder Trophy winner deserves praise for distinguishing themselves from such a talented bunch of young hockey players, don't overlook the talent pool itself. It's deep, balanced, and its potential is still unknown. This youth movement isn't stopping anytime soon.
Just a hockey loving American. I grew up in Cleveland, Ohio, and attended Saint Louis University where I skated for the Billikens. From 2013-14 I covered the St. Louis Blues for ESPN Radio St. Louis. I currently work in sports video production in Los Angeles, and will always show solidarity for stay-at-home defenseman.