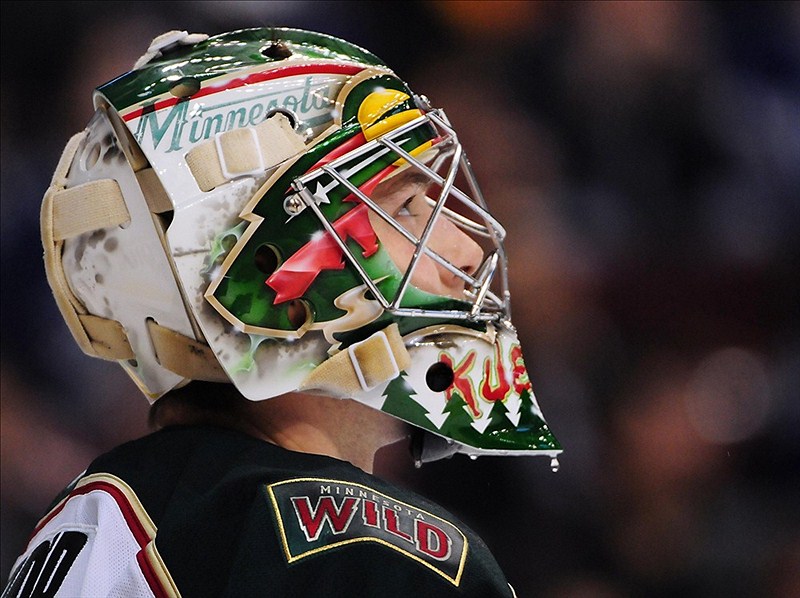 Wild fans don't need me to tell them that the goaltending situation in Minnesota for the 2014-15 season is a little messy. But, despite general manager Chuck Fletcher saying he'd be willing to
carry three goalies
, almost everyone expected the Wild to make some kind of move, even if we couldn't think of a single viable option other than stand pat. Now, NHL.com has released their first
fantasy hockey player rankings
for the 2014-15 season and it's revealing of just how confusing and unique the Wild goaltending situation is.
Recap
Let's do a quick recap of last year's goaltending fiasco/miracle. The season began with Niklas Backstrom as the presumed starter and Josh Harding behind him. Darcy Kuemper and Johan Gustafsson were the tandem for the Iowa Wild. There was no one else of relevance. Backstrom started the season, the got hurt three games into his season. Harding came in. He was great. He took over starting job, even when Backstrom got healthy. Kuemper appeared once in October, allowing three goals on seven shots. He appeared again in November, allowing three goals on nine shots. Johan Gustafsson got a few a call ups, but never plays. In December Harding went out due to a necessary adjustment to his medication for multiple sclerosis, Backstrom became the starter again. Harding returned at the end of December, plays two games, then has to take time away again.
Kuemper comes in on January 7 for his third game of the season. He allowed one goal on 40 shots. He plays again on January 12, grabbing a shutout on 23 shots. Kuemper took over the job. Backstrom was still sore. The Wild acquire Ilya Bryzgalov, who plays his first game on March 9. Kuemper was still the starter. The team shuts Backstrom down for the year and Backstrom has surgery. Kuemper suffers a concussion during practice and is out. Bryzgalov is the man. John Curry is brought up from the Orlando Solar Bears of the ECHL to play second fiddle. Curry played his first game since the 2009-10 season on April 10, stopping 43 of 45. Wild make playoffs, Bryzgalov starts, Kuemper is practicing and Harding is practicing. Curry is also there. Bryzgalov struggles. Kuemper comes on in relief in Game 2. Kuemper is great. Kuemper suffers another apparent concussion in Game 7. Bryzgalov comes on in relief. Gets the win. Wild win the series. Bryz is the man for the rest of the playoffs with John Curry on the bench until Kuemper came back and was on the bench.
That's most of it… in a general sort of way. It was a mess. But the team miraculously had strong goaltending almost the entire season.
Where We Stand
Backstrom ($3.41M cap hit through 2015-16) and Harding (final year with a $1.9M cap hit) are on contract. Kuemper is a restricted free agent and expected to sign. To call the situation hazy does a disservice to exactly how much you are able to see on a hazy day. This is completely opaque. It's a windshield after parking for three years under a pigeon coop.
Part of what makes this situation unique is not just the lack of clarity — plenty of teams are debating between two tenders — but that the team will likely carry three goaltenders for some, if not all, of the season. It's also that the highest paid of the three goaltenders is presumed to be the odd man out (see below about fantasy rankings). Josh Harding had a breakout year last season, for the half of it he played. Kuemper had a coming out party as well, as he carried the team into the playoffs. There is no clear no.1, no.2, or no.3 guy here.
That's further complicated by the fact that the team needs Kuemper to continue to develop and whether the contract he signs is one-way or two-way, he'll be able to be sent down to Iowa without being placed on waivers. So, if he's going to ride the bench behind, say, Harding, the team may just send him to Iowa to get playing time.
And, really, you can't count Backstrom out even though everyone seems to have already done so. If he's coming back as healthy as he hopes to be, then he's a more than capable starting goaltender. Though, when Backstrom told the Pioneer Press' Chad Graff that "It's too early to speculate about [my return] and how it's going to be when things start to ramp up in August. But [being ready for camp is] for sure the goal." That doesn't sound very promising, but this is a guy who, prior to last year, put up seven straight seasons with a goals against average over .900 despite being on a weak team for a few of those years.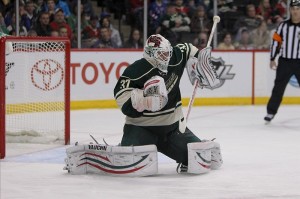 What the Fantasy Man Says
So back to the NHL.com fantasy hockey rankings. What does it tell us? That it's not just the Wild faithful and press who are unable to make heads or tails of the situation.
The rankings list the top 200 players for the coming hockey season as ranked by NHL fantasy insiders Matt Cubeta and Pete Jensen. There's only one team in the NHL that has two goaltenders that made both of their top 200. You guessed it. It's the Wild.
That's interesting. The top 200 players and they're both putting two Wild goaltenders in there. So, it's not just that there's confusion between the pipes in Minnesota, but that there are a couple of good options.
The Wild goaltender not making the list or their pile of honorable mentions? Backstrom.
That, of course, means that Kuemper and Harding made the list. Maybe these expert rankings can tell us a little more about what to expect. Lend at least a modicum clarity.
Cubeta has Harding ranked 155 and Kuemper at 192. So he believes that this is Harding's job. Kuemper will be behind Harding and get enough starts that he's worth owning in a fantasy league.
If we look over at Jensen's rankings, he's got Kuemper at 182 and Harding at 189. So he believes that Kuemper is the starter and Harding will get a fair number of starts. They can't even agree on who the number one is. Jensen doesn't have much faith in either of them to be honest. At 182, the highest Wild goaltender is not very high at all, with 28 goaltenders coming before him.
Is there a lesson here? Only that it's folly to try and figure out what will happen between the pipes this season before the season starts. There's still the possibility of trading Backstrom, unlikely as it is, and the reality is that the job is up for grabs. Whoever plays the best can have it and that's not necessarily a bad thing. Having three goaltenders who know they have to perform, that nothing is a foregone conclusion, could benefit the team. It worked out ok last season, though it may be tough to make a deep playoff run the Wild can't find one who will step up and stay healthy.
Odds and Ends
A couple other notes on their goaltender rankings inside the top 200. The Sharks, Blues, and Ducks are the other three teams that have two goaltenders ranked, though none of them had both goaltenders ranked by both writers.
Cubeta and Jensen both have Antti Niemi firmly above Alex Stalock in San Jose, Brian Elliot over Jake Allen in St. Louis, and rookie John Gibson over Frederik Andersen in Anaheim. The highest ranked goaltender for both was Tuukka Rask.
Take a look at each writer's top ten goaltenders below. The big difference between the two rankers, when looking at goaltenders, is that Jensen seems to be all-in on the big goaltenders, taking them much earlier than Cubeta is. Their top ten aren't that different, but Jensen is taking each player earlier. Even when he has Henrik Lundqvist ranked third and Cubeta has The King second, Jensen is still ranking Lundqvist higher overall than Cubeta is. Take a look below.
The number in parenthesis is that player's overall ranking.
Cubeta
1. Tuukka Rask (11)
2. Henrik Lundqvist (15)
3. Jonathan Quick (23)
4. Ben Bishop (28)
5. Carey Price (29)
6. Sergei Bobrovsky (39)
7. Semyon Varlamov (41)
8. Marc-Andre Fleury (47)
9. Kari Lehtonen (50)
10. Corey Crawford (56)
Jensen
1. Tuukka Rask (7)
2. Jonathan Quick (10)
3. Henrik Lundqvist (12)
4. Ben Bishop (20)
5. Sergei Bobrovsky (28)
6. Carey Price (29)
7. Semyon Varlamov (36)
8. Marc-Andre Fleury (45
9. Corey Crawford (55)
10. Cory Schneider (62)