There aren't many things that Martin Brodeur hasn't done during his illustrious career, but the 21-season veteran is now preparing to enter the free agency for the first time at the age of 42. The experienced goaltender finds himself an unrestricted free agent and now looking for a new team for the first time since being drafted in 1990.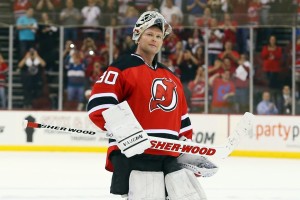 After spending 21 years as stalwart of the New Jersey Devils, Brodeur and the franchise made the decision to both go their separate ways and end an association that will see the goaltender go down as one of the Devils greatest ever players. So, while the Devils prepare for life without their long-serving goalie, Brodeur finds himself in a position he may never have expected to be, and one that has sparked plenty of interest with Betfair hockey fans.
At the age of 42, Brodeur could be forgiven for hanging up his gloves and taking a job upstairs with the franchise, but the goaltender has insisted he is not only looking to play on for another season but he is also determined to try and push for a fourth Stanley Cup. So, the already pretty limited list of possible options for Brodeur could shorten if he insists on waiting for an offer from a potential championship contender.
That said, Brodeur, the NHL's all-time leader in wins, shutouts and just about any other goaltender record in the league, still has a lot to offer a franchise despite his age. Coming off the back of a season in which he made 39 appearances at a .901 save percentage, Brodeur shouldn't be expecting half the league to be chasing him during this offseason. There aren't many franchises, let alone those capable of challenging for the title, looking for backup goalies, but there could still be a couple of tempting offers out there for a player who will enter the Hall of Fame in 2017.
Are the Bruins a Possibility for Brodeur?
One possible option for Brodeur could be a switch to the Boston Bruins. Niklas Svedberg has been expected to provide backup to Tuukka Rask next season, although it isn't beyond the realms of possibility that Bruins general manager Peter Chiarelli and coach Claude Julien could be tempted to sign Brodeur and let the youngster continue his development. Chad Johnson played 27 games for the Bruins last season but has moved to the New York Islanders already this summer.
The Bruins would certainly tick all the boxes for Brodeur, now it remains to be seen whether the same applies the other way round.