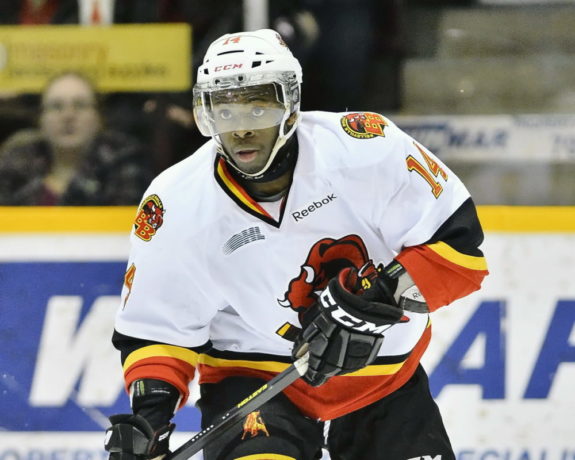 In spite of the reports of Tyler Seguin's supposed availability, the Boston Bruins enter the 2013 NHL Draft with no picks until the very end of the second round. Unless the team deals their way into the top round, the Bruins will have to wait for their latest Entry Draft start since the 2004 selection of David Krejci with their first pick in round two (63rd overall).
Following are several options for the Black and Gold with their six selections (one in each round) of the 2013 NHL Draft.
Ryan Fitzgerald – Valley Jr. Warriors, F (EJHL), 5'10, 170 lbs. – The Bruins aren't exactly hurting for undersized forward options. In fact, their prospect base is littered with 'em. Boston's top-five forward prospects (Ryan Spooner, Alex Khokhlachev, Seth Griffith, Jared Knight and Carter Camper) all clock-in at less than six feet.
However, while the Bruins will be looking to add some skilled size to their youth corps today, Ryan Fitzgerald might be a character they can't ignore.
Fitzgerald's hockey IQ borders on elite. He's a decent – but not explosive skater for his size with solid lateral agility. He possesses a high-end 'compete level' and plays an aggressive, tenacious style despite his height. Fitzgerald gets under opponents skin with his relentlessness and pest-like attributes.
A local boy with family connections to the Bruins (his uncle Scott is a scout within the organization), don't be surprised to see his name called when the Bruins first head to the podium at 60.
Brett Pesce – University of New Hampshire Wildcats, D (NCAA), 6'3, 175 lbs. – Thanks to the refreshing additions of Dougie Hamilton, Torey Krug and Matt Bartkowski; the Boston Bruins defense has gotten younger (and faster) in the span of the postseason. However, this leaves a pretty sizable organizational hole at the minor-pro level.
While Pesce himself won't likely make the jump to pro immediately, his pro-plus size and ideal mobility make him a solid option for the Bruins with either of their top two selections. While he lacks much in the way of scoring potential, he possesses a decent transition game and (some would argue) untapped offensive upside.
While the selection of a stay-at-home type might lack 'pizzazz', Pesce is a player teams' can be patient with and develop slowly into a solid mid or bottom-pairing blueliner.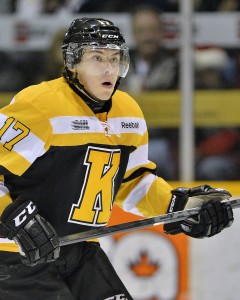 Ryan Kujawinski – Kingston Frontenacs, F (OHL) 6'2, 200 lbs. – Despite a season that's been described by sundry scouts and services as 'disappointing', Kujawinski is the type of faller that should give teams in the mid-to-late second pause.
A big, solid center with a diverse skillset, Kujawinski was expected to crack the first-round, perhaps even the top 20 early this season. But inconsistency and a lack of top-caliber production have some services projecting him down to the third round.
It's hard to see him falling that far, though. Even with his shortcomings, top-six talents with size don't frequently last until the third round, especially when they've been on the radar forever. With Boston's need for size and upside at forward, they might find it hard to pass up on Kujawinski despite his flaws.
Nick Sorensen – Quebec Remparts, F (QMJHL) 6'1, 180 lbs. – Sorensen recovered solidly from a significant knee injury and was a fixture on the talented Remparts' scoring lines. With solid vision and playmaking capabilities, he's got the scoring upside teams want from a top-round pick; plus he brings physical assertiveness and grit. While not an elite skater, Sorensen's stride is smooth and he's more than mobile enough for his size.
Almost criminally underrated, you won't find Sorensen ranked above the forties anywhere. A top-six talent with size, mobility, intelligence and determination; only his injury history stands to hold him back from first round selection. However, if the Bruins get a shot at the Remparts' Swedish winger, expect them to snatch him up.
Jordan Subban – Belleville Bulls, D (OHL) 5'9, 175 lbs. – If it weren't for the family connection, I'd have a hard time believing that the Bruins would go anywhere near the undersized but elite-skilled offensive defenseman from Belleville.
The Bruins have made a run on sub-5'10 defenders with skill in recent years; snatching-up David Warsofsky, Torey Krug and Matt Grzelcyk in consecutive years. All remain within the organization.
But Subban's an elite offensive talent from the blue line. The brother of a Norris Trophy winner and a first-round pick, Jordan Subban's attacking skillset rivals the best talents in this class. An excellent skater with outstanding agility, Subban has the tools to be a dynamic offensive-defenseman for years – if he can overcome his stature and the absence of a physical game.
While Boston's need for size might dictate going in a different direction, Subban's significant upside and brotherly ties make for an interesting mid-round option for the Bruins.
Other Mid and Late-Round Options
Wiley Sherman – Hotchkiss School, D (NE-Prep) 6'6, 210 lbs. – A gargantuan defenseman with excellent mobility for his size, this prep defenseman has the type of upside teams drool for after round two. Sherman could go as early as the third round, but if he lasts beyond, he could be a massive steal.
Anton Slepyshev – Novokuznetsk, F (KHL) 6'1, 195 lbs. – Fast and skilled with pro-average size, Slepyshev has first-round caliber talents but detractors fear his (reported) unwillingness to cross the pond. A midseason injury further hurt his chances but he's certainly worth a late-round flyer – even if the Bruins record with Russians is poor.
Tyler Hill – Chicago Steel, F (USHL) 6'6, 225 lbs. – For much of the season, played with Sherman at Hotchkiss despite entering the year with top-round expectations. Despite unimpressive numbers in prep and with the Steel, his puck-skills and size make him an intriguing option in the later rounds.
Matt Murphy – Halifax Mooseheads, D (QMJHL) 6'1, 200 lbs. – A dependable low-risk option on defense. Murphy possesses the requisite athleticism and build to be a safe bet – plus some intriguing upside in the possession-game.
Follow Bob Mand on Twitter at @BobMandFC