Early on in every NHL campaign, there will always be some fast starters. The 2016-17 season was no different. Look no further than Auston Matthews and his four-goal debut in the season opener. Artem Anisimov scored seven goals in his first ten games for the Chicago Blackhawks. Cam Talbot posted a .936 save percentage in his first nine starts for the Edmonton Oilers.
While not all strong beginnings make an impressive statistical season, they can help jumpstart the player towards having one. If the player is coming off of a difficult campaign the season before, early confidence can go a long way toward a bounce-back campaign.
The line of thinking is similar to the idea that a team cannot win the Stanley Cup in October, but quickly can lose it with a rough start. The 2017-18 campaign may be a young, but there have been many strong performances by players that could turn in game-changing seasons for their respective clubs. Here are the most promising starts from around the league thus far.
Forwards
James Neal
When an new franchise breaks into the NHL, the organization usually fails to net a prime star up front from the expansion draft.
In the modern era, Brian Bradley might have been the best selection of the bunch. He scored 42 goals and 86 points in the 1992-93 season for the Tampa Bay Lightning. Scott Mellanby and Geoff Sanderson also turned in solid campaigns. They each scored 30 goals for the Florida Panthers and Columbus Blue Jackets respectively.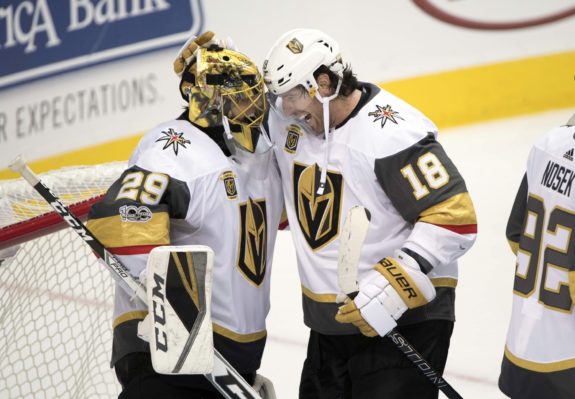 Neal might not reach the heights of Bradley by season's end, but could finish in Pat Falloon territory netting at least 25 markers with his hot start. Potting six goals (three game-winners) in the first five games, he has provided the Vegas Golden Knights with an instant go-to scorer.
The 30-year-old has carried a pedigree for consistency in his career, scoring at least 20 goals in each of his nine NHL seasons.
While the Golden Knights will not fully repair the damages of the recent tragedy in Las Vegas, they could be a major part of the healing process. Chances are, Neal will be one of the leaders in that regard.
Alex Ovechkin
Fewer teams had a tougher offseason than the Washington Capitals, with a salary cap crunch costing them solid supplementary pieces essential to their quest for a Stanley Cup.
Up front, the team lost 48 combined goals from Justin Williams and Marcus Johansson when the former signed with the Carolina Hurricanes and the latter was traded to the New Jersey Devils. Defensemen Nate Schmidt, Kevin Shattenkirk, and Karl Alzner were also lost to the expansion draft and free agency.
The roster turnover hasn't bothered Ovechkin in 2017-18.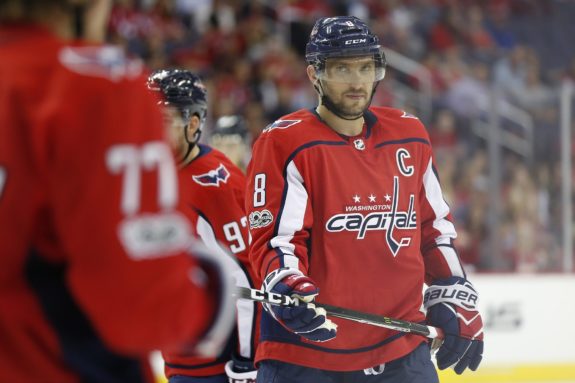 In five games, the "Great 8" has scored nine goals to pace the league. He's also fired 35 shots in the process, one behind Tyler Seguin for the NHL lead.
This run is especially reassuring considering the Moscow native had just 32 markers last season, the second-lowest total for him in a full campaign through his 13-year career. Seven of the goals have come at even strength, almost half of last season's total (16).
Ovechkin has provided a statement that he's not done scoring goals at a fervent pace. This could help lessen the burden on younger wingers like Jakub Vrana and Andre Burakovsky, who each face the challenge of producing more to replace offense lost in the summer.
With the heightened stinginess for slashing and the increased amount of power plays around the league, there's a good chance he will score even more from his office on the man advantage this season.
Anze Kopitar
The 2016-17 season was a breaking point for the Los Angeles Kings, and Kopitar's struggles served as a microcosm of the team's limited success.
The team leader in points from 2007-2016, the 30-year-old posted the worst offensive season of his career in a campaign he took over as captain. He scored 13 goals and 52 points, 14 fewer markers and 22 fewer points than the previous year. While an 8.0% shooting percentage on the surface signaled adverse luck, he took 27 fewer shots than he did in 2015-16.
In the first season of his eight-year, $80 million contract extension, the 6-foot-3, 223-pound center severely underwhelmed.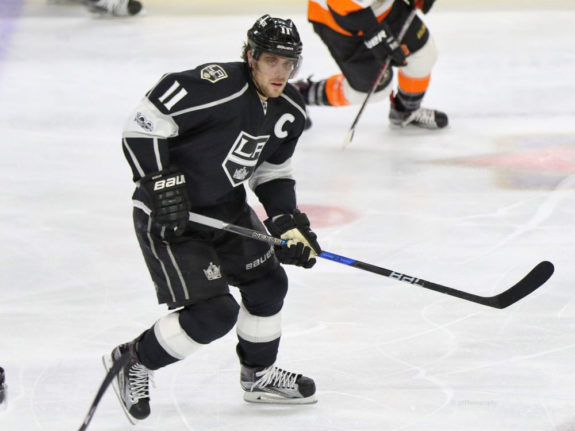 However, under new voices in the forms of general manager Rob Blake and head coach John Stevens, Kopitar seems to be responding.
Taking 23 games to reach three goals last season, the Jesenice native is already at four in just five contests this campaign, posting eight points. He and linemate Dustin Brown seem to be forming some chemistry, with the former captain posting seven points himself.
While goaltender Jonathan Quick's health is vital this season, a bounce-back year from Kopitar is essential for the Kings to make a push back into the postseason. Just three Kings forwards scored more than 40 points in 2016-17, signifying the continued reliance on the Slovenian superstar.
Honorable Mention:
Brayden Point
Steven Stamkos, Ryan Callahan, and Tyler Johnson missed 146 games combined for the Lightning last season, one of the primary reasons they missed the Stanley Cup Playoffs. Though their absence was felt in the short-term, long-term it could be a blessing in disguise with how the circumstances opened the door for Point to play a top-six role.
The 21-year-old's 18-goal, 40-point performance in 2016-17 was a pleasant surprise, especially down the stretch with the team chasing a playoff spot. His nine goals in the final 15 games tied Nikita Kucherov for most on the team in a span that saw him post 16 points. That momentum has continued into 2017-18 with a three-goal, eight-point performance in five games.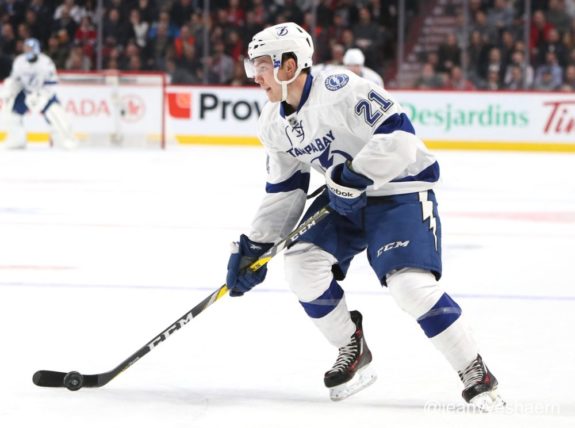 Point's improved play in 2016-17 was enough to convince general manager Steve Yzerman that he could trade Jonathan Drouin to the Montreal Canadiens for Mikhail Sergachev, a blue-chip defensive prospect the Lightning needed.
Shipping out the third-highest scorer on the squad last season, the Lightning are counting on the Moose Jaw product to add another element as the second line center behind Stamkos. This is an assignment that Point is taking in stride.
Defensemen
Will Butcher
The Devils forward group isn't the only place they're getting contributions from rookies.
Butcher decided to sign with the Devils on August 27 after forgoing his opportunity to ink an entry-level contract with the Colorado Avalanche. With how the Avs drastically fell from grace last season, the 22-year-old wanted to play in a system that reminded him of his college days at the University of Denver.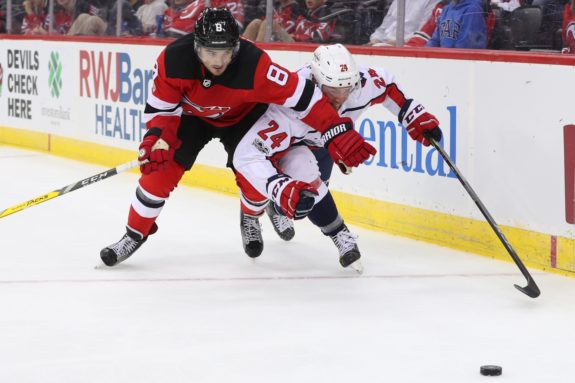 He seems to be comfortable with head coach John Hynes early on. Butcher leads all rookies with eight points (all assists) in the first five games. While his Corsi-for percentage is below-average at 47.90%, his relative ratio is plus-1.8.
For a team that relied on Damon Severson the past two seasons as virtually their only puck-mover that could put up points, Butcher has added a long-awaited second dynamic to start this season.
Alex Pietrangelo
The Blues were quite comfortable with their blueline going into the 2017 Stanley Cup Playoffs, so much so that they decided to get what they could for Kevin Shattenkirk at the trade deadline. His departure did leave a gaping hole of offense (13 goals, 56 points) to be replaced on the back end.
Lead by their anchor on the blue line, the Blues have been able to make do so far without him.
Pietrangelo's usage in 2016-17 focused moreso on the defensive end evidenced by his 42.97% zone start percentage. This season, head coach Mike Yeo has bumped that mark up to 49.28% and so far the 27-year-old has reaped the benefits of his increased offensive ice time.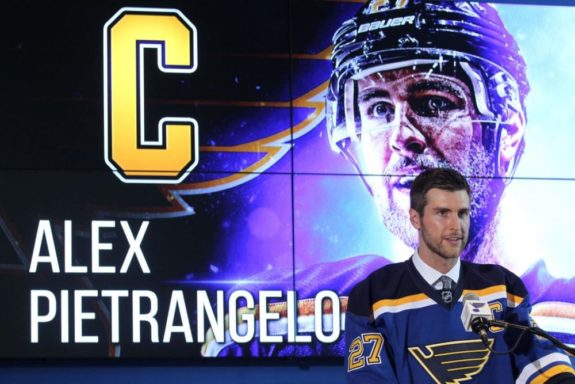 His two goals and eight points in six games played pace the Blues. The 28 shots he's generated are the most among all defensemen thus far.
The King City, Ontario native's influence has spread to other blue liners as well. In 2016-17, seven different defenders scored for the Blues all season. That number is already at five this year.
P.K. Subban
The Nashville Predators were already up against it coming into 2017-18. A target was placed on their franchise for winning the Western Conference as an overlooked underdog last season. To expand on the adversity, they also had to prepare for life without defenseman Ryan Ellis for "several months" due to offseason surgery.
Problems are now compounded with Roman Josi dealing with a nagging lower-body injury that has kept him out for the last few games.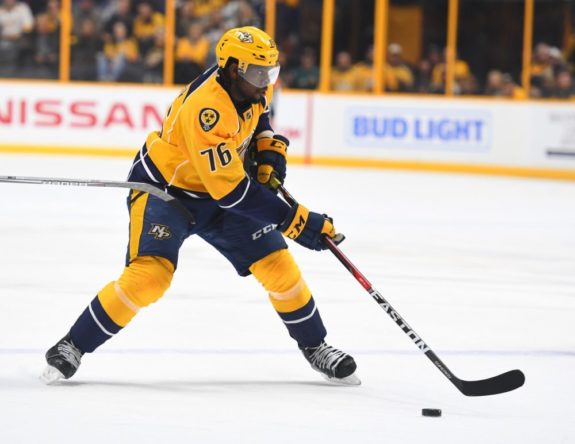 Subban has taken it upon himself to make sure the Predators stay afloat with half of their top-four defensemen in the lineup. He's netted seven of the core's 12 points and has logged 26:36 per night through five games, factoring in on half of Nashville's goals thus far. The 28-year-old has been a key cog in Nashville's rebound from an 0-2 start.
While Subban doesn't need to be an offensive dynamo on a defense core that's one of the deepest in the NHL, a step up from his 40-point performance would be significant considering Ellis's absence. He's on the right track to eclipse that mark.
Honorable Mention:
Mike Green
In a contract year with a team that is far from a Cup contender, Green's audition for a new home at the trade deadline is off to a nice start.
His eight points (all assists) in five games played have him tied for the league lead in scoring among defensemen. The 32-year-old has been the only source of offense on Detroit's blueline since he signed with the team back in 2015. He's scored 40 more points than the next Wings defenseman in 151 games played.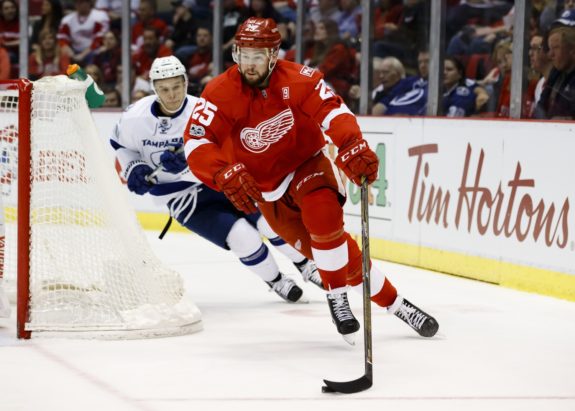 Green has also maintained a Corsi-for percentage of 52.72%, posting a relative ratio of plus-5.1%. He would be the most valuable defensive commodity at the deadline, offering offensive depth from anywhere in the lineup, including the man advantage.
At this stage of his career, the long-time Washington Capital is not a number one defenseman despite having the role by default in Detroit. However, he's well on his way to increasing his value and the chances of playing on a contender by  late-February.
Goalies
Corey Crawford
Niklas Hjalmarsson, Trevor van Riemsdyk, and Johnny Oduya have all departed from the Chicago Blackhawks blue line since the team's last Stanley Cup Championship in 2015. Duncan Keith and Brent Seabrook are all that remain from that team's defense core.
With the team progressively getting thinner and younger on the blueline, the importance of Crawford has been magnified each season.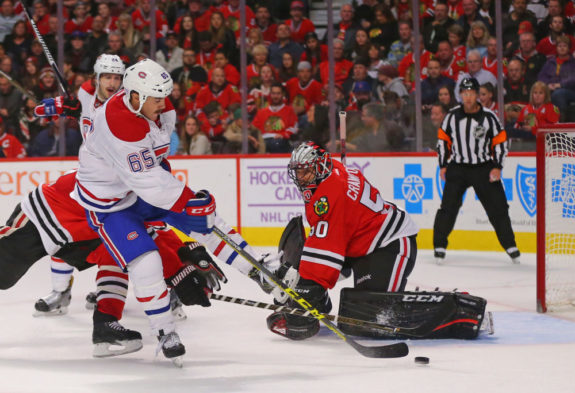 Thus far in 2017-18, the 32-year-old netminder has faced 174 shots in five starts. He's turned away 167 to the tune of a .960 save percentage, putting up a .972 mark at even strength. The 2003 draftee continued his strong play from the prior two seasons where he faced an average of 31.1 shots per night and still posted a .921 save percentage in 113 starts.
If the Blackhawks are going to avenge two consecutive first round exits, Crawford will be one of the main factors and his strong start bodes well.
Sergei Bobrovsky
Having the reigning Vezina trophy winner in your crease should be encouraging enough, but for Bobrovsky, this start seems personal.
When he captured his first Vezina in 2013's lockout-shortened season, the 29-year-old experienced a continued regression for three seasons. His save percentage went from an elite .932 to a dismal .908 in 2015-16. His goals against average ballooned to 2.75.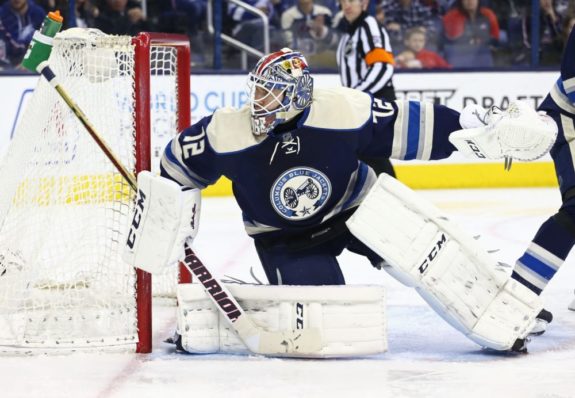 The Novokuznetsk native knows what it is like to be at the top and slowly fall down the mountain, which makes his start all the more positive. Bobrovsky has posted a .952 save percentage (.958 at even strength) and 1.47 goals against average in four starts, looking like every bit of his elite self.
Consistency is key for the relatively young goaltender, something that will be crucial come April.
Mike Smith
The Calgary Flames goaltending situation over the last few years, put lightly, has been relatively below-average. From 2013-17, netminders that donned the fiery "C" posted a league-worst .915 save percentage combined at even strength. It's no coincidence that the team missed the playoffs two of those four seasons, winning just five playoff games in that span.
Smith's mission to make the struggles between the pipes a thing of the past is off to a solid beginning. In six starts, he's posted a .929 save percentage and has won four of five with a shutout. This early performance should not be a surprise, however, considering his quietly strong play behind a bottom-tier Arizona Coyotes squad the past two years.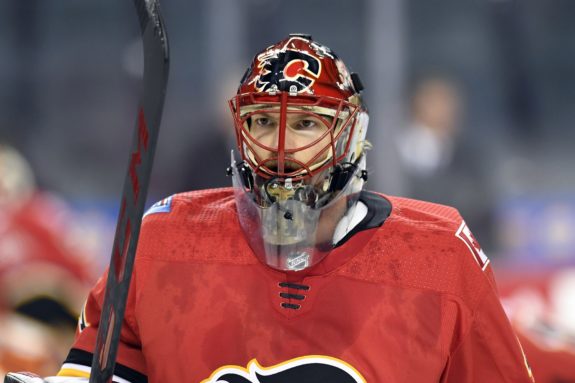 The Kingston, Ontario native posted a .915 save percentage in 87 starts for the Coyotes from 2015-17. This performance was turned in with limited help from a defense that surrendered a league-worst 32.5 shots-against-per-game in that span.
Now that he's behind a front four that features Mark Giordano, Dougie Hamilton, T.J. Brodie and Travis Hamonic, he has a chance to thrive in his new home. Smith has prior experience carrying a team on his back, so it would not be unusual to see this level of play continue.
Honorable Mention:
Jimmy Howard
It is difficult to believe that in the summer of 2016, Petr Mrazek was seen as the bonafide goaltender of the future for the Detroit Red Wings. While the 25-year-old did struggle at the end of 2015-16, the net was believed to be his by default due to the porous play of Howard.
Then 31, the Maine product experienced another season of regression. His save percentage was at .908, a considerable drop from his solid .923 mark in 2013.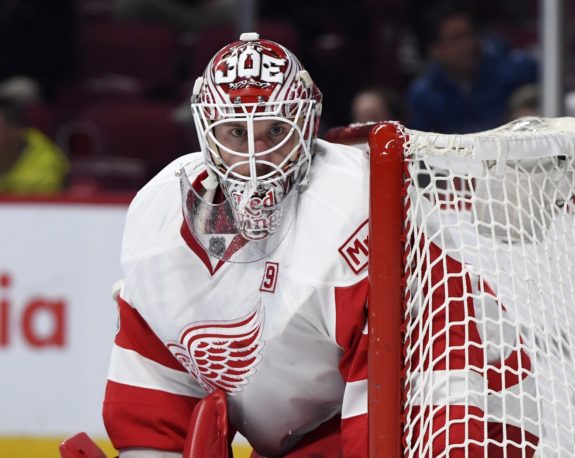 In 27 starts since under goalie coach Jeff Salajko, Howard has posted a .941 save percentage and 1.86 goals against average. This includes three starts this season where he has stopped 107 of 112 shots.  Mrazek in 52 starts since has continued to regress, turning in a .900 save percentage and 3.06 goals against.
While the sample size is small for the Syracuse native, the three-game showcase this season has reaffirmed his hold of the starter's net. Staying healthy will be crucial, as the now-33-year-old has started just 57 games combined the past two years. If he can stay on the ice, the Wings' goaltending controversy may cease to exist this season.
Griffin is a Junior at Northwood University in Midland, Michigan pursuing a Sports and Entertainment degree. His passion of writing began when Detroit Red Wings captain Henrik Zetterberg was out for the season in 2014 and he wanted to give his thoughts. Griffin comes from LastWordOnSports.com where he had the role of "associate editor" and wrote nearly 300 articles over three years for their hockey department.